5 tips to help your dealership navigate the current used-car market
Oct. 04 2021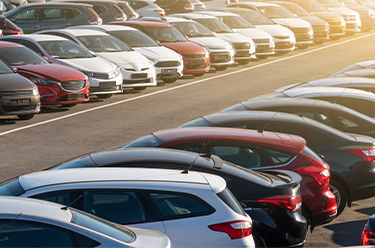 Oct. 04 2021
Getting the best bang for your buck

People trying to buy a car recently may have noticed that new car dealers' sales lots are empty and car prices have soared. Why? Three words: computer chip shortage. It's become an issue throughout the COVID-19 pandemic, and at this point there is not a single automaker that hasn't been affected.  
While we often think of computer chips as parts used to make smart phones and personal computers, in this case, the computer chips we are seeing a shortage of are used in the manufacturing of control modules and sensors. Without these components, factories are putting a halt to the assembly of new vehicles until shipments of control modules become available. Most automakers have even shut down entire assembly lines and have begun idling factories. All of this has resulted in decreased production of new cars. For example, Toyota as recently as last month has said that they have cut back on production by over 300,000 vehicles. This short supply of new vehicles has caused consumers to turn to the used car market for their next vehicle purchase.
Despite these setbacks, most manufacturers are optimistic and are expecting to return to normal sometime around the middle of 2022. Others that have been hit especially hard don't expect any normalcy until 2023.
Until then, dealers cannot find enough vehicles to sell. With the supply of new vehicles down to a trickle, dealers must now focus on their used cars more than ever before. Here is a list of tips to help you navigate the current used car market.
Encourage customers to trade-in
Trade-in vehicles are one the preferred methods to acquire used car inventory; however, some consumers may not be aware that their used car is now worth more due to the vehicle shortage. The average American consumer only keeps their vehicle for 3-4 years before trading it in for something newer, so reach out to customers who have purchased a vehicle in the last 2+ years to let them know that you are interested in giving them an offer to purchase their vehicle. Plus, since more people are working remotely, the need for having a spare car around has gone down, making these high trade-in values enticing. Don't just look at your sales floor – another source of used car inventory is your service department. Chances are you have parts and service customers who have never had an interaction with your sales department before. Not only do these customers become a potential source of used car inventory, but their trade-in vehicle comes with the added benefit of a thoroughly documented service history from your service department.
Don't just look at your sales floor – another source of used car inventory is your service department. Chances are you have parts and service customers who have never had an interaction with your sales department before.
Find used cars in new ways
With prices of used cars still at around a 25% increase over 2020 according to Edmunds, it is important to leave no stone unturned when it comes to finding potential used-car inventory. Depending on the vehicles and customers you're targeting, websites such as Bringatrailer.com and Hemmings.com can help you find rare and desirable vehicles that come with a detailed history and high-resolution pictures. Some dealerships have also gotten creative and even began paying a spiff to its sales staff for helping acquire vehicles off the street or from social media sites such as Facebook Marketplace. While these are all viable options to keep in your back pocket, it is important to proceed with caution. Just like any other vehicle transaction, make sure that your used car reconditioning process is thorough, especially if you are looking at reconditioning older and lower-grade vehicles.
Make your inspection count
In an ideal world, the used car inspection process would go smoothly and only minor repairs like brakes and tires would be necessary before sending the vehicle to the front-line. However, with wholesale used-car prices higher across the board, even dealers are forced to choose between spending more for a vehicle with low miles and in good condition, or fixing up an older vehicle with higher mileage, (a good guideline to remember is the average vehicle in the US is driven 13,500 miles per year). These older and higher mileage vehicles are more likely to require some significant repairs, and that's why it is important that you have a different inspection and reconditioning process for these older and lower grade vehicles (lower grade vehicles are classified as Grade 2 or below as per the NAAA condition grading scale, link here. Inspections on these vehicles are likely to take more time, but it's important to have the right expectations when it comes to reconditioning. There may be a very long list of repairs and maintenance that are needed but it's important to remember that the main goal is for the vehicle to be safe and presentable, not perfect. It's vital to make sure that there are detailed notes on the repairs and work that was suggested in the inspection. Tackle the critical issues such as check engine lights and other safety related problems first. Depending on the diagnosis and remedy, these issues can be the difference between sending a car to the front-line or back to the auction on a trailer.
There may be a very long list of repairs and maintenance that are needed but it's important to remember that the main goal is for the vehicle to be safe and presentable, not perfect.
Put TSBs on your reconditioning checklist
One of the fastest ways to familiarize yourself with a particular used vehicle year/make/model is to review the factory service information for technical service bulletins (TSBs). TSBs are common issues and solutions reported and documented by the manufacturer, some as simple as an updated part or component and others as critical as a well-known check engine light or code. TSBs can also offer valuable insight as to the estimated cost of reconditioning a used car. For example, on new model Ford Mustangs built on or before February 2018, there may be an excessive panel gap between the rear bumper and quarter panel. At a glance (either in person or via pictures online), the bumper may appear to sag, which at first might seem like evidence of collision damage. But, according to Ford TSB 18-2107, this sagging condition is a result of the method used at the factory to fasten the rear bumper cover to the vehicle, which may cause the bumper to sag and exceed specifications on the panel gap. In the TSB, Ford also provides a solution that includes the estimated labor hours and part numbers to remedy the problem. Not only does this TSB help provide a more accurate labor hour estimate for the repairs, but it also allows you to repair the vehicle in a timely manner by providing the step-by-step repair instructions than any experienced technician should be able to follow. 
Don't be afraid to hold the price
Used car shoppers tend to be budget-minded so it's important to have inventory specific to your target customer. Even manufacturers have cut down on the number of rebates and incentives being offered for new vehicles, with the average discount on a new car at a record low of 4.8% off MSRP. While used cars may not always be able to hold their asking price in comparison to new cars, used car prices still remain high with the average price of a used car climbing to $27k, according to Edmunds. There will still always be the usual back-and-forth price negotiation that happens between the customer and the salesperson, but it is now more important than ever to keep an eye on the amount of discounting being offered and to whom it is being offered to. Some buyers are even crossing over state-lines to save a few thousand on a vehicle purchase. While these buyers deserve credit for being savvy and trying to find the best price possible, it's important to also consider the future revenue that your service department may sacrifice by selling a vehicle to an out-of-town buyer. When that vehicle is sold to an out-of-town buyer, you not only lose that relationship, but you also lose hundreds to thousands of dollars of yearly revenue that come in the form of parts and service revenue. Local customers become lifelong customers through your service and parts department, and all of that starts with the purchase of a new car.
The computer chip shortage has definitely put up some obstacles for the automotive industry, but like any business, it's important that we navigate through these difficulties and use them as an opportunity to learn and improve.
To get reconditioning done right, trust ALLDATA Repair and ALLDATA Diagnostics. More auto repair professionals choose ALLDATA for their OEM information needs than any other. We publish more data, more frequently, and cover 95% of vehicles on the road today. The format is the same for every manufacturer, so it's easy to learn and simple to navigate.
If you would like to read more articles like this one please subscribe to ALLDATA News.