A success built on safety
Jan. 07 2020
Jan. 07 2020
BIG SKY COLLISION CENTER
The day we spoke with Matthew McDonnell, owner of Big Sky Collision Center in Billings, Mont., he was just hours away from signing the final documents for his company's fourth location, this one in Manhattan, Mont. Coincidentally it was also his father's 72nd birthday.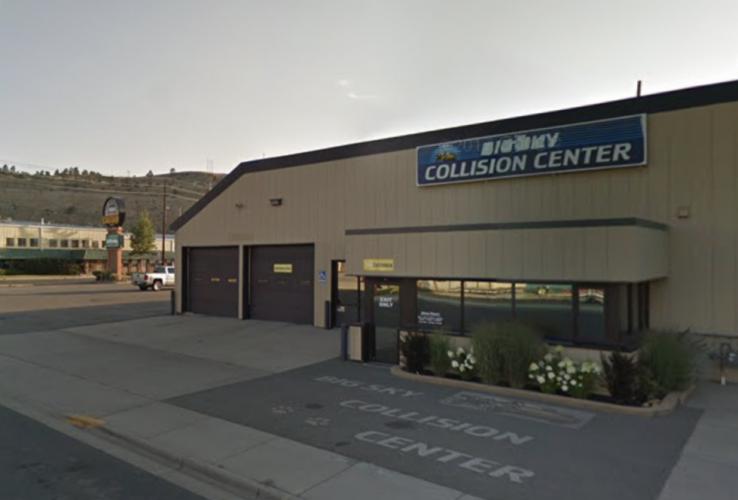 His father, Matt McDonnell, Sr., founded Big Sky Collision Center in 1978 and Matthew took it over in 2015. Today it's Montana's largest family-owned collision repair business. The flagship Billings location takes up a massive city block with multiple buildings, corporate offices, a private apartment, and even its own CrossFit gym – just for employees.
Company at a Glance
Shop: Big Sky Collision Center
Locations: Billings, Montana (corporate headquarters), Bozeman, MT, Tucson, AZ, Manhattan, MT
Type: Collision Repair
Employees: 80 total (35 in Billings)
In Business Since: 1978
Number of Locations: 3
Combined Production Space: 27,000ft2 
Owner: Matthew McDonnell, President
Contact Information: (406) 259-6328
Matthew says the company's agenda is simple: to give customers a safe and proper repair. "The intention of the manufacturers is to build a vehicle that is crashworthy," he said, "and our industry needs to focus on duplicating that. We can't just make it pretty. Those days are gone."
Focusing on safety and using OEM parts and procedures is a key part to what drives the company's unique culture and success. Empowering employees and providing the latest training and equipment is another. Matthew also credits working closely with Mike Anderson and rigorously implementing his Collision Advice teachings and practices for much of the company's growth and success.
Staying on Top of Technology
Matthew focuses on the sales and marketing side of the business, always trying to find new ways to bring more work through the doors and give customers an experience that is beyond expectations. Like giving them the option to start the estimating process on their phones. That way, when the customer comes in for the first time, the store has already started triaging critical parts, beginning the repair process before the vehicle arrives.
"The collision-repair business is so like cavemen. We've been making people come down and get estimates in our business for 40 years," said Matthew "It hasn't changed. So we're building things where people can get estimates on their phone and they don't need to come in. It's the right-now response our consumers expect that's been created by Netflix and Amazon."
When it comes to technology, the company is adamant about using OEM repair procedures to ensure the accuracy and most importantly, safety, of customers' vehicles.
When it comes to technology, the company is adamant about using OEM repair procedures to ensure the accuracy and most importantly, safety, of customers' vehicles.
Matthew recalls some examples: "Every manufacturer has a seatbelt inspection requirement and a procedure on how to do it. I guarantee you 95% of people out there don't know that and they're not doing it. In our shop, seatbelt inspections happen before we remove even one bolt from the car."
He notes that using OEM procedures is paramount with test drives as well. Different OEMs have different test drive requirements, like a specific operating temperature or miles per hour that must be reached for the system to engage. He also calls out the detailed OEM-required inspections necessary after a collision, such as looking at dash mounts, sensors, seatbelts, and more.
Parts usage is another key component for Big Sky. Matthew notes that when the procedure calls for OEM parts, having the manufacturer documentation is the only way to back that claim up. Whether it's an insurance adjuster or a customer challenging parts or service, Big Sky relies on OEM information to document the safe and proper repair of the vehicle, according to OEM standards.
"ALLDATA has been an incredible tool to get us to where we needed to be in terms of OEM information. And that's why we think great things about it. We still use it," said Matthew. "The most important thing to remember is our focus on consumer safety. Giving us the correct tools to pull the OEM data and procedures allows us to achieve that mission."
Training employees to become leaders
When Matthew became owner, his intention was to create a legacy, not only for his family, but also to engage employees and turn them into company stakeholders with possible stock options – with the intention of growing it into a big company that focuses on OEM repairs.
"Our mission is to build leaders, change an industry, and have uncompromising integrity," Matthew said. "We get told all the time that we have a different approach in our business, and I say, 'Yes, because the old approaches are pretty archaic.'"
Our mission is to build leaders, change an industry, and have uncompromising integrity.
Providing employee training is one such approach. Every Monday, at every location, from 4PM to 5PM, one or more of the members of the company's leadership team, Ezra Consulting, conducts the training. The Ezra team consists of Matthew, CEO Rob Moore, CFO Noah Kiprono, an IT person, a painter, and a technician.
Other regional shops sometimes attend these trainings as well. One week they might train on estimating and another week on seatbelt selection. "We're not managing them. We're consulting and giving them information to make them better," Matthew said.
Increasing efficiency with 100% Tear Down/100% Disassembly
Matthew has known and worked with Mike Anderson for the past 10-plus years. He's no-holds-barred in his admiration for Mike and the teachings and programs of the Collision Advice Legacy Group. When asked about Mike's influence on Big Sky's success, he said, "It's an unmeasurable scale. There is no one in this industry that I owe more to than Mike Anderson. He's become one of my best friends and my greatest mentor.
Mike's system is called the 100% Tear Down/100% Disassembly. Everything related to the repair is removed at the very beginning and goes through a specific, yet simple, process. Undamaged parts go in one bin. Broken parts go on a rack for the estimator. Then that rack goes to parts. To say it's a well-oiled machine is an understatement.
According to Matthew, this system creates a non-stress environment, where everybody knows what they're supposed to do and relies on visual indicators for next steps. "It's a self-sustainable system that doesn't wear out your people. It's incredible," he said.
Using Mike's system, the paperwork is done all the way up front, with everything on the bill. It's accurate, and the car is much more efficiently repaired. Deliveries are on-time or early, every time. "The more simple you can make things, the more efficient we can become," Matthew said.
That efficiency has led to some impressive growth in the past 10 years:
Revenue: $3 million to $17 million
Car count: 75 cars/month to 400
Employees: 25 to 80
"That growth is derivative of our mission to build leaders. If we focus on that, then we have no choice except to grow in the best way."
Giving back to the industry
In addition to Big Sky Collision's four locations, Matthew makes time to serve the following industry organizations:
National Director, Society of Collision Repair Specialists (SCRS)
Co-Chair, Insurer-Repairer Relations Committee, Collision Industry Conference
Vice President, Montana Collision Repair Association (MCRA)
Matthew is also on advisory Boards for Ford, Nissan, Chrysler, and Subaru.
"It's an honor to get to assist them [OEM advisory boards]. Mike [Anderson] has really helped us get in the forefront of this industry and I'm very thankful for it," says Matthew. "You're giving your time for a very valuable effort that aligns with our vision, and that's why it's such an incredible thing to be a part of it."
Want to see how ALLDATA can improve shop efficiency? Check out our suite of products, each designed to contribute to both shop efficiency and productivity.
If you would like to read more articles like this one please subscribe to ALLDATA News.