ALLDATA now offers 3 shop management options
Oct. 30 2020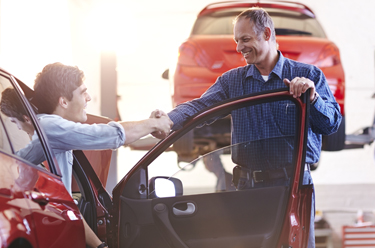 Oct. 30 2020
Today's independent automotive repair shops range in size from a single location to multi-shop organizations, each with its own unique business needs. So when it comes to running your business efficiently, a one-size-fits-all shop management system isn't necessarily the best solution.
That's why ALLDATA now offers three different software solutions to streamline everyday workflow operations and improve business efficiency for shop owners and technicians.
Our newest solution, ALLDATA Shop Manager, simplifies the creation of essential documents like estimates, repair orders, and invoices. It syncs seamlessly with ALLDATA Repair®, the industry's number one OEM repair database, so shops can easily add parts and labor and toggle between the manufacturer's repair information and shop documents for greater efficiency. And, ALLDATA Shop Manager stores customer/vehicle information, generates basic sales and tax reports, and more. Check out this article for an in-depth look at its key features and functionality.
"Our customers let us know they needed a shop management program that's easy to use and covers the essentials – and integrates directly with ALLDATA," said ALLDATA President Satwinder Mangat. "Shop Manager does that and more. The technician can start an estimate right from the parts & labor information in ALLDATA Repair or go straight from a repair order in Shop Manager to the repair procedure in ALLDATA Repair. It's all integrated so you're always just a click away from the information you need."
For shops that don't need a full-on shop management system, ALLDATA also released Estimator, an add-on product for ALLDATA Repair. It's ideal for shops that still handwrite estimates or any shop looking for a simple online solution that delivers professional, compliant estimates.
ALLDATA Manage Online offers expanded features for comprehensive shop management. It's an excellent tool for shops – especially growing and multi-shop operators – with the ability to perform extensive business reporting, a built-in customer relationship manager (CRM) and more.
See all the features and functionality of ALLDATA's shop management solutions and see the comparison chart on each of their product pages.
Want to see how ALLDATA can improve shop efficiency? Check out our suite of products, each designed to contribute to both shop efficiency and productivity.
If you would like to read more articles like this one please subscribe to ALLDATA News.