Did you know? ALLDATA Repair features
Mar. 10 2020
Mar. 10 2020
ALLDATA Repair®, our flagship product, has been evolving since its creation in 1986. From stacks of manuals and disks to a simple click of a button, we've worked hard to keep our product up-to-date with repair information (we publish new information daily!), and stay ahead of the game with a positive user experience. We aim to make the important information accessible – for example, about 40% of our users end up on Parts & Labor, so we made it easy to access on the home screen. Here are some of the top useful features we want to make sure you know about!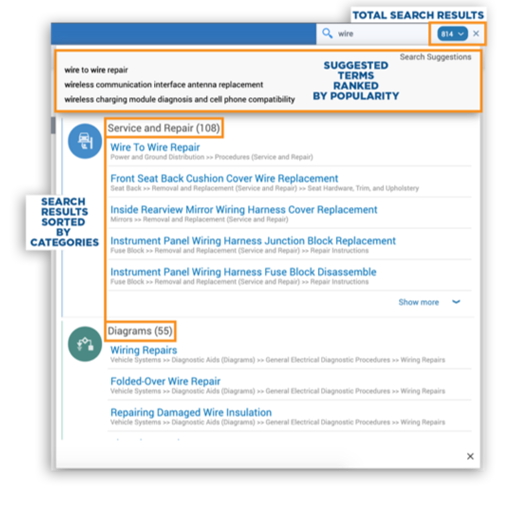 Search Bar Features
The Search Bar in ALLDATA Repair is one of the most powerful tools in the program with a lot of well-designed features. It'll provide popular suggested search terms and show you the total amount of search results. It'll also organize the results by category. As shown in the example, we looked up "wire". The blue number next to the searched term indicated the total search results (814), the terms below the search bar show the suggested terms (much like Google's Autofill feature), and the results are displayed below that. These results are then conveniently organized into categories such as Service and Repair, Diagrams, Testing and Inspections, and Service Diagrams. Once you click on a result, you can print it, bookmark it, or simply click on the total search results number to pull up all the results again.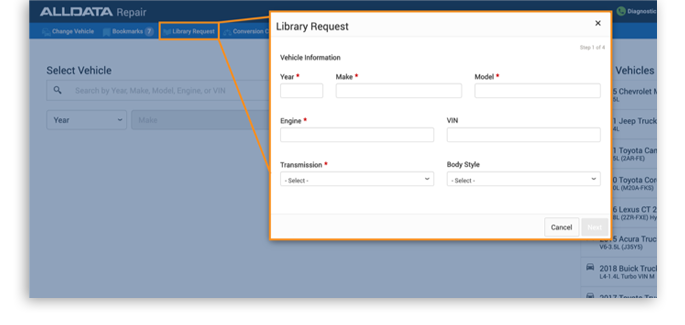 Library Requests
Library Requests are another useful tool in ALLDATA Repair. While we do provide the most up-to-date OEM information available (in fact, we already have repair information for 2020 vehicles), we also know that occasionally it can be difficult to find the OEM information you need – or that you want to verify the information you do find. This is where Library Request comes in handy. Found on the home page of ALLDATA Repair, all you need to do is fill out the Vehicle Information, Requested Information, and Contact Information to get your answer in as little as 30 minutes! Library Request also includes access to various pre-1982 model year resources and some medium/heavy duty truck coverage.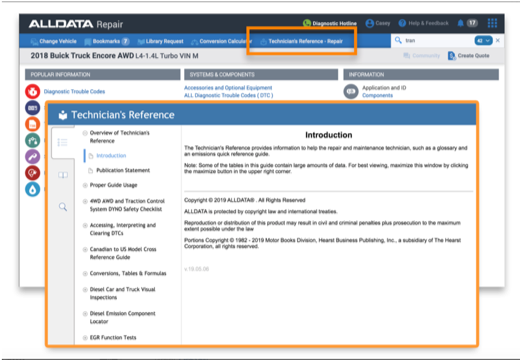 Technician's Reference Guide
The Technician's Reference Guide in ALLDATA Repair provides useful information such as conversion tables, timing belt intervals, emission control charts, etc. It also has a glossary, and a search feature to help you quickly find any information in the Technician's Reference Guide. Watch the Quick Tips: Exploring the Technician's Reference Guide video on YouTube to see it in action!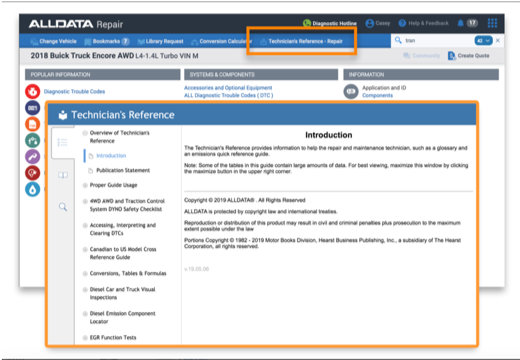 Shop Operations
Located under the Help & Feedback menu, ALLDATA has shop operations information for shop owners and service advisors. It has an abundance of useful resources like maintenance checklist and visual inspection worksheets, answers to common customer questions, as well as useful customer forms and checklists. You can also find specific information about the Motorist Assurance Program (MAP), including their code of ethics and inspection checklists. 
VIN Lookup
Sometimes figuring out the exact model of a car can be time-consuming. To make vehicle selection easier, ALLDATA Repair gives you the option to search the VIN number. You don't have to waste time verifying a car's year/make/model; simply lookup the VIN and the vehicle should appear in the search results.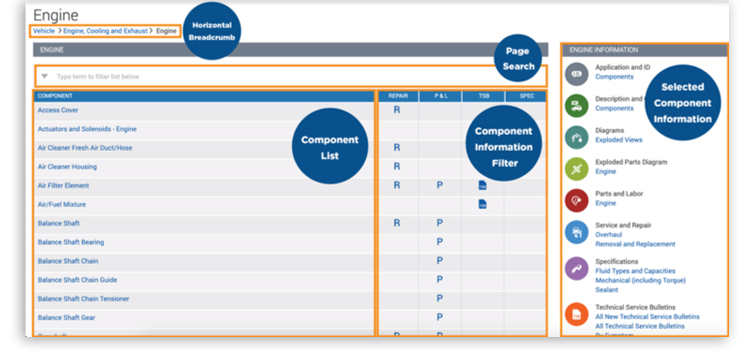 Information Shortcut Menu
When you click on a specific system or component, a list of useful information appears. It can be a bit overwhelming so let's break it down with the Engine as the example:
Horizontal Breadcrumb – This is a set of links to return to anywhere in the currently selected component's navigation path.
Page Search – Use this to search for a component listed on the page
Component List – This is a clickable list that will display all available information for that specific component and display any additional sub-systems or components
Component Information Filter – These clickable icons are to filter out and display ONLY the selected information type specifically for the associated component.
Selected Component Information – You can click these to view specific information about your system/component.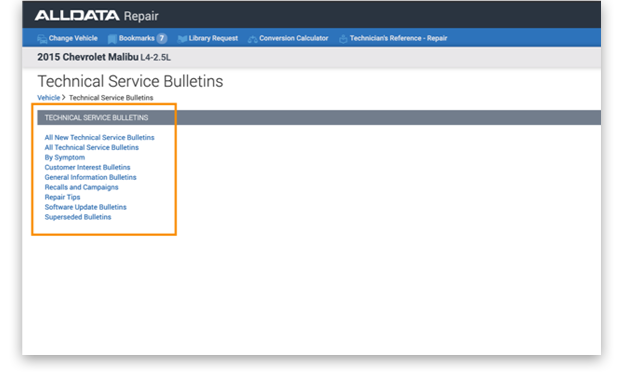 Technical Service Bulletins
Technical Service Bulletins are important pieces of information. ALLDATA Repair makes it easy to find TSBs, and even organizes them for you! You can see what's new, search by symptoms, or even just customer interest bulletins. You can even search all the TSBs under All Technical Service Bulletins, making it easy to find what you're looking for.
If you have any questions about ALLDATA Repair, there are various ways to make sure you find exactly what you're looking for. In the product, simply look under Help & Feedback to get In-Product Guidance, Support & Training, and Product Feedback. If you're still needing help, you can visit our support site or contact us
Want to see how ALLDATA can improve shop efficiency? Check out our suite of products, each designed to contribute to both shop efficiency and productivity.
If you would like to read more articles like this one please subscribe to ALLDATA News.