Q&A with ALLDATA President, Satwinder Mangat: What's trending for 2021
Jan. 05 2021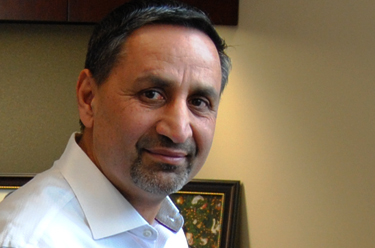 Jan. 05 2021
The ALLDATA News staff sat down with ALLDATA President Satwinder Mangat to get his thoughts on the automotive repair industry and key technology trends for 2021.
About Satwinder Mangat
Satwinder Mangat joined ALLDATA in 2012 as Chief Technology Officer and was named President in 2018. He has more than three decades of diverse and hands-on experience in the software industry. Prior to ALLDATA, Mangat was President and CEO of Boomerang. He also held leadership positions with Ricoh, Novell, and Adobe. Mangat earned an MBA from Santa Clara University and a Bachelor of Engineering from Panjab University. He holds six technology patents.
ALLDATA News: What's your outlook for the automotive repair industry as we start the new year?
Satwinder Mangat: If we've learned anything from this past year, it's to expect the unexpected. The pandemic has impacted shops differently across the nation. Some were forced to close while others saw a spike in business. Everyone's had to adjust to safety precautions and social distancing.  Many shops started offering innovative, customer-focused services (mobile service, vehicle pickup/dropoff, loaner vehicle, touchless service, etc.). And what we're hearing from shops is that these practices will be the "new normal" for the foreseeable future.
From an industry perspective, used cars are increasingly in demand as people avoid mass transit and steer clear of higher new-vehicle payments. We expect owners to hold onto their vehicles even longer than the current average of 11 years and want to maintain those vehicles. This will provide more opportunities for shops to perform maintenance work.
On the repair side, now more than ever, shops need to be more efficient. And successful shops know that having the latest technology at their fingertips and access to the most updated OEM information is critical.  We continue to listen to feedback from our customers and are always enhancing our products to deliver the information shops need for faster diagnostics, the latest OEM-accurate repair information, and efficient shop management.
AN: As the vehicle design and engineering has evolved, how has ALLDATA been able to ensure that service repair technicians have access to the repair information they need, when they need it?
SM: Increasing vehicle complexity has made diagnostics and repairs more difficult for technicians, with very specific requirements from the OEMs. With all mechanical repairs and particularly those involving more complex technology like advanced electrical and ADAS symptoms/sensors, it is essential that technicians follow the OEM requirements and procedures, which is exactly what our technology solutions deliver.
Our robust technology platform allows us to publish daily, new and updated vehicle information from OEMs, including TSBs. The speed at which we publish OEM content is our number one priority to make sure shops have the current OEM repair procedures, wiring diagrams, and other information they need.
For even faster diagnostics, our new ALLDATA Diagnostics scan tool offers direct access to ALLDATA repair information on a tablet – right at the vehicle.
Additionally, we provide expert diagnostics and repair solutions through our Tech-Assist hotline (with 30+ ASE-certified Master Techs). And if you can't find the information you're looking for, whatever the reason, our Library team will respond with what you need, usually within 30 minutes.
We will continue to innovate and provide tools for the shop ecosystem that increase efficiencies, drive more profits, and deliver accurate, quality repairs to vehicle owners. Everything we do is geared toward helping shops be the very best they can be.
AN: What are shops and technicians asking for when it comes to repair information and why?
SM: With advanced vehicle technology and more complex repairs, we've seen electrical wiring diagrams used a lot. Our product offers OE diagrams as well as over 300,000+ non-OE interactive color wiring diagrams. Repair procedures are at the top of the list to ensure shops are providing OE-accurate, quality repairs. Shops are also looking for quick access to information like service intervals, fluid types, and capacities for everyday jobs. We've also seen an uptick on quick diagnostic information like probable cause data. We provide over 20 million probable causes based on OE information (DTCs/symptoms). Newer technologies like ADAS are gaining traction as well.
AN: How has the proliferation of sensors and cameras impacted the modern repair process?
SM: It has increased the complexity of repairs which ultimately leads to longer cycle times. The sensors and cameras connect to ADAS systems that are designed to provide a safer, more comfortable, and more convenient ride. All these systems use a complex variety of sensors and firmware – and each OEM has their own procedures for handling the repairs. That's another reason it's crucial to follow each manufacturer's procedures and know exactly where the sensors and cameras are located. Even a seemingly run-of-the-mill repair could cause one or more sensors/cameras to become misaligned.
AN: As OEMs continue to look for ways to improve safety and fuel efficiency, including ADAS systems, cylinder deactivation and more advanced electronic engine control, how do you think that going to impact the service repair centers and their technicians to ensure they have access the information they need?
SM: The increasing reliance on evolving technologies to improve safety and fuel efficiency drives increasing reliance on OEM repair processes and procedures to correctly diagnose and repair these systems. The potential for greater liability due to incorrect repairs being without the benefit OEM information grows substantially.
Let's look at both the collision and general repair segments.
The collision repair shops and technicians need the available ADAS and repair information generally before anyone else does, because even brand-new vehicles can be involved in accidents. Repairing them properly requires the latest information on ADAS, repair/replacement procedures, proper materials requirements, TSBs, and recalls. Plus the necessary tools and training.
If this information is not available, it can cause delays in obtaining proper repair information. The customer will be without their vehicle for a longer period, impacting profitability. Insurance costs also increase. And there's also the risk of losing the job to another shop with the most current information and tooling.
General repair shops are slightly different, but it's still imperative that the OEM repair information is available as needed. There is a bit more of a time cushion for independent repair shops, as newer vehicles are generally serviced under warranty by the dealership.
AN: Do you see any potential challenges or issues arising when it comes to data access on increasingly connected vehicles?
SM: The Auto Care Association estimates that by 2022, 87 percent of vehicles in the U.S. will be equipped with wireless technology that collects and reports extensive vehicle information, each generating four terabytes of data every day. Debate about who controls data in the vehicle and who gets secure access to the data will continue gaining traction. This obviously has direct implications for independent repair shops. Some connected vehicles run regular vehicle scans on key systems. This means vehicle health reports are completed before the vehicle even gets to the service bay. However, shops will still need to confirm the report and provide deeper diagnostics.
If federal laws are not enacted around data access, state legislation will occur. On November 3, Massachusetts voters overwhelmingly supported a ballot initiative that would provide car owners with access to their mechanical data and would permit owners to share that data with the repair shop of their choice. So for the first time ever, OEs must make the same service information and tools available to independent repair shops that they provide for their franchised dealers. Time will tell, but it could lead to more work for shops, i.e. gaining consumer consent to access data on the vehicle, potentially keeping-up with changing consent forms, when a consumer changes his/her mind, etc.
Shops will need to invest in servicing connected vehicles – whether it's working with insurance carriers or investing in tools and training. When they do, it will improve the shop experience, improve CSI scores, and reduce cycle time and length of rental. For example, the vehicle might tell the consumer when maintenance is needed and which shops are nearby that perform the required services. Connected services could bring new business to qualified shops.
AN: On the collision side, with new substrates, aluminum, UHSS and carbon fiber found in more and more vehicles, how is that changing the repair process in terms of procedures and also cycle/touch time?
SM: New materials have also caused repairs to become more complex.  Not only is there is a learning curve to work with these materials, but many require new equipment and specific procedures to ensure safe repairs. For example, aluminum dust and steel dust can't mix safely during car repairs, so many larger auto body shops have had to build separate areas to work on aluminum cars.
The expansion of new types of metals used in the vehicle manufacturing process has changed the way body shops think, hire, and train. In the past, most cars were constructed from heavy sheet metal. As automakers strive to make cars lighter and safer, this is no longer the case. Today, car manufacturers are making vehicles from materials that include aluminum, carbon fiber, high-strength steel and magnesium alloys.
These lightweight materials help to improve the vehicle's fuel economy while maintaining safety. One problem: aluminum dust and steel dust can't safely mix during car repairs, so many larger auto body shops have had to build separate areas to work on aluminum cars.
AN: What do you feel are some solutions to address the challenges/complexities of modern collision repairs (i.e. repairing ADAS, working with new materials, connected vehicles)?
SM: To ensure safe and accurate repairs and to help protect shops from liability, it's more important than ever that shops look up OEM information and follow the recommended procedures, step-by-step. Ongoing training helps technicians stay on top of evolving technologies like ADAS, telematics, and new materials. Another practice that has become the norm in most shops is pre- and post-scanning, which supports the documentation shops need to get paid for the work necessary to repair vehicles back to OE specifications.
AN: Can you talk about ALLDATA's plans regarding its automotive repair services business moving forward?
SM: Our top priority is to provide shops access to the information quickly – as soon as the car is released to the general population. We also want to help address the industry-wide tech shortage issue by providing enhanced tools and services like our Tech-Assist hotline. We will continue to innovate and provide tools for the shop ecosystem that increase efficiencies, drive more profits, and deliver accurate, quality repairs to vehicle owners. Everything we do is geared toward helping shops be the very best they can be.
Want to see how ALLDATA can improve shop efficiency? Check out our suite of products, each designed to contribute to both shop efficiency and productivity.
If you would like to read more articles like this one please subscribe to ALLDATA News.