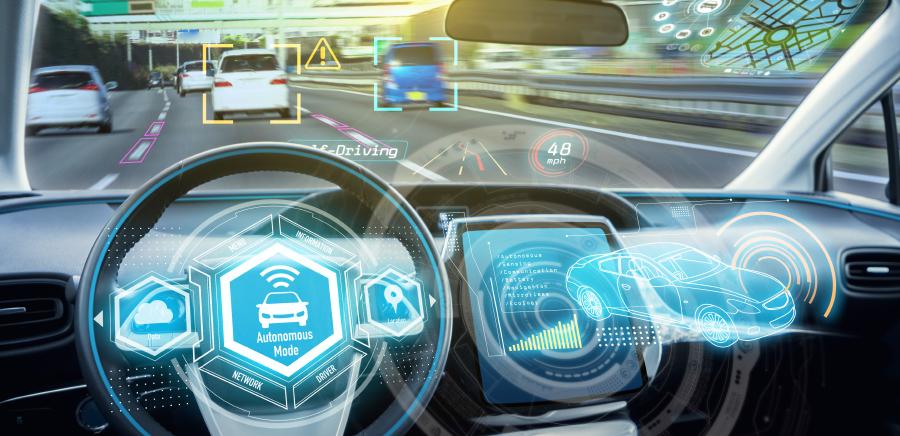 ADVANCING THE ART OF SERVICING ADAS
Mar. 05 2019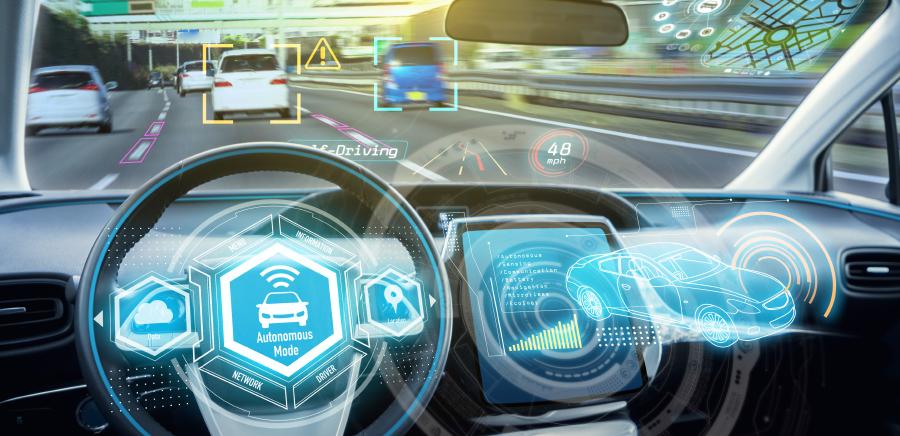 Mar. 05 2019
Advanced Driver Assistance Systems (ADAS) are designed to improve driver safety through the application of several technologies developed over the last fifteen years. Although, I think that some of these systems may predate the 1970s. I'm sure my father's car had a Forward Collision Warning system when it was equipped with the right-seat driver option. That warning system would quickly progress from an audible, "Bob, SLOW DOWN" to a tactile warning in the form of an elbow to my dad's ribs. Lane Departure Warning and Lane Keeping Assist took the form of my mother's hand grabbing the steering wheel followed by a lesson in new words I could use at school to impress my friends.
In the United States there are more than three million vehicles on the road containing ADAS technologies
According to a United States government agency, the National Highway Traffic Safety Administration (NHTSA), 37,461 people died in motor vehicle crashes in 2016. Research shows that most of these crashes were due to human error. These findings have led to the development of many ADAS technologies to dramatically reduce the effect of driver error. Some are already installed in current production vehicles; the rest may become required over the next decade. Unless you specialize in classic cars, you will see these vehicles in your shop.
Let's look at some of the ADAS technologies available and the skills required to service these systems.
Alphabet soup
Here's a list of some of the ADAS systems currently available:
ABS with Vehicle Stability Control (VSC) (mandatory in the USA as of the 2012 Model Year)
Adaptive Headlights with Self-Leveling and Steering-Dependent Aiming
Adaptive Cruise Control (ACC)
Automatic Crash Notification (ACN)
Automatic Emergency Braking (AEB)/Crash Imminent Braking (CIB)
Automatic Parking and Vehicle Retrieval
Autonomous (Self-driving) Vehicles
Blind Spot Monitoring (BSD)/Rear Cross-Traffic Detection/Pedestrian Detection
Driver Monitoring System/Driver Drowsiness Detection
Forward Collision Warning (FCW)
Lane Keeping Assistance System (LKAS) and Lane Departure Warning (LDW)
Panoramic View Camera System/Dynamic Back-Up Camera
Pedestrian Automatic Emergency Braking (PAEB)
Rearview Video System (RVS) (mandatory in the USA as of May 2018 production)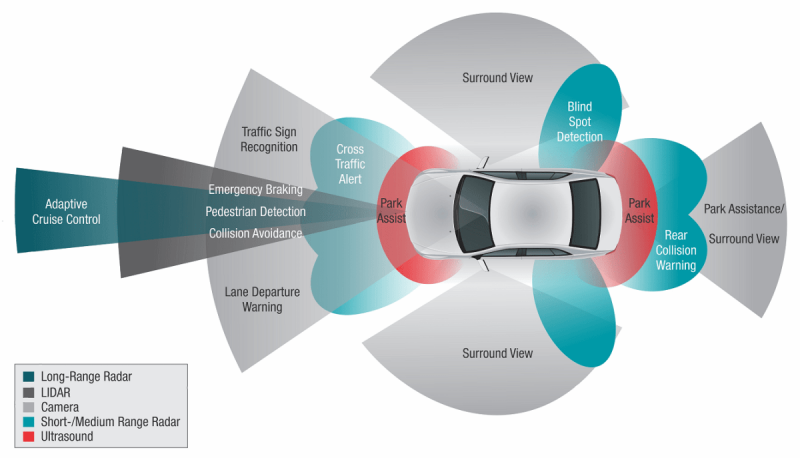 Servicing the ADAS systems
While it would be impossible to cover the servicing of every ADAS system in existence within the space we have here, we can highlight a few systems and some things you should consider.
An example of accessing ADAS system procedures through ALLDATA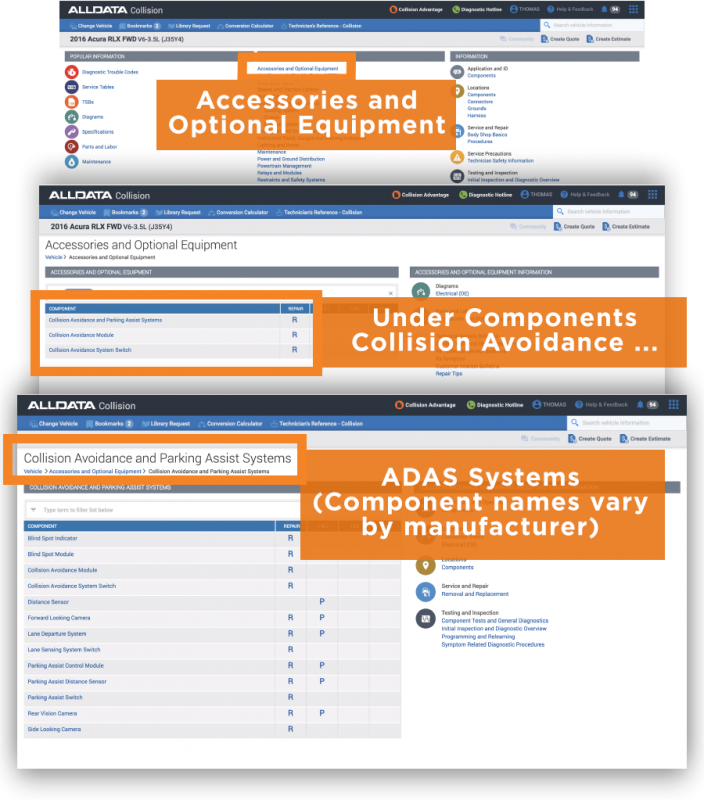 Knowing what calibrations may be required is critical to vehicle safety. Calibrations may include static procedures in the shop or dynamic procedures on the road. These procedures can take an hour or more.
When servicing ADAS systems, you need to take a holistic approach. EVERYTHING on the car affects ADAS systems. For example, camera-based systems such as Honda LaneWatch™ or Toyota's Bird's Eye View™ technology will require calibration due to tire replacement, suspension work, engine modifications, or steering system repairs. This is in addition to calibration required by collision repair, outside rear-view mirror replacement, or even a simple wheel alignment.
Windshield replacement or removal/reinstallation typically requires calibration if any ADAS system "looks" through the glass. This includes, but is not limited to, Subaru EyeSight®, LKAS, LDW, Rain Sensors, FCW, or autonomous driving systems (self-driving vehicles). NOTE: you may need to install OEM glass on some vehicles. Failure to do so will result in ADAS systems not working properly or inability to calibrate.
When calibration is required on any ADAS device, it is critical that it is done according to manufacturer's procedure. If not, your shop can incur liability if a failed system results in a collision. Note also, that lack of warning lights or messages does not mean that the system is calibrated properly. Do calibrations the factory way or send it to someone who can. If you're thinking of sending a car to the dealership for calibration you may be in for a surprise if you used non-OEM parts (including the windshield). They may, due to liability concerns or inability to successfully run the calibration, refuse to touch the vehicle.
There are special tools involved in ADAS servicing. Targets, software, and measuring devices are commonly used. ALLDATA service information will list the needed tooling.
Consider your facility. There must be a clean, level location in your shop that has enough space and proper lighting. You may need to mark the floor to calibrate some vehicles.
Be prepared - it isn't going to be easy
There are no simple repairs anymore. Be prepared for this technology shift.
Train yourself and your employees on the latest technology.
Prepare for the procedure. Know what steps need to be followed before work is begun. Allow for any sublet procedures in your time, labor, and materials estimate. Make sure you discuss the repair with all parties to avoid surprises.
Contact your parts suppliers. Know when the parts will get to you and how much. Determine if acceptable non-OEM parts are available.
Look in ALLDATA for the manufacturer's procedures. Share them with the customer and any insurance adjuster that may be involved. This builds credibility and educates all concerned. It also prepares you for the tool requirements for the job.
Invest for Success. Research the tool, equipment, and facility expenditures that will be needed to repair ADAS.
If you sublet repairs, make sure that they are trained and equipped for ADAS.
No matter what type of repairs you do in your shop, you need to be ready for ADAS. The systems are out there on the road and your customers expect you to be able to service these devices.
Your customer's safety and your shop's livelihood depend on you staying up with these fast-paced changes in technology.
More reading material:
MyCarDoesWhat.org Information for your customers on vehicle technologies
www.NHTSA.gov NHTSA's info on ADAS
www.BodyShopBusiness.com Everything you wanted to know about windshields and ADAS
www.BMW.com The path to self-driving vehicles
www.ConsumerReports.org Detailed list of current production vehicles with ADAS
ALLDATA Collision builds on the industry-leading mechanical information found in ALLDATA Repair, adding OEM procedures such as section and structural repairs, handling of new materials, and panel removal and replacement. Request a demo of ALLDATA Collision or call (888) 853-7309 to get started.
If you would like to read more articles like this one please subscribe to ALLDATA News.