ALLDATA 101 – Tackling Search Techniques
Oct. 02 2023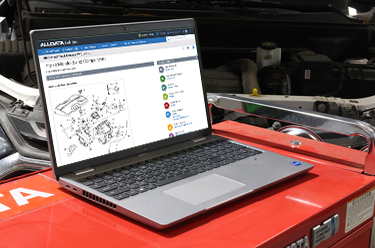 Oct. 02 2023
Every manufacturer has a different way of categorizing and displaying their repair information, and ALLDATA standardizes this information without altering the sources. Using powerful indexing and search algorithms, ALLDATA translates the manufacturers' glossaries into a format that is familiar to most technicians. Here are some tips on how to find the repair information you are looking for – even if it isn't where you think it should be.
First, let ALLDATA find it
When using ALLDATA Repair® or ALLDATA Collision®, the first place to visit is the Search Vehicle Information window (aka the Search Bar).
Once a search term is selected, links will appear for different categories, such as wiring diagrams, repair procedures, Technical Service Bulletins, and more.
Working your way from the main vehicle page
ALLDATA is designed to make repair information as accessible as possible, and it starts at the main vehicle page. This includes links to Popular Information and Systems and Components. This tends to be slower than searching, but you may be able to find information that didn't populate in the search bar.
For example, if you're searching for TSBs, simply click on the TSB icon under Popular Information. Once displayed, they can be sorted by number, date, or TSB title.  You can also search the TSBs for specific things by using the search bar above the TSB table. When searching, it is useful to use a specific term that you're looking for. For example, if the customer's complaint is a loss of power, type in "loss of power" and those TSBs will immediately display.
Different roads, same destination
With the way ALLDATA organizes data, sometimes you can access the same information from different sources. Once such example is looking up wiring diagrams. The simplest way is to look under Popular Information on the main vehicle homepage and select Diagrams. From there you can view diagrams for various vehicle systems. But another way to access this information is to start your search from Systems & Components.  You can still find diagram information this way, but you will have to wade through various other repair information to find it.  It simply boils to down to what information you're going to need.
Powertrain Management – a treasure chest of repair data
To continue this thread, let's look at another resource to find specific information in ALLDATA. As was previously mentioned, you can always find links to diagrams under Vehicle Systems or via the Search Bar. However, there is another resource available: Powertrain Management, which contains diagrams for fuel, ignition, and emissions. This is especially handy when you need diagrams from a variety of systems; instead of having to visit each category, they are all at your fingertips. For example, clicking on Powertrain Management > Lighting and Horns will show you the wiring, testing, and repair tips for headlights, brake lights, horns, and taillights.
The power of browser tabs
Sometimes when researching repair information, you need access to multiple resources at once. This is where ALLDATA's "Open in New Tab" feature comes in handy. Using browser tabs is a powerful way to display information from multiple documents to make research easier. Let's take a 2010 Toyota Highlander 2WD V6 for an example. When looking for the crankshaft position sensor (CKP), navigate to Diagrams > Electrical (OE) > Powertrain Management. Within that area, Toyota includes a wiring diagram index. (Note: not every manufacturer does that.) Part 6 includes the CKP. Select this, and at the bottom corner of the image that loads, click on "Open in New Tab" to open the information in a separate browser tab. This gives you the freedom to go back and open additional pages, like power, grounds to the ECM, etc. Having them all on separate tabs allows you to quickly switch between them as you look for wire colors, pin numbers, splices, and connectors. In the old days, you would have had to print them all out and lay them out together to follow wires with your finger. Clicking through pages as needed greatly reduces this research time.
Think 'big picture' when it comes to procedures
Sometimes you will want to research a particular item such as a radio, but you cannot find a specific procedure under System and Components > Accessories and Optional Equipment > Radio.  Try going backwards and thinking big picture. Perhaps try searching under the larger category of Dashboard Removal. Sure, it can take a little digging, but the information is usually there, even if it's not where you initially expected it would be. 
A picture isn't always worth a thousand words
Sometimes difficulties can arise when the manufacturer "embeds" data inside an image of text, circumventing the search bar process. This circumstance requires a user to be more creative in their search. TIP: It can help to broaden your search parameters, such as looking for an overall system that your information would be a part of.
For example, on many newer Ford models, a code search does not give the important details.  Let's look at 2020 Ford Mustang 5.0. From the vehicle main page and under Systems and Components, click on All Diagnostic Trouble Codes (DTC). Select C codes and go to C001D. That page gives little information – no code description or accompanying data. Here is where you must broaden your search. Select Go to Pinpoint Test Y for a chart with a list of codes and descriptions.  For further diagnostics, you have to scroll down into the body of Pinpoint Test Y and follow the steps to find the information and testing you want.
Finally, 'Ctrl-F' for the text heavy
There are occasions when there is too much text in a document/webpage.  There can be pages and pages of information to go through before you get to the core of your search. A simple workaround is to just use CTRL-F on your keyboard. This will open a browser search bar so you can then type in the desired code/term and it will highlight all mentions of it on the page. 
ALLDATA does its best to streamline your research time, and it presents all the information the OEs allow. Hopefully the tips here will allow you to access the information you need – even when you think it doesn't exist.
Want to see how ALLDATA can improve shop efficiency? Check out our suite of products, each designed to contribute to both shop efficiency and productivity.
If you would like to read more articles like this one please subscribe to ALLDATA News.