Barry's Paint Shop, Successfully Blending Education With Hands-On Experience.
Aug. 08 2017
Aug. 08 2017
Recently ALLDATA had a chance to speak with Barry Burkholder to find out what makes his business thrive in a competitive market. The owner of Barry's Paint Shop is a man with vision. His forward thinking involves utilizing the latest technology and educating his employees.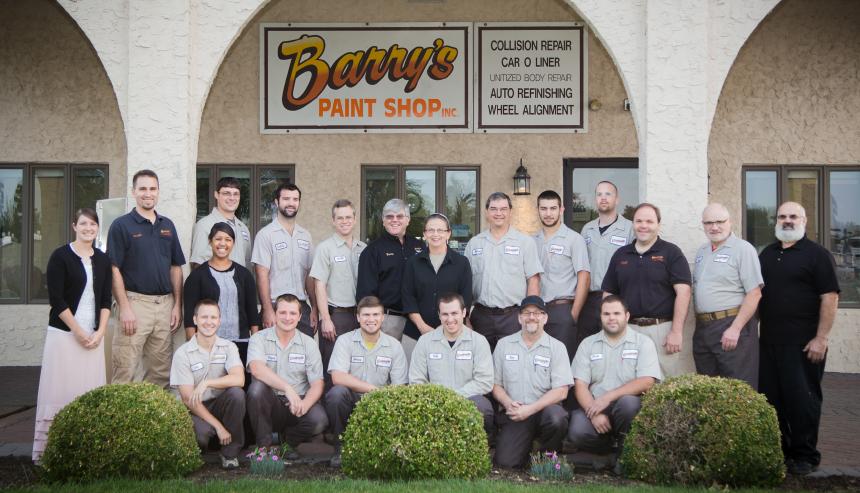 Customer Profile
Barry's Paint Shop
Locations: Ephrata & Neffsville, Pennsylvania
Owner: Barry Burkholder
Number of Bays: Ephrata: 19, Neffsville: 9
Staff: 28 total
Website: www.barryspaintshop.com
The result: the efficient restoration of automobiles to their original factory condition. Burkholder got his start 44 years ago in his father's chicken house, where he striped and repainted cars as an evening hobby. From that humble beginning, he now owns two shops in Pennsylvania: a 19-bay, 12,000 square foot shop in Ephrata, complete with training facilities, and a smaller shop in Neffsville. Concentrating mostly on insurance work, his two shops combined have 28 employees and more than $4M in sales. The success of Barry's Paint Shop is no accident; it's the result of the owner's solid commitment to equipping his employees with the knowledge they need, and then creating an environment where they can grow into master technicians. It's a profitable combination of education and workflow.
Education
Burkholder's commitment to education is evident, as his I-CAR Gold Class shop rating attests. Only 10% of all collision shops have qualified to hold this certification, and it requires that all of the shop's technicians undergo continuous training. In addition to the I-CAR Gold Class certification, Barry's Paint Shop holds OEM certifications from Chrysler, Dodge, Ford, GM, Honda, Hyundai, Jeep, and Nissan. His Ephrata facility is the home base for the training of collision techs across the region, because not only do Barry's Paint Shop employees receive training there, but I-CAR leases the facility to conduct classes for its members.
Regardless how good a technician is, they're not going to be able to memorize every position statement from every OEM … even though you might have known at one time, it changes, and you've got to have the right information to know what the procedures are today.
Education at Barry's Paint Shop is not limited to the classroom. According to Burkholder, it takes about five years of training, including on-the-job experience, to really get up to speed. A vital part of this experience is learning how and where to get accurate repair information.
Burkholder said, "Regardless how good a technician is, they're not going to be able to memorize every position statement from every OEM. Plus, it changes. Like Ford, they changed their pickup bed procedures four different times in recent years. So even though you might have known at one time, it changes, and you've got to have the right information to know what the procedures are today."
To this end, Burkholder equips his techs with multiple products, including ALLDATA Collision Advantage, to provide accurate estimating, parts gathering, and, of course, OEM diagnostic and repair procedures. This educational approach feeds into the very workflow of Barry's Paint Shop.
Workflow
Barry's Paint Shop's workflow is comprised of specialized teams that foster expertise and allow individual skill set development. It's part of the ongoing training employees receive.
Burkholder notes that each technician focuses on their specialty to get better and more efficient at it, and also more detail-oriented. The concentration on teams and teamwork results in greater efficiencies and decreased cycle time, which directly benefits the customer.
The customer's car first goes through an intense "damage analysis," whereby a team of dedicated techs completely dismantle the vehicle for a thorough inspection.
"Efficiency starts with the right plan up front, so a lot of time is set aside for damage analysis," said Burkholder.
This 100% deconstruction allows for a complete accounting of parts to be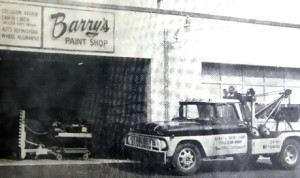 ordered, a review of all repair procedures, and a tally of tools and adhesives needed for the job. Once authorized, the vehicle is handed from the damage analysis team to the appropriate body, frame, paint, plastic, and finish teams.
Barry's Paint Shop employees work on an hourly rate with a bonus tied to team throughput. This philosophy promotes teamwork and encourages employees to build on their skillsets. It also allows for mobility; when a tech has mastered one skill they are free to learn more. Additionally, the individual teams add to more transparent efficiency monitoring, which pays off to the employees in the form of a team bonus.
The wage structure also allows for role changes that make business sense. Burkholder said, "I'm told that 70 percent of a collision repair job can be done by a lower skill level, so why are you paying the high skill wages to do that portion?"
Ultimately, Burkholder's success is based on taking the long view, investing in training and education, hard work, and most of all, time.
"If a young person really wants to learn and he has his heart in it, he might not get paid very much at the beginning, and he has to look at the long-term," said Burkholder. "Eventually, they can be the one doing high-end, highly technical work and getting paid really good wages. The big thing is to want it."
Want to see how ALLDATA can improve shop efficiency? Check out our suite of products, each designed to contribute to both shop efficiency and productivity.
If you would like to read more articles like this one please subscribe to ALLDATA News.