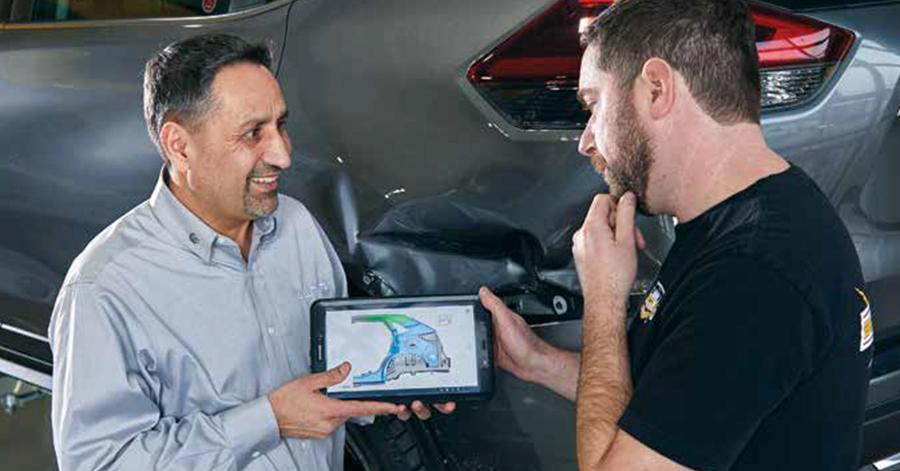 Collision Magazine: Right Info, Right Time
Mar. 05 2019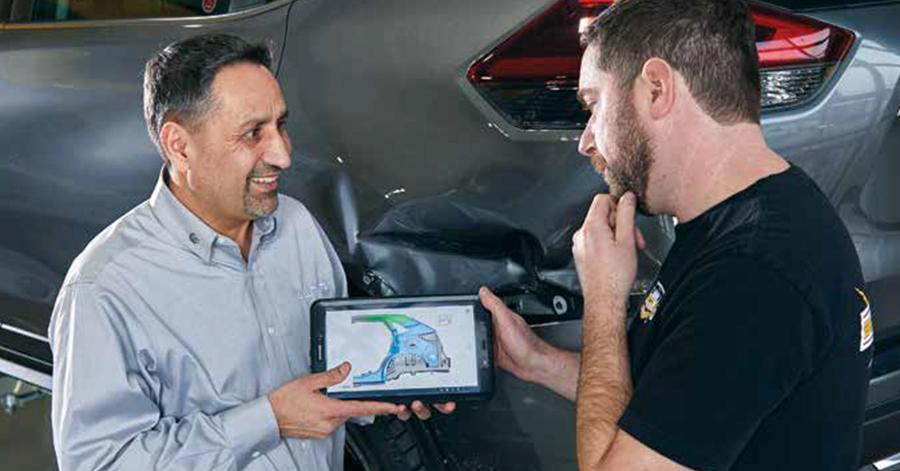 Mar. 05 2019
Earlier this year, ALLDATA President Satwinder Mangat traveled to Canada, exploring ways to better support this key market. Following a meeting with publishers of Collision Management, the magazine then featured ALLDATA as the cover story for the February Issue.
You work in a busy collision repair facility. You've got a 2018 model year vehicle that's been hit fairly hard in the rear and requires significant repairs. There are multiple sensors to contend with and the vehicle features mixed material construction. It's a complex repair and requires access to the right O.E.M. repair information to do the job properly and efficiently.
We aim to ensure our customers have the right information at the right time. That means the shop and the technician have access to what they need, when they need it.
Luckily, with ALLDATA Diagnostics—the company's newest scan tool—you're able to get access to the information you need right there on the shop floor (essentially putting the power of a laptop in the palm of your hand). The scan tool allows you to pull up the DTC codes from the vehicle while at the same time, you're able to access the O.E.M. specified repair procedure directly from the DTC codes.
Unlimited scans
Other features include unlimited pre- and post-repair scans and access to free data and software updates for a single, low cost subscription with no up-front charges.
Furthermore, because ALLDATA Diagnostics is integrated with ALLDATA Repair and ALLDATA Collision, technicians have direct access to repair procedures for more than 38,000 different vehicles, constituting around 95 percent of the current on-road fleet.
ALLDATA Diagnostics was first introduced at the 2017 SEMA Show and has changed the way auto body repair technicians are able to embark on the repair process by matching specific codes and procedures. It's just one aspect of a company that has made huge strides over the last decade in providing superior products and solutions for collision repairers.
ALLDATA President & CEO, Satwinder Mangat, says the company's focus is to become a trusted partner for collision shops, providing tools and solutions that fit their needs. Mangat has long been an advocate of mobile based-technology and the development of ALLDATA Diagnostics has been a direct result.
Supercomputer on wheels
Mangat notes that with modern vehicles having approximately 100 million lines of code, they've essentially become supercomputers on wheels. Throw in the fact that current Corporate Average Fuel Economy (CAFE) standards are requiring O.E.M.s to constantly look for ways to reduce weight and boost fuel economy and the end result is a repair process that's a far cry from even a decade ago.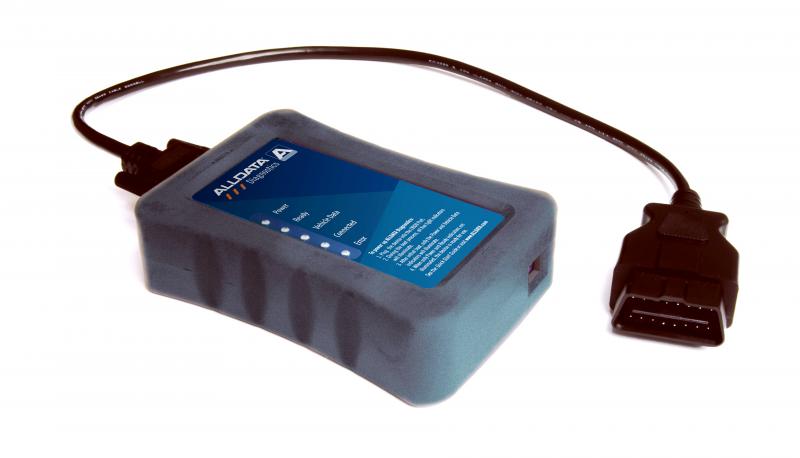 "You simply can't fix cars today the way you used to," says Mangat. He notes that often, something else can be wrong with the vehicle before it comes in. The backup camera or navigation system might not be working, so it's critical the technician scans the vehicle to not only see what codes have been triggered by the collision, but any previous faults that are present. Not scanning is not an option anymore. It can help shops boost profitability and provide proper and safe repairs. By having integration with O.E.M. repair procedures, there's a completely documented process from start to finish.
In addition to ALLDATA Diagnostics, the company's Collision Advantage Solution provides technicians not only with repair data, but also integrates with major estimating systems and provides O.E.M. procedure alerts and notification for vital repairs needed.
The result is a level of accuracy and detail that not only allows the repair to be performed properly but minimizes the risk of supplements—ensuring the shop gets paid for the work performed and there are no additional costs beyond those contained in the original estimate. Additionally, when it comes to specific repair requests, ALLDATA is able to connect shop technicians with its Tech-Assist team of repair experts who can answer and assist seven days a week in both English and French in Canada, as well as English and Spanish in the U.S.
Strong O.E.M. ties
ALLDATA first established itself by providing diagnostic and repair information on the mechanical side and officially entered the collision market back in 2007. As a result, it's been able to leverage its relationships with O.E.M.s to deliver information and resources that are second-to-none in the industry, not just in North America but on a global scale.
Mangat says that having experience and expertise in data and information in both spheres is hugely advantageous, especially as the collision repair industry (and indeed the entire automotive segment) undergoes major changes.
"One thing we see," he remarks, "is consolidation and integration of the collision industry, not only among shops and networks but also from the perspective of collision shops branching out into mechanical repairs and other services." And it's here where teaming up with a vendor like ALLDATA can be hugely beneficial for collision shop operators, providing them access with both mechanical and collision repair data that is accurate, quick and easy to access. Not only does it help ensure that specific repair procedures are followed, but also that shops are able to realize additional profitability through diagnostics and scanning—opportunities that were perhaps not available to them before.
There is a ton of data available today and it really is about how effective we can be in relaying insights gained back to our customers, whether it's on the collision or mechanical side to help them run their businesses better.
Mangat says he expects to see a 20 to 25 percent reduction in the frequency of collision repairs in the years ahead as vehicles become smarter and more connected and O.E.M.s continue to push the boundary on safety technology up to and including more autonomous driving features. Therefore, any additional services and profit centres that can be realized will prove to be hugely advantageous for repairers.
Strategic focus
Looking to the future, Mangat notes that as far as ALLDATA is concerned, there are four key areas identified in terms of corporate strategy.
"Firstly, it's to ensure our customers have the right information at the right time. That means the shop and the technician have access to what they need, when they need it.
"Secondly," he says, "there needs to be deeper integration, not only between the scanning process and O.E.M. repair information, but also with estimates and management systems to make sure repair procedures are as smooth as possible."
Thirdly, Mangat adds is the Data Analytics piece. "There is a ton of data available today and it really is about how effective we can be in relaying insights gained back to our customers, whether it's on the collision or mechanical side to help them run their businesses better."
Finally, another key focus for ALLDATA is developing what Mangat refers to as a complete "end-to-end solution". You can plug into existing solutions but how do we take it a step beyond and streamline the process, so functionality and access are faster and simpler?"
He says that ultimately, the end goal is "to provide solutions that make things better for our customers, from assisting the technicians working in the back, to helping managers and owners in the front deliver better results and greater profitability."
Special thanks to Collision Management who published this in their February Magazine and provides up-to-date news, innovative products, technical discussions and industry reports that are designed to keep you informed. 
Want to see how ALLDATA can improve shop efficiency? Check out our suite of products, each designed to contribute to both shop efficiency and productivity.
If you would like to read more articles like this one please subscribe to ALLDATA News.