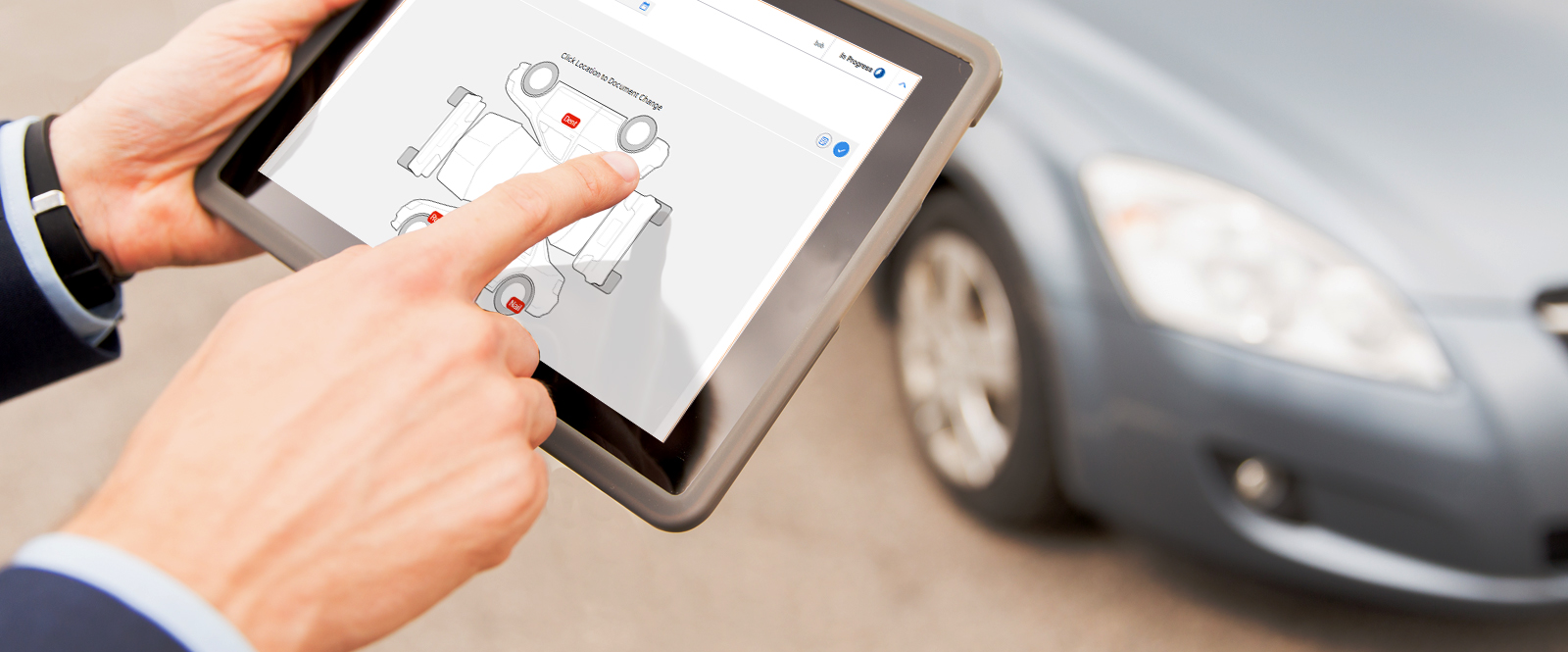 Still on the fence about Digital Vehicle Inspections?
Mar. 01 2023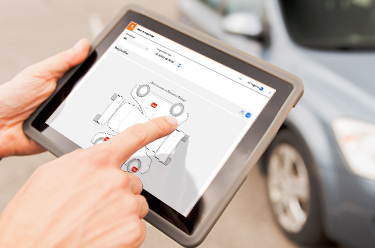 Mar. 01 2023
How ALLDATA Inspections streamlines your workflow

When your customers come in for repairs, is your shop still handwriting vehicle check-ins and inspections? If so, you're not alone. It is estimated that about 25% of shops or more still do. But that's changing!
With today's evolving software technology, there is an easier, more efficient solution to capture the real-time condition of incoming vehicles to your shop.
Introducing ALLDATA Inspections, a new easy-to-use digital application that lets you jumpstart the customer check-in process curbside with digital vehicle inspections (DVIs), simply performed on your smartphone or tablet.
In addition to streamlining the check-in process, ALLDATA Inspections delivers 1-click access to ALLDATA's industry-leading repair information – paving the way for faster customer approvals and higher average repair orders (AROs).
It works with ALLDATA Repair® or ALLDATA Collision® and ALLDATA Shop Manager® on any mobile device or browser (Android, iOS, and Windows), giving your entire service team shared access to customer and vehicle documentation for faster estimates, repair orders, invoices, and more.
ALLDATA Inspections also helps to identify other services that may be needed now, or due soon, which enables shops to deliver trustworthy advice on the spot to their customers, while potentially boosting average Repair Orders.
We're always looking for ways to help shops boost productivity.  ALLDATA Inspections provides shops the flexibility to greet customers at their vehicles and streamline the workflow process.
Boost your shop's AROs (and your bottom line)
Many shops provide services only for the immediate issue that brings the customer into the shop that day, often leaving valuable service dollars on the table.
With ALLDATA Inspections, it is easy to identify additional services that could be needed or coming up.
Say the primary issue is the water pump, but you see that the car needs an air filter and the tire treads are worn. You can alert the customer to those other needs noted on the Inspections checklist, and offer to take care of them right then or the next time they come into the shop.
There is a tremendous amount of potential revenue that could result from the implementation of ALLDATA Inspections, which is why the application can quickly pay for itself.
Helps to validate needed repairs
Many shops struggle to validate needed repairs with their customers, which can result in unhappy customers and loss of revenue due to miscommunications about needed repairs.
Emailing the ALLDATA Inspections report loops customers into the process from the start and makes it easier to discuss needed repairs while educating and building trust.
Particularly on the collision side, proper documentation is the key to getting paid. For most shops, it's currently a manual process for documenting pre-existing damage. ALLDATA Inspections offers a detailed notes section for accurate documentation. You can even dictate your notes, another huge timesaver.
How Inspections fits into daily shop workflow
Now, right at the vehicle, service writers or technicians can use their ALLDATA Inspections on their mobile device to easily look up or add a new customer, check off a digital inspection sheet, and email it directly to the customer.
Just launch the app, scan the VIN, check in the vehicle, and choose one or more of the 10 prebuilt digital inspection templates. Plus, ALLDATA Inspections lets you record your notes as you work, which is faster and more efficient than manually writing them. (Using spell-check, of course, may be a wise option!)
ALLDATA Inspections is your starting point for a complete solution that fits your overall repair workflow. Check out these typical workflows for both Mechanical and Collision shops utilizing ALLDATA's suite of products: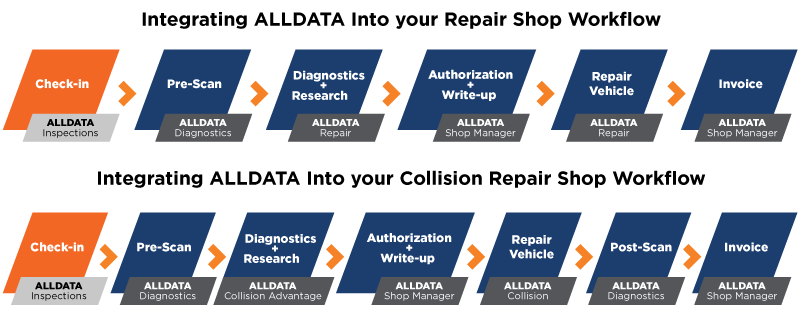 New Check-In Template
The visual inspection gives mechanical shops a chance to document any visible damage to the car; any dents or scrapes, so they are not liable for any pre-existing damage. This new template makes it fast and easy to note road rash on the bumper or a chip and dent on the rear passenger door.
In our lawsuit-happy culture, it definitely pays to make sure you have checked all the boxes by performing a complete vehicle inspection to document the current status of every car that comes into your shop.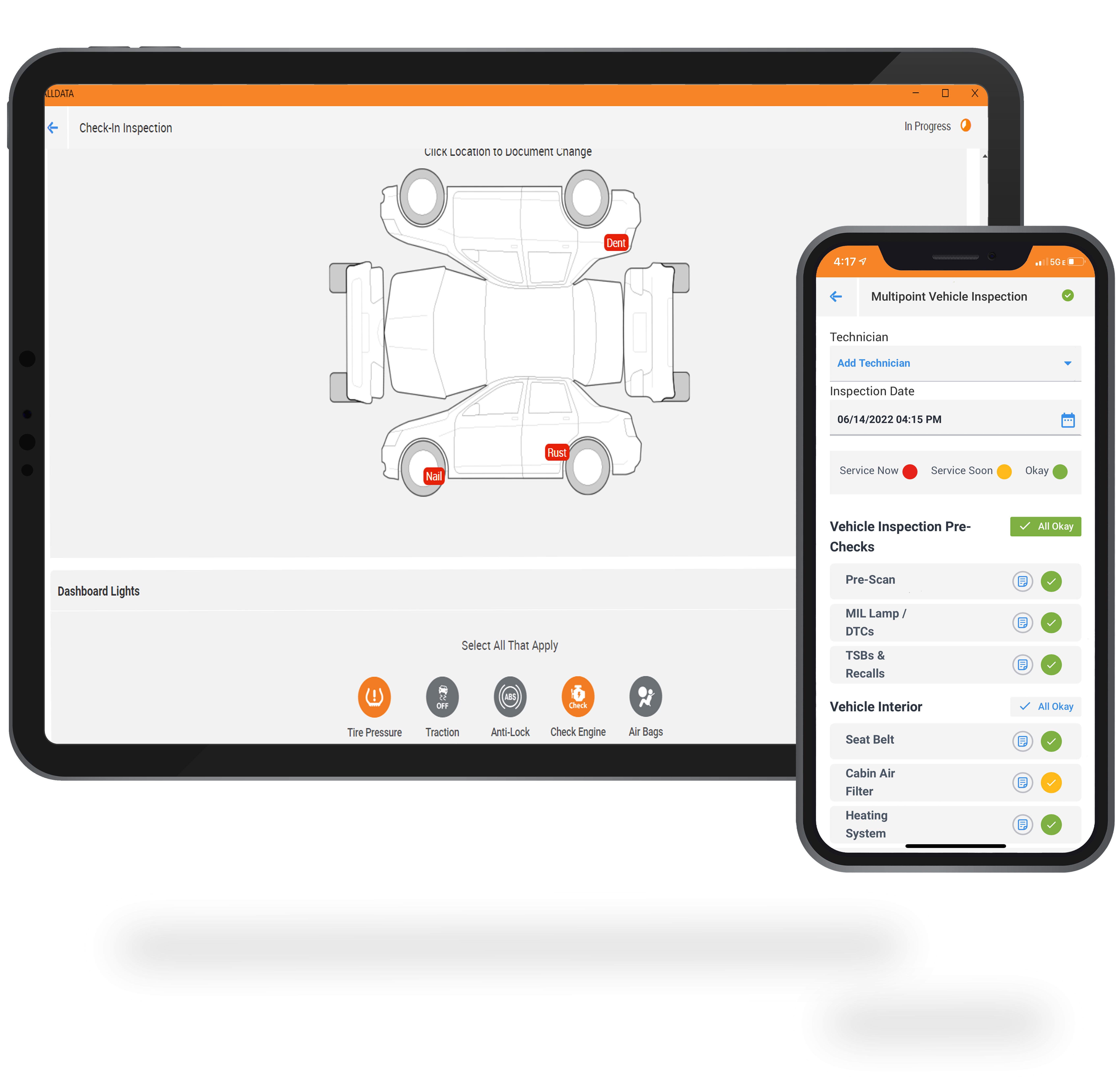 Move on to the interior and note which dashboard lights are on. Remember, unless you document it, you won't get paid. It is super simple, but also super powerful. Email or print Inspection sheets for proper documentation of customer records. And you can easily add your logo for a professional finish.
On the collision side, digital documentation is just catching on, but many Insurance companies are already loving the solution. Since the pandemic, more auto body shops are doing related mechanical work. Using ALLDATA Collision, Inspections, and Shop Manager, shops can track and bill any needed sublets. This includes managing any reimbursements for mechanical services, as well as the ability to tie in vehicle Inspections with a Diagnostics pre-scan report.
What's in it for you?
A good question to ask yourself is: How can you improve your current process for checking in or inspecting a vehicle?
If you are still handwriting Inspections and estimates, STOP! Why burn up valuable time that could be spent on properly inspecting and pre-diagnosing the many vehicles that come into your shop?
Our convenient, time-saving solution lets you begin the check-in process in the parking lot using any mobile device. It helps you quickly complete vehicle inspections, which creates a more profitable RO and a more efficient repair workflow.  
It works with ALLDATA Repair or ALLDATA Collision and ALLDATA Shop Manager on any mobile device or browser (Android, iOS, and Windows), giving your entire service team shared access to customer and vehicle documentation for faster estimates, repair orders, invoices, and more.
Digitally identify and document pre-existing damage with ALLDATA's mobile inspection solution. Plus, you can also potentially generate other revenue opportunities that typically do not require insurance company authorization!
As ALLDATA President Satwinder Mangat said in the press release announcing Inspections, "We're always looking for ways to help shops boost productivity.  ALLDATA Inspections provides shops the flexibility to greet customers at their vehicles and streamline the workflow process."
Wherever you are in your digital journey, the ALLDATA Inspections platform is your best first step.
Benefits of adding ALLDATA Inspections – Mechanical and Collision Shops
Curbside check-in – the convenience of launching Inspections car side from your mobile phone or tablet
Digital documentation – Adds customer and vehicle information to start your paper trail while being easily retrievable for future look up and consideration
Enhances workflow – Records assigned technician while being accessible by all service team members for improved communication
Faster customer approvals – Email or print out DVI on the spot
Flexible access – Works with ALLDATA Repair, ALLDATA Collision, and ALLDATA Shop Manager along with the ALLDATA Mobile app
Higher ROs – DVI shows services needed or due soon for higher dollar ROs
Meets industry standards – ALLDATA has partnered with the Automotive Maintenance and Repair Association (AMRA) to deliver a comprehensive selection of industry-standard inspections
Multi-platform – Inspections is available on our favorite device, whether you prefer Android, iOS, or Windows
Pre-built templates – Check off one or a multiple of 10 different Inspections templates for every repair scenario
Professional appearance – Clean and easy to read with your shop logo at the top of the document
Reduces liability – Implement DVIs to document pre-existing physical damage and other observations to call out other potentially needed repairs

Ready to see for yourself why the majority of auto body shops (74%) use ALLDATA's industry-leading OEM repair information? Check out ALLDATA Collision and our integrated technology platform of shop productivity tools.
If you would like to read more articles like this one please subscribe to ALLDATA News.