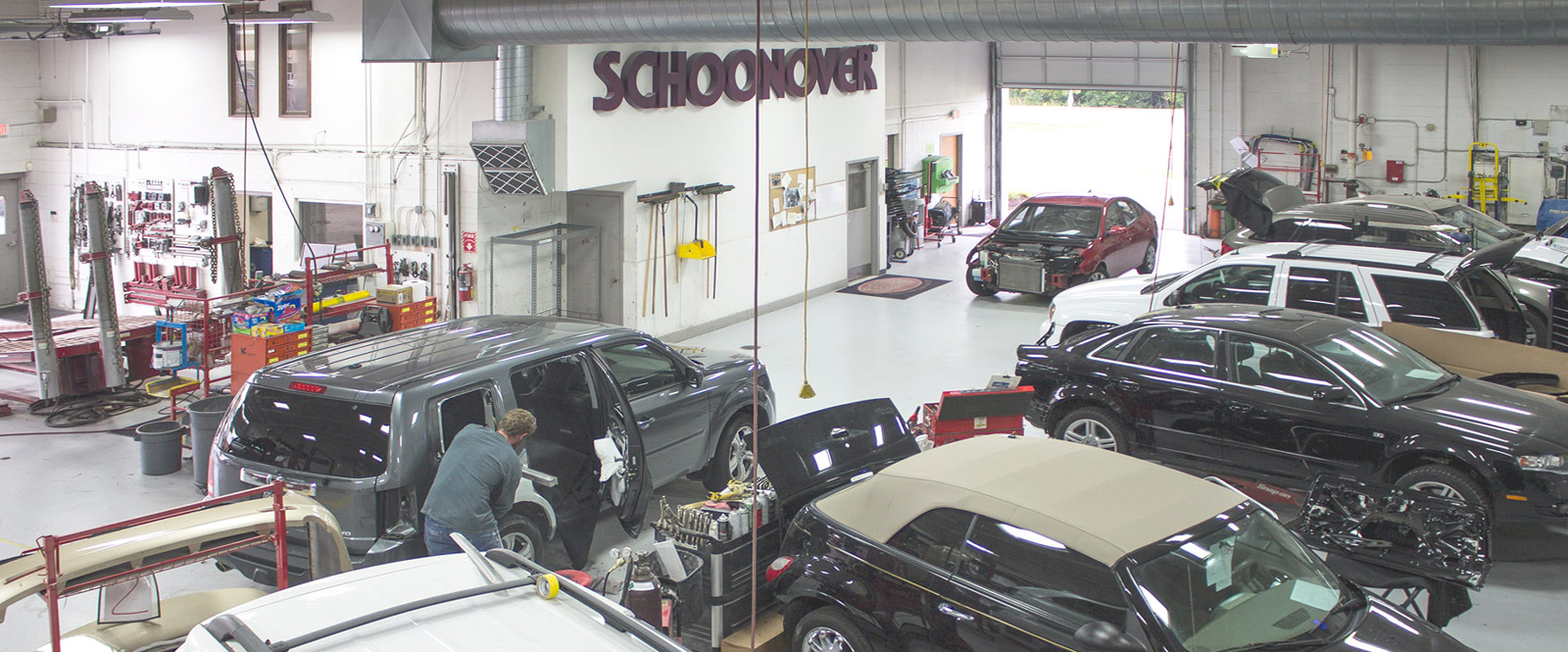 Do what's right for the customer
Nov. 08 2022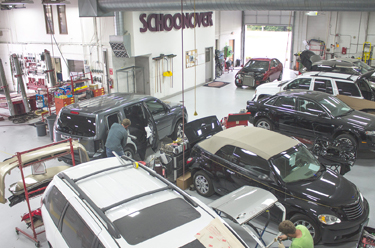 Nov. 08 2022
2022 FenderBender Award winner Mike Schoonover
Mike Schoonover, owner/operator of Schoonover Bodyworks & Glass in Shoreview, Minn., is the winner of the 2022 FenderBender Award for the "Finest in Collision Repair," an honor he describes as "Very humbling, and also very cool." In addition to being a loyal ALLDATA customer for more than 15 years, Schoonover attributes his shop's success to always focusing on what's right for the customer, always doing high-quality work, and always providing great customer service.
Company at a Glance
Location: Shoreview, MN
Type: Collision Repair Facility
Facility Employees: 18
In Business Since: 1938
Annual Revenue: $3.5 Million
Combined Production Space: 14,000ft2 
Contact Information: (651) 483-6756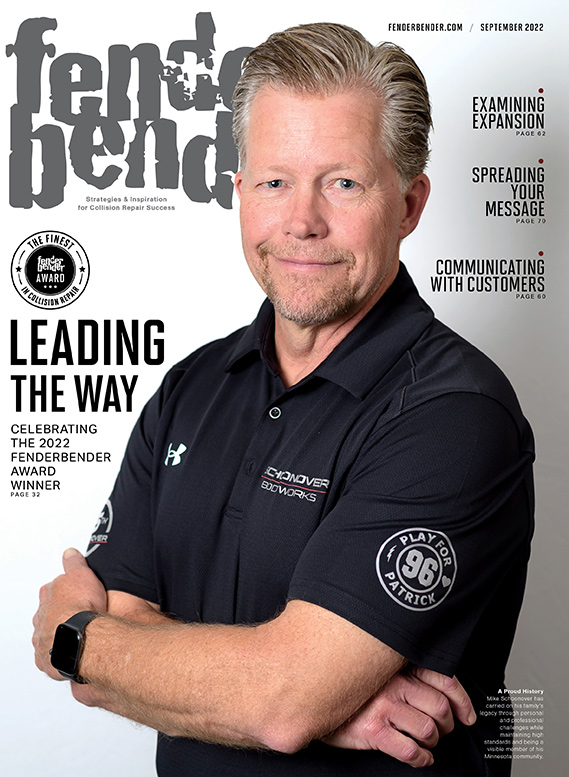 Schoonover is the third-generation owner of the business, which was launched in 1938. He and his wife Gayle officially took over as owners in 2000.
In announcing the award, FenderBender describes the single-shop's dedication to customer service and quality repairs as the foundation for its success. Schoonover was also lauded for his long list of industry affiliations, both locally and nationally. His industry ties include serving on the I-CAR Board of Directors, CAPA Technical Committee and Board of Directors, ASA Collision Division, AASP-MN Collision Committee and that Board of Directors.
The most impactful part of the Schoonover's history was the 2014 death of their son, Patrick, from a heart condition. In the wake of that tragedy, the Schoonover family has helped to raise awareness for heart health and screened thousands of kids through the Patrick Schoonover Heart Foundation.
Creating a "true one-stop shop"
To retain quality control and deliver outstanding customer service and convenience, Schoonover has consistently embraced changes that aren't always the norm for auto body shops. That started with bringing glass repair and installation in house and then added standard maintenance, air conditioning service, alignments, brake work, oil changes, shock and strut replacement, steering and suspension work, and more.
Ditching DRPs to better serve the customer
Schoonover said they made a decision about four years ago to pull out of all of their direct repair programs and cease agreements with insurance companies, citing the need to focus on doing what's right for the customer. He's not the only one. According to the 2022 FenderBender Industry Survey, 34 percent of respondents say they do not work with DRPs.
"As the cars got more complex, especially over the last five or six years," Schoonover said, "we saw that the way insurance companies operated was not in line with our goals, meaning that they weren't serving our mutual customer and they were only serving their own self-interest of trying to keep things cheap."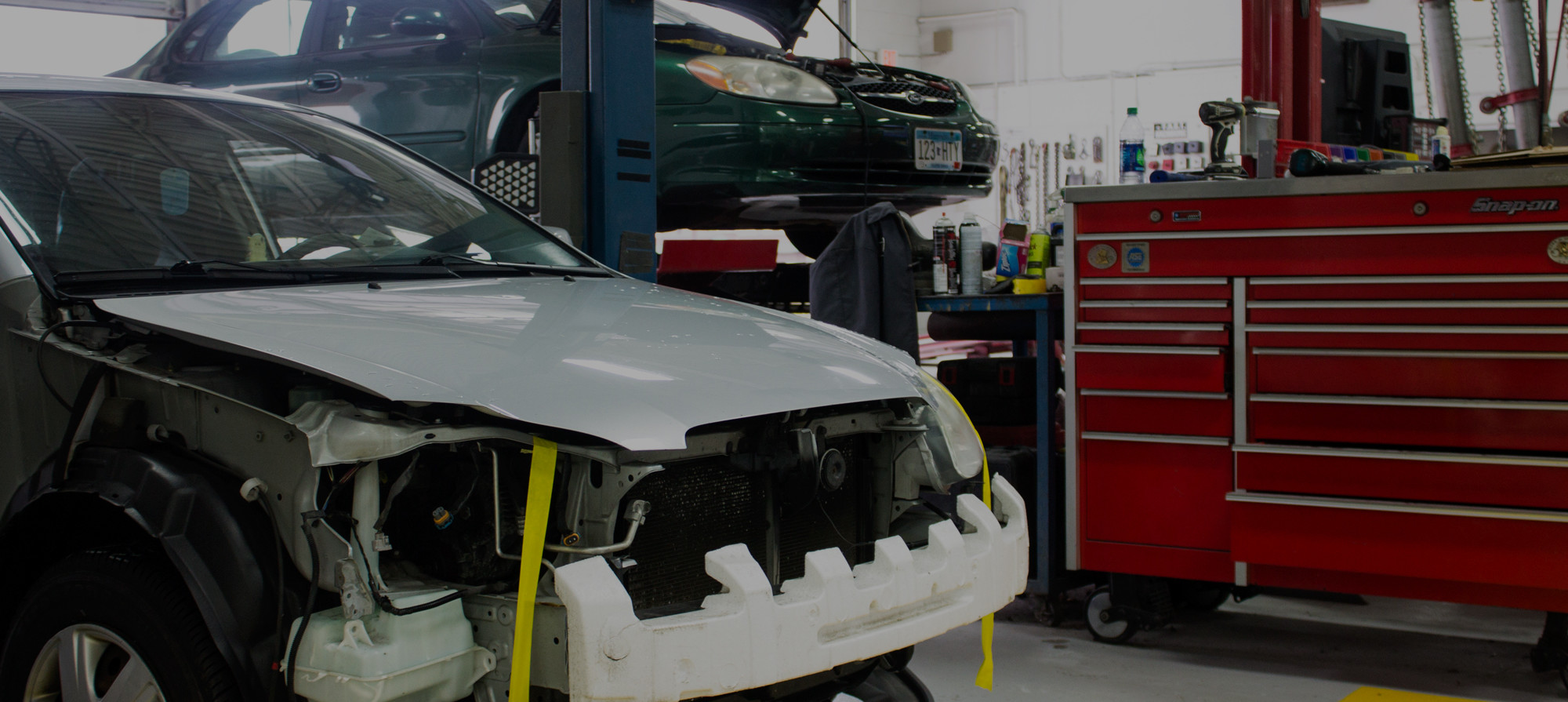 Wrestling with the DRP or insurer over parts was particularly contentious. "Like being told to repair a part or install a used part when the manufacturer information calls for a new replacement OEM part," said Schoonover. "That was the kind of the scrutiny that we were under on each and every job and being questioned about how high our numbers are."
Cycle times were another issue. "It was always a pressure cooker. Not only do you have to control the cost of these jobs, but you have to get them done quickly. It suppressed our ability to charge and collect for the work we were doing to rightfully repair the vehicles back to pre-accident condition."
Once the shop was out from under the contractual DRP obligations, Schoonover says they actually saw an increase in business. "When they can't threaten to take you off their program, their power is gone," he said. "It was our choice to say that we're going to act on behalf of the customer, we're going to take care of our customer, whatever it takes, however long it takes."
Schoonover says that many in our industry assume that direct repair programs will be the savior to their business; that they're going be more efficient and the insurance company's going to send them a steady stream of work. He says that same mindset applies to OEM certifications.
"What they're losing sight of is when you have a customer coming into your office, you have the ability to keep that customer for life," said Schoonover. "We have shops that think that because they join all these programs, whether it be an insurance program or an OEM program, that their volume is going to go up, or work is going to be sent to them."
Today, all the shop's technicians have laptops and they all have ALLDATA at their fingertips. Right now, ALLDATA is vital to successfully run our business. It's required for us to do our job.
Schoonover, who tracks every customer that comes in and has analyzed their repeat and referral business, discovered this simply wasn't true.
"In our case, we have a lot of repeat customers who visit us frequently throughout the same year, sometimes the same month. When we asked, 'How did you find out about us?' it was always friends or family. It was always repeat customers."
Over a period of a few years, they had a several thousand responses. Schoonover says there was only one that came because they were a Ford-certified shop. "And we didn't even get the job," he said. "We wrote an estimate, but we didn't get the job."
An ALLDATA customer for 15+ years
Schoonover Bodywork & Glass first signed on with ALLDATA at the insistence of their mechanic to handle the service side. "Then you guys came out with ALLDATA Collision, and we were all in."
Today, all the shop's technicians have laptops and they all have ALLDATA at their fingertips. "Right now, ALLDATA is vital to successfully run our business. It's required for us to do our job."
He says that ALLDATA is used throughout the day to pull repair procedures, put the documentation in the file, and share that information with the technician, so they know exactly how to repair the vehicle safely and accurately based on OEM data.
Attention to detail is a critical component of the shop's success and underscores the due diligence that goes into each and every repair. Schoonover says they take the time to thoroughly identify all the damage up front and research the repair procedures in ALLDATA so they can provide customers with accurate, detailed estimates.
"We want our customer to be fully aware of what will be done to their vehicle and how long it will take," Schoonover said.
He also makes it clear to customers that his shop follows the manufacturer's recommendations in order to safely repair their vehicle back to pre-accident condition.
"Using ALLDATA, we know exactly what materials we need and more importantly, we know that it's being done properly," he said. "For instance, the repair procedures tell us if a panel is welded or glued on, if there are other materials that are required for sound deadening, seam sealing – those are the blueprints that tell us how to put this part on."
Schoonover says they send that blueprint to the insurance company to substantiate the charges and back up the invoice.
"This is coming directly from the manufacturer. This is not my opinion. These are the factory instructions for how to repairing the vehicle so that the customer does not have any issues, the customer's satisfaction is high, whether it's a soundproofing material, a leak material, or just a structural material. And that it's safe. We get all that from ALLDATA."
Opting out of OEM Certifications
The shop's reliance on ALLDATA resulted in another cost savings when they opted out of OEM certifications altogether. "Before, we were OEM certified through many, many different manufacturers, which we had to pay a fee to be part of," said Schoonover.
He notes that within the last couple of years, their ALLDATA usage increased heavily on the collision side, and they decided that they didn't really need those OEM certifications.
Using ALLDATA, we know exactly what materials we need and more importantly, we know that it's being done properly. For instance, the repair procedures tell us if a panel is welded or glued on, if there are other materials that are required for sound deadening, seam sealing – those are the blueprints that tell us how to put this part on.
More shops are taking this route. According to the FenderBender Industry Survey, the majority of respondents (47 percent) hold no OEM certifications and have no plans to acquire any.
"We realized that our customers didn't care that we were certified, so we were paying a lot of money for no reason," said Schoonover. "Now we just rely on ALLDATA. We might go to the I-CAR site once a month, but ALLDATA is being used many, many times on a daily basis. It's very easy, and very nimble."
When one of Schoonover's mechanics expressed reservations about how up-to-date ALLDATA's OEM info is, they did a test, ordering a three-day Chrysler subscription for a particularly challenging structural repair. "I put them side by side and showed him that it's exactly the same data and the same pictures. When he saw that, it was like the light bulb went on. And he's been on board ever since."
Attracting and retaining quality technicians
Schoonover agrees that finding quality technicians is one of the industry's greatest challenges. He'd like to see a societal shift that values vocational training as much as a traditional college path.
"Over the years, the educational system, corporate America, and parents have pushed kids into college and not the trades," he said.
But he thinks that pendulum may be starting to shift, with the collision industry gaining credibility, especially as vehicles become more complex.
"People are realizing that not everybody wants to work behind a desk. Not everybody wants to have some meaningless degree. We need to let kids know that they can make a good living in the trades. It's important to have a plumber. It's important to have an electrician. It's important to have a skilled automotive technician."
He also calls out disparities driven by the insurance industry that limit the shop's ability to adequately compensate collision repairers compared to general mechanics.
"A shop is able to charge well over a hundred dollars an hour for mechanical services, whereas a collision repair shop is charging half of that. But we're having people cut cars apart, and doing everything a mechanic does, then welding them back together and saying, 'Hey, you're good to go, but we're not going to pay you guys as much.' It doesn't make sense to me."
Schoonover said he hired four techs this past spring who were attending technical school and wanted to apprentice specifically with his shop. One of them just completed his apprenticeship and is now working in the shop full time. The other three will complete their studies and graduate next spring, then come on board as full-time repair technicians.

He's also fielding calls from folks who work at the big consolidators and want out of that environment. "I just hired an estimator who was in the corporate collision world and was fed up and tired of it. He just wants to work for a family-owned shop. People don't like being treated like a number or behaving like a robot. Since COVID has subsided, I'm getting more people contacting me saying, 'Hey, when you're hiring, would you please keep my name and number in mind?'"
Every work day at Schoonover Bodywork & Glass starts with what Schoonover calls the 'morning release meeting,' a production meeting during which they talk about every car and every part that's on site.
Schoonover doesn't lead the meeting, but he'll add a friendly reminder about quality or customer service. He urges staff to go on Google or Facebook and check out the latest customer comments, particularly the ones complimenting the workmanship and quality of the repair. He wants them to realize the importance of customer feedback, and that it's their work, their pride on the line.
"It's an opportunity every morning to make sure they understand how all the pieces fit together, making sure that we're organized, making sure that we have all of our materials in stock, verifying that all the tools are working – everything we need to be productive that day."
While working for a strong independent shop is a lure for many employees, so too is being part of a family-owned shop culture where employees can thrive.
"We do birthday donuts. We do celebrations for people when they have their anniversary with the company. We do barbecues quite often and we'll get takeout for lunch, just so that we can hang out and be together."
Schoonover also takes the time to hire the right person. "I don't want to hire just anybody who can turn a wrench or paint a car or fix a frame. They've got to be the right-minded person. They've got to have the personality to be able to fit in and be a team player."
If you would like to see a demo of ALLDATA Diagnostics, our professional-level scan tool that has the power of ALLDATA builtin and offers full-system, exportable pre- and post-scans, learn more.
If you would like to read more articles like this one please subscribe to ALLDATA News.