Fixing 'new' warranty-expired vehicles with TSBs
Aug. 07 2021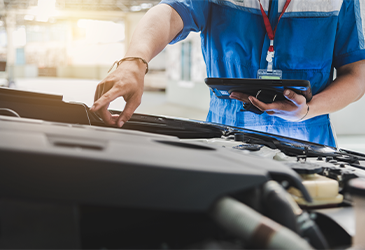 Aug. 07 2021
Automobiles, like heavy metal butterflies, go through a metamorphosis each year. Some models return with just a few minor cosmetic changes, while others undergo a total redesign, and some models don't make it back at all. Manufacturers also use a new model year to debut their latest and greatest creations.
What do changes mean to technicians working in independent repair and collision shops? Each successive model year brings new technologies and procedures to learn and possibly, new tools and equipment to purchase. For the collision industry, that can begin immediately after new model drivers hit the streets… and each other. Independent repair shops, on the other hand, typically enjoy a 36-month reprieve before tackling repairs on warranty-expired vehicles.
To keep in step with new technology and procedures, shops need repair information; especially for vehicles with quirky or hard-to-diagnose problems. That is where manufacturer's technical service bulletins (TSBs) come in handy. In this article, I've chosen three vehicles that were either completely new in 2018 or came back as an updated version of a previous model. We'll explore a little background on each vehicle and look at a couple of TSBs that reveal how to diagnose and fix issues you may see once the warranty expires.
Let's get started!
2018 Toyota Camry
Since the Camry's introduction in 1983, it's became one of America's best-selling sedans. The 2018 model year saw this reliable, but slightly boring passenger car use it's eighth-generation debut as an opportunity to show off its new, trendy styling. Finally, the Camry's looks gave motorists something to talk about. It wasn't just styling that changed. As collision repair techs may already know, the 2018 Camry was built on a new modular platform, dubbed as Toyota's New Global Architecture (TNGA).
Both engines were freshened up as well. The direct-and-port-injected 2.5-liter inline-four got a longer stroke and a higher compression ratio than the previous four-cylinder, and it received variable valve timing that's electrically actuated on the intake side. The 3.5-liter V6 returned with increased horsepower and torque numbers. Both engines traded their previous six-speed automatics for a new eight-speed unit. The hybrid continued with the same CVT.
Here are a couple of problems to watch out for now that these vehicles are likely out of warranty and in your shops.
TSB-0016-20 – Fuel Filler Door Difficult to Open
Some North America produced 2018 Camry models may exhibit difficulty opening the fuel filler door when the release button is pressed. This issue is caused by the fuel filler door spring not having sufficient stroke to push the fuel filler door to the open position.
To fix it, replace the fuel filler door spring with an updated version - part number, 77360-35040. For the complete details, refer to ALLDATA Repair or ALLDATA Collision.
TSB-0042-18 – Water Entry on RH Front Floor Area
Some 2018 Camry and Camry Hybrid vehicles may exhibit a condition where there is a musty odor or wetness in the right front floor area of the cabin. The condition may be caused by water entry on the right front side of the vehicle.
After confirming the vehicle meets the bulletin criteria, the next step is to verify that there is missing or misapplied body sealer on the right side of the engine compartment near the hood hinge (cowl side to member overlap seam). If so, there is an "A" procedure to seal the cowl using new sealant on the seam.
With the cowl resealed, next check to see if the apron is sealed properly. If it is not, use procedure "B" to seal an internal apron seam using a bore scope and a sealant applicator with a long tube. Refer to ALLDATA Repair or ALLDATA Collision for complete details, including a repair video.
2018 Buick Regal TourX AWD
What does Opel have to do with a Buick? It's no secret that since General Motors acquired Opel in 1929, the German company has been GM's European engineering resource. Although Opel was purchased from GM by French company PSA (Peugeot Citron), the 2018 Buick Regal went into production in Opel's Russelsheim factory as a GM version of the Opel Insignia.
The new Regal was offered in two body styles, a four-door hatchback sedan and a four-door wagon. Both were brand new to the Regal line. Like previous Regals, both were mid-sized front-wheel-drives. Hatchback sedans are rare in the U.S. and there hasn't been a wagon in the Buick garage since the last Roadmaster went out of production in 1996. Of course, we don't say "wagon" anymore… it's now called a "crossover".
Here are a couple of issues that may drive these vehicles into your shops once the warranty period expires.
TSB-PIP5697E - DTC P0747 Sets at Engine Shut Down when Transmission is in Park/Neutral. No Hydraulic/Mechanical Concerns with Transmission
The concern is, if the BCM does not continually supply ignition voltage (within 4.0 volts of B+) to the TCM/ECM for a minimum of 15 seconds after the ignition is cycled off, the TCM/ECM modules will not complete their power down self-test. During the next engine cranking (start-up), the TCM/ECM modules will see data from wherever the self-test stopped. Typically, that would be engine RPMs during cranking, which will cause the DTC P0747 to set in the TCM.
NOTE: The DTC P0747 will be current at time of engine start-up and the DTC will transition to History only after a 6-7 upshift.
To fix the problem, turn the key to the Key On/Engine OFF position and disconnect the keyless entry control module (KECM) and verify ignition voltage is within 4.0 volts of B+ at BCM connector X4, terminal 22.   
Next, inspect the TCM and ECM connector for possible terminal connection concern, and for possible open in circuit 5985 to the TCM and ECM. If no fault is found with circuit 5985, and/or no fault is found for a terminal connection concern at the BCM/ECM/TCM connectors, then replace and re-program the BCM.
NOTE: B+ voltage minus 4 volts variation. Example: if battery voltage is 12-volts then the circuit should never be below 8 volts. Refer to ALLDATA Repair or ALLDATA Collision for complete details
TSB-18-NA-201 – Oil Leak from Oil Pan Area
Some customers may bring their Buick Regal TourX to the shop because of an oil leak under the engine. Sometimes oil also appears at the bottom of the transmission. To get a more accurate location of the source of the leak, clean the entire area and let the engine run in the shop.
You may find oil leaking from a bolt in the lower crankcase (bed plate). This condition may be caused by porosity in the casting port of the bed plate at bolt hole #621.
Once you have validated that oil is leaking from bolt hole #621, apply sealant to the middle of the bolt and torque to specifications.
NOTE: Only apply Loctite PST 565 or equivalent to the threads as shown (of the image of the bolt), leaving the top and bottom threads clear of sealant.
Important: After applying sealant to the threads. Allow a minimal of 12 hours for the sealant to cure. DO NOT run engine until the cure period is over.
2018 Jaguar E-PACE
Not to be confused with Jaguar's all electric I-Pace, the all-new 2018 E-Pace crossover joined the British automaker's stables as a compact crossover SUV alternative to the already well-received F-Pace.
All E-Pace models were fitted with a transverse-mounted, turbocharged 2.0-liter 4-cylinder engine. Coined the "Ingenium" powerplant by Jaguar, the engine developed 246 horsepower and 269 lb-ft of torque in the standard (Base, S, and SE) models, and 296 horsepower and 295 lb-ft of torque in the performance-tuned R-Dynamic (S, SE, and HSE) models. Both variants were mated to a 9-speed automatic transmission.
The E-Pace came equipped with permanent all-wheel drive as a standard drive system, while the R-Dynamic had what Jaguar called an Active Driveline that could transfer almost all engine torque to either the front or rear axle depending on driving mode and conditions.
Here are a couple of issues that you may encounter now that the warranty period has likely expired.
TSB-JTB00611NAS4 – Rattle from Engine Timing Chain Area
A rattle noise may be evident from the engine compartment and/or the engine malfunction indicator lamp (MIL) may be illuminated on the Instrument Cluster. Upon further investigation, diagnostic trouble codes (DTCs) P052A-00, P0011-71, and/or P000A-00 can be found stored in the powertrain control module (PCM). The problem may be caused by a variable camshaft timing (VCT) unit internal seal that is out of specification.
The fix is to replace the variable intake VCT actuator with part number, JDE38702. Follow the remove and replace procedures covered in ALLDATA Repair or ALLDATA Collision. You'll need three special tools to make completing the job a snap.
TSB- JTB00641NAS2 – Rear Proximity Camera Inoperative Due to Defective Bracket
The rear proximity camera retaining bracket may become loose or completely fall off, causing the image to be blank on the touchscreen. This issue may be caused by the camera retaining bracket being incorrectly manufactured.
The fix is simple. Replace the bracket with an updated one, part number, T2H15787. No special tools are necessary for this job.
Disconnect the battery ground cable.
Remove the tailgate trim panel.
Release the tailgate open switch and disconnect the two electrical connectors.
Remove the bracket and remove the rear proximity camera.
Reinstall the camera in reverse order using the new bracket. For more complete removal and replacement procedures, refer to ALLDATA Repair or ALLDATA Collision.
Look at our entire suite of products to determine your shop's needs.
If you would like to read more articles like this one please subscribe to ALLDATA News.
About the author
Rich Diegle, has 35 years of experience as a master automotive technician, marketing and public relations manager, senior automotive editor, and instructor.