INTRODUCING ALLDATA SHOP MANAGER
Sep. 03 2020
Sep. 03 2020
A SIMPLE MANAGEMENT SYSTEM FOR DAY-TO-DAY SHOP ESSENTIALS
ELK GROVE, Calif. – July 15, 2020 – ALLDATA has launched ALLDATA Shop Manager, the third addition to the company's suite of shop management solutions. 
 ALLDATA developed Shop Manager in response to customer feedback for a management solution that is easy to use, creates essential shop documents and integrates directly with ALLDATA Repair. The enhanced integration allows users to start estimates right from the parts and labor information in ALLDATA Repair or go straight from repair orders in Shop Manager to repair procedures in ALLDATA Repair. ALLDATA Shop Manager also stores customer/vehicle information, generates basic sales and tax reports and more.
"Shop Manager syncs seamlessly with ALLDATA Repair®, so shops and users can easily add industry-standard parts and labor times or toggle between the manufacturer repair information and shop documents," said Satwinder Mangat, President, ALLDATA. "Shop Manager is also fully integrated, so our customers are one click away from the information they need and rely on," said Mangat. 
Three shop management solutions for day-to-day workflow needs 
With the addition of Shop Manager, ALLDATA now offers three distinct solutions to give repairers the management tools needed to run their shops successfully.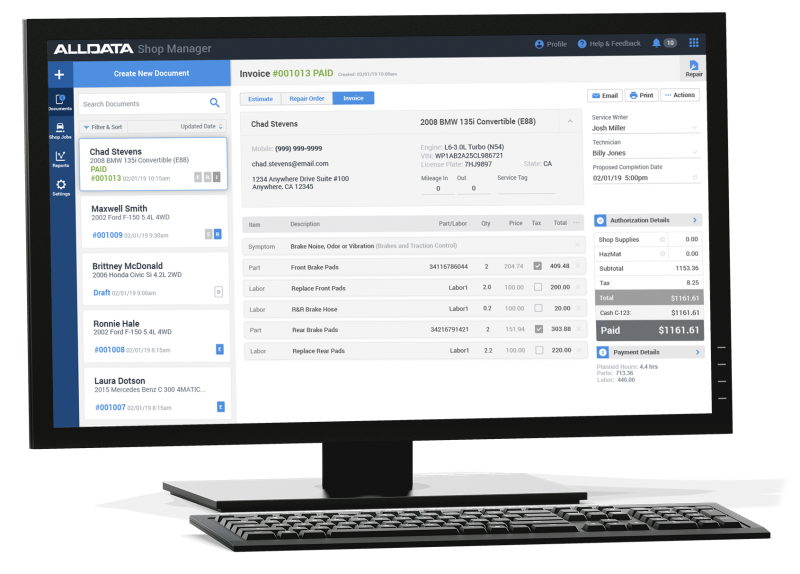 Estimator – Ideal for shops looking for an easy way to create more professional and compliant estimates. 
ALLDATA Shop Manager – Perfect for shops in need of enhanced shop management capabilities, including generating estimates, repair orders, invoices and more. 
ALLDATA Manage® Online – An excellent tool for shops, especially growing and multi-shop operators, with the ability to perform extensive business reporting, built-in customer relationship manager (CRM) and more. 
See the features and functionality of ALLDATA's three shop management solutions in this comparison chart. 
ALLDATA Shop Manager requires a subscription to ALLDATA Repair or ALLDATA Collision. 
About ALLDATA ALLDATA® is the industry's #1 choice for unedited OEM automotive repair and collision information. More than 400,000 technicians rely on ALLDATA for OEM-accurate mechanical and collision repair information, shop management software, and training. Founded in 1986, ALLDATA is headquartered in Elk Grove, Calif., and Köln, Germany for its European operations. Visit www.alldata.com for more information. 
About AutoZone (NYSE:AZO) As of May 9, 2020, the Company had 5,836 stores in the U.S., 610 stores in Mexico and 38 stores in Brazil for a total store count of 6,484. AutoZone is the leading retailer and a leading distributor of automotive replacement parts and accessories in the United States. Each AutoZone store carries an extensive product line for cars, sport utility vehicles, vans and light trucks, including new and remanufactured automotive hard parts, maintenance items, accessories, and non-automotive products. Many stores also have a commercial sales program that provides commercial credit and prompt delivery of parts and other products to local, regional and national repair garages, dealers, service stations, and public sector accounts. AutoZone also sells the ALLDATA brand diagnostic and repair software through www.alldata.com. Additionally, AutoZone sells automotive hard parts, maintenance items, accessories, and non-automotive products through www.autozone.com and our commercial customers can make purchases through www.autozonepro.com. AutoZone does not derive revenue from automotive repair or installation.