ADAS Quick Reference now included in ALLDATA Repair® and ALLDATA Collision®
Sep. 29 2021
Sep. 29 2021
ELK GROVE, Calif. – Oct. 20, 2021 – ALLDATA's latest update makes it easy for auto repairers to instantly access Advanced Driver Assistance Systems (ADAS) information, direct from the OEMs.
Now, clicking on ADAS Quick Reference takes users directly to vehicle-specific ADAS information in ALLDATA Repair® or ALLDATA Collision®, the industry's leading repair information software products.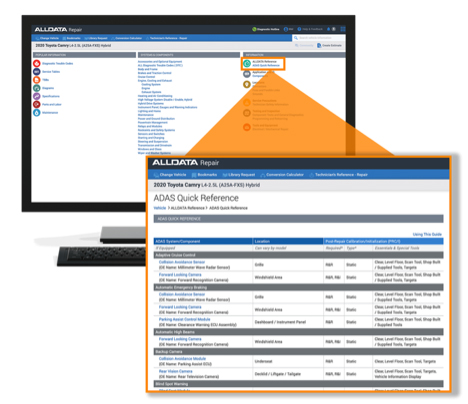 The ADAS Quick Reference feature …
Links directly to the ADAS system/component by name, such as Backup Camera or Forward Collision Warning
Provides the location of the component that may have been damaged in a collision
Identifies component removal/replacement that could result in extra labor for calibration or sublet costs based on procedure complexity
Includes basic calibration information, required tools, and prerequisites for servicing ADAS components
"With a range of ADAS now standard on new vehicles, it's critical that service writers and technicians be prepared for any vehicle that comes into their shop," said Satwinder Mangat, president, ALLDATA. "The new ADAS Quick Reference tool does just that; it gives them one-click access to the latest ADAS information in ALLDATA, straight from the manufacturer."
About ALLDATA
ALLDATA® is the industry's #1 choice for unedited OEM automotive repair and collision information. More than 400,000 technicians rely on ALLDATA for OEM-accurate mechanical and collision repair information, diagnostics, shop management software, and training. Founded in 1986, ALLDATA is headquartered in Elk Grove, Calif., and Cologne, Germany for its European operations. Visit www.ALLDATA.com for more information.
About AutoZone
(NYSE:AZO) As of August 28, 2021, the Company had 6,051 stores in the U.S., 664 stores in Mexico, and 52 stores in Brazil for a total store count of 6,767. AutoZone is the leading retailer and a leading distributor of automotive replacement parts and accessories in the United States. Each AutoZone store carries an extensive product line for cars, sport utility vehicles, vans and light trucks, including new and remanufactured automotive hard parts, maintenance items, accessories, and non-automotive products.  Many stores also have a commercial sales program that provides commercial credit and prompt delivery of parts and other products to local, regional and national repair garages, dealers, service stations, and public sector accounts.  AutoZone also sells the ALLDATA brand diagnostic and repair software through www.alldata.com. Additionally, AutoZone sells automotive hard parts, maintenance items, accessories, and non-automotive products through www.autozone.com and our commercial customers can make purchases through www.autozonepro.com.  AutoZone does not derive revenue from automotive repair or installation.
ALLDATA Media Contact
Sheryl Bussard
916.478.3105
AutoZone Media Contact
David McKinney                                             
901.495.7951
AutoZone Financial Contact  
Brian Campbell
901.495.7005