Explorer Misfire, MIL On After Owner Replaced Coil
Jan. 03 2023
Jan. 03 2023
Vehicle: 2003 Ford Explorer, 2WD, V8-4.6L, VIN W, Automatic transmission/transaxle
Mileage: 196,459
Problem: After the owner tried replacing the #5 coil, to repair a P0305 misfire diagnostic trouble code (DTC), this Explorer ended up at the shop with a hard misfire and the malfunction indicator light (MIL) illuminated in the instrument cluster.
Case Details: The technician connected a scan tool and retrieved the following codes:
P0305 – Cylinder #5 Misfire Detected
P0340 – Camshaft Position Sensor A Circuit (Bank 1 Or Single Sensor).

While discussing diagnostic strategy with the technician, an ALLDATA Tech-Assist consultant noted that the two DTCs displaying together strongly suggested that harness connectors for coil #5 and the camshaft position sensor (CMP) may be swapped.
Note: On this vehicle, the #5 Coil-Over-Plug (COP) connector (C115) and the CMP sensor connector (C180) are not only adjacent to one another on the driver's side cylinder head, but they are nearly identical. The consultant recommended to first verify that each connector was plugged into the correct component.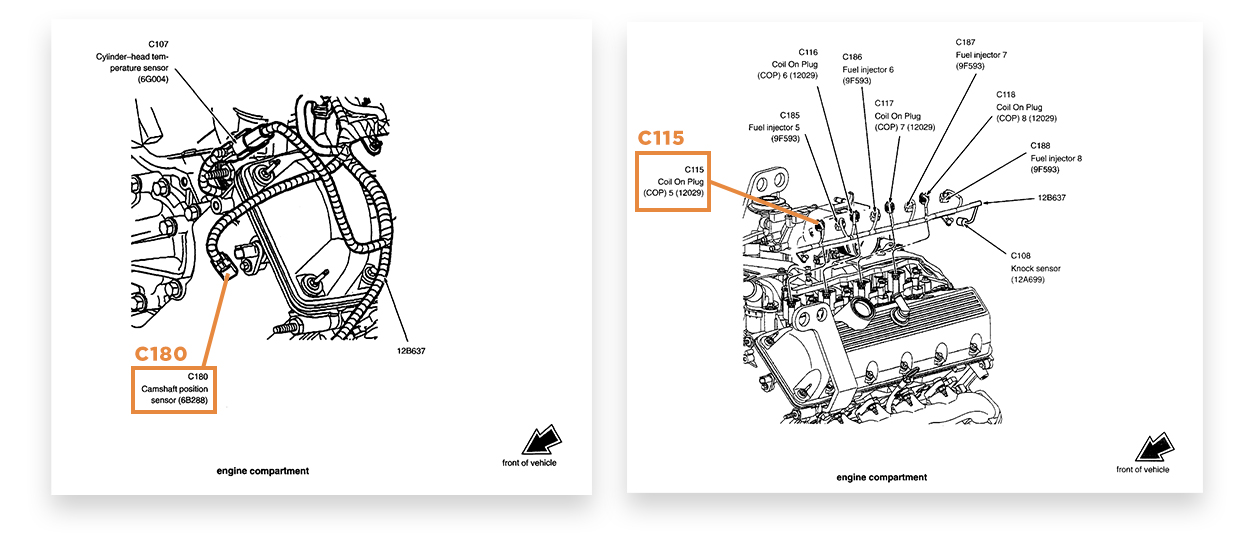 After a quick inspection, the technician found the connectors C115 and C180 were indeed swapped.
Confirmed Repair: The technician installed the connectors onto the correct components, cleared the DTCs and went for a test drive. Neither the DTCs nor the misfire returned. Fixed!
The ALLDATA Tech-Assist team fields cases like this every day. See how Tech-Assist can help your shop save time and money with on-call diagnostic support from ASE-certified Master Technicians. More Tech Tips 
Not an ALLDATA customer? For access to this valuable experience-based repair data and reliable OEM information, start a free trial today.
If you would like to read more articles like this one please subscribe to ALLDATA News.