F-150 Intermittent Lack of Throttle Response
Mar. 01 2023
Mar. 01 2023
Vehicle: 2016 Ford F-150, 4WD, V6-2.7L Turbo, Automatic transmission/transaxle
Mileage: 119,832
Problem: The customer's concern was that his F-150 had developed a noticeable loss of throttle response, and the malfunction indicator light (MIL) was on.
Case Details: The technician connected a scan tool and found the following diagnostic trouble codes (DTCs):
P2128 - Throttle/Pedal Position Sensor/Switch E Circuit High
P2138 - Throttle/Pedal Position Sensor/Switch D/E Voltage Correlation
U0109 - Lost Communication with Fuel Pump Control Module A
Based on the DTCs, he tried installing a "known good" accelerator pedal (at no charge), but the problem remained.
ALLDATA Tech-Assist was called for some friendly diagnostic advice. The consultant suggested inspecting connector C268 near the firewall on the driver's side. He also recommended pulling/wiggling the harness. Broken wires are a frequent problem with that particular harness.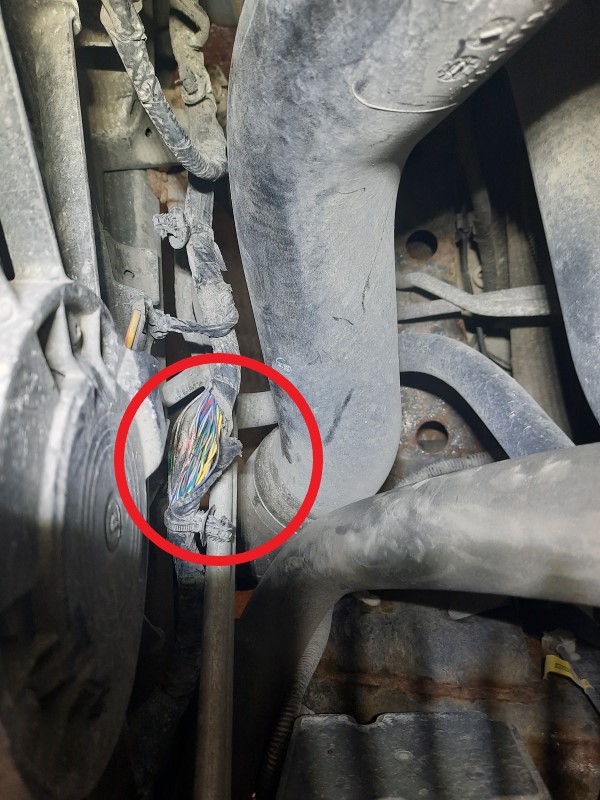 If the connector and the harness were okay, the next thing to do was to check the accelerator pedal position sensor 2 (APP2) voltage with a scan tool while slowly pressing the pedal down. The voltage should smoothly go between zero and 5 volts. Next, check the voltage on the blue/white (BU/WH) APP2 signal wire at the accelerator pedal while slowly pressing it down.
The technician inspected the APP2 sensor voltage as advised. The scan tool showed 5 volts all the time, even with the pedal disconnected. Next, he checked the BU/WH APP2 signal wire and found it fluctuating between 9 and 10 volts. There had to be a short to power in the harness somewhere.
He inspected the entire harness and found six wires melted together just next to the radiator fan motor. There were no other signs of damage to the harness.
Confirmed Repair: The technician repaired the melted wires, cleared the DTCs, then completed a factory recommended drive cycle. The MIL did not come back on, and normal throttle response was restored. Problem solved!
The ALLDATA Tech-Assist team fields cases like this every day. See how Tech-Assist can help your shop save time and money with on-call diagnostic support from ASE-certified Master Technicians. More Tech Tips 
Not an ALLDATA customer? For access to this valuable experience-based repair data and reliable OEM information, start a free trial today.
If you would like to read more articles like this one please subscribe to ALLDATA News.