GMC Canyon 4WD is Inoperative
Jun. 01 2023
Jun. 01 2023
Vehicle: 2017 GMC Canyon, 4WD, L4-2.8L DSL Turbo, Automatic transmission/transaxle
Mileage: 151,546
Problem: The owner reported that the 4WD suddenly stopped working while driving.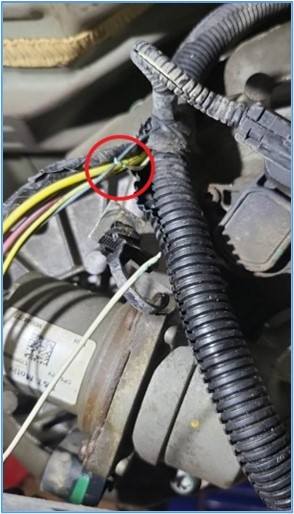 Case Details: The technician pulled the following diagnostic trouble codes (DTCs).
C0396 08 - Range Actuator Position Sensor Circuit Performance - Signal Invalid
C0398 00 - Range Actuator Position – Range Position Correlation
He hadn't had a lot of experience with 4WD diagnostics, so he called ALLDATA Tech-Assist for some guidance. The Tech-Assist consultant advised using the scan tool to check the transfer case range position and the range actuator position. They should be within 7° of one another. He also suggested checking for a good 8VREF and ground at the transfer case motor position sensor.
Using the scan tool, the tech found the transfer case range was at 147° and the range actuator was at 105°. He checked power and ground with his multimeter and found there was no 8VREF on the WHT/LT GRN wire. When he inspected the harness, he found that the wire had broken a few inches from the sensor connector.
Confirmed Repair: The technician repaired the wire, cleared the DTCs and verified the 4WD was operating correctly. No further issues. Fixed!
The ALLDATA Tech-Assist team fields cases like this every day. See how Tech-Assist can help your shop save time and money with on-call diagnostic support from ASE-certified Master Technicians. More Tech Tips 
Not an ALLDATA customer? For access to this valuable experience-based repair data and reliable OEM information, start a free trial today.
If you would like to read more articles like this one please subscribe to ALLDATA News.