Hybrid RAV4 with MIL On and Only ICE Operational
May. 01 2023
May. 01 2023
Vehicle: 2019 Toyota RAV4, 4WD, L4-2.5L (A25A-FXS), Hybrid, Automatic transmission/transaxle
Mileage: 89,366
Problem: This hybrid RAV4 came in with the malfunction indicator light (MIL) on and a hybrid message saying that only the internal combustion engine (ICE) was operational.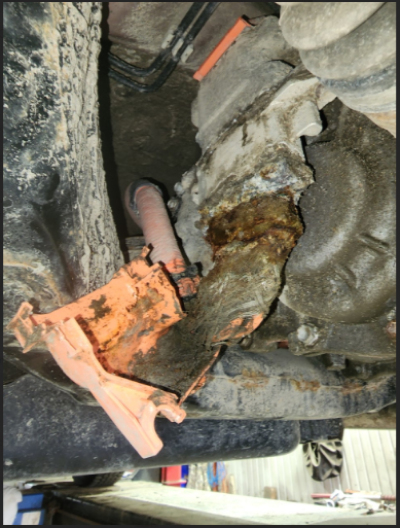 Case Details: The technician retrieved the following diagnostic trouble codes (DTCs).
P0AA6 49 - Hybrid/EV Battery Voltage System Isolation Internal Electronic Failure
P1578 00 - Brake System
U0155 - Lost Communication with Instrument Panel Cluster (IPC) Control Module
U0126 - Lost Communication with Steering Angle Sensor Module
Not sure where to start, the technician called an ALLDATA Tech-Assist consultant who advised deactivating the high-voltage system to inspect the rear differential high-voltage harness connector. He noted that it was quite common to have corrosion in this connector due to its location.
The technician deactivated the high-voltage system and inspected the connector. Sure enough, the connector was completely corroded (see image).
Confirmed Repair: He replaced the complete harness assembly, reset the system and road-tested the vehicle. There were no issues. Another easy fix!
The ALLDATA Tech-Assist team fields cases like this every day. See how Tech-Assist can help your shop save time and money with on-call diagnostic support from ASE-certified Master Technicians. More Tech Tips 
Not an ALLDATA customer? For access to this valuable experience-based repair data and reliable OEM information, start a free trial today.
If you would like to read more articles like this one please subscribe to ALLDATA News.