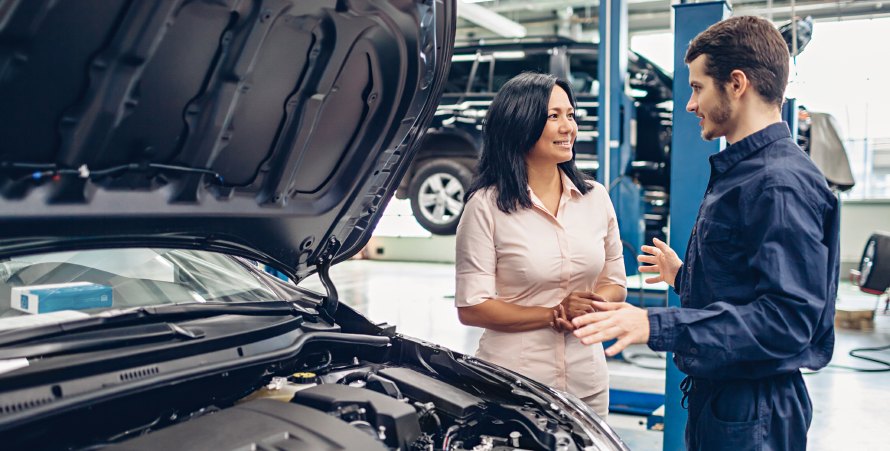 Feb. 04 2020
It has been said that you only get one chance to make a first impression. While that is true, it is equally true that we get multiple chances to improve on or ruin that impression. Nowhere is that truer than in customer relations. It's also true in marriage… but that's a subject for another time and place.
Phone
Face-to-face
Email and text
Printed media

Print ads
Brochures
Shop documents
Shop signage and building graphics

Advertising

Word-of-mouth
Internet
License plate frames
Radio/Podcast
Community Outreach
First impressions
The automotive repair industry has a public relations issue. Much of the public is wary of us. And often, automotive folk relate better to machines than to people. We can improve our PR using some simple techniques which we will explore.
Much of how customers should be treated can be distilled down to treating others as we would want to be treated. This will be a look at the avenues by which customers communicate with us and how we can improve the lines of communication.
You had me at "hello"
Learn to smile while on the phone. As hokey as it sounds, smiling while on the phone does come through in your voice. Make the "hello" a friendly one, but don't leave your greeting at hello. Introduce the business and yourself. "Good morning. This is Golden Ratchet Repairs. Carly speaking. How may I help you?" If you need to put someone on hold, ask them "would you like to hold while I get Bob for you?" If possible, use a phone that is away from shop noise and put the phone on hold or mute the microphone while you're stepping away from a caller. They don't need to hear your shop conversations.
Ask them what you can do for them, and then listen. Keep a pad of paper and pen next to the phone so you can write down their name, phone, alternate phone numbers, email address, and their questions and concerns. When they are done, read back what they told you, "So, just so I'm clear, you're calling in about an appointment that you have tomorrow. You want to confirm that we can do an oil change while the car is in for a brake inspection? Is that correct?"
Recap each phone call
First and last name
Primary contact number
Cell phone number
Email address
Best time to contact them back
The reason for their call (be specific)
Pay attention to the "voice" that you use while on the phone. Your voice should have energy and alertness. Be pleasant. Use a warm conversational tone. Speak clearly and avoid talking too fast. Your telephone voice will convey your personality – let it be one that customers want to do business with.
Look me in the eye
As good as all other methods of communication are, they are no substitute for direct interaction between people. It's all too easy to misinterpret emails, texts, or even phone calls. Take the phone conversation tactics you've learned and apply them to face-to-face conversation, being aware that body language is a powerful communicator. Look the other person in the eye, avoid crossing your arms in front of you, and listen. I remember what my mom taught me; you have one mouth and two ears. Listen more than talk. Ask questions, take notes, and keep listening. When you do these things, you convey to the customer that they are important to you and to your business – because they are.
If you cannot answer a customer's question, tell them so. Offer to find the answer but don't try to bluff your way through.
Check your email and check your email skills
Your emails should have a friendly tone, be grammatically correct and cover the important points. Spell checkers can lead you astray, so use them with caution. When you are asking your customers to spend money and to trust you with their lives, you need to convey professionalism in your communication.
One way to do that is by using email templates. There are a ton of them available on the internet. You can set them up as signatures in most email programs. By using a template, spelling and grammar errors are minimized and communication is clearly presented.
Here's one example found by searching for "email templates for auto repair shops."
Subject: [Customer Name], your vehicle has some needed services.
Body: Hi [Customer Name],
We want to remind you of a few important items that were not addressed at your recent service visit. Following are the notes we have:
(insert notes here)
(insert notes here)
(insert notes here)
We understand that you are a busy person. We want to make care for your automobile as easy as possible. Please reach out to us if you have any questions or concerns about these items or anything else.
If you are ready to schedule your next service visit you can do by responding to this email or just call us.
Thank you,
Our Team

If you're ready to take it to the next level, there are automated email programs that will send out multiple emails at once that are fully customizable.
For text messages, there are less stringent rules on composition, but spelling is still important. If you text customers often, you may want to research automated texting software to give your shop the edge over your competition.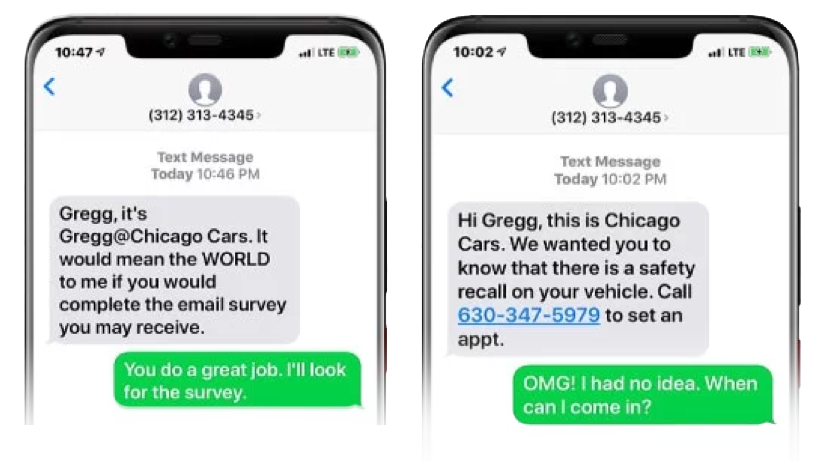 Shop management systems (SMS) such as ALLDATA Manage Online allow you to text and email customers from the same program that generates estimates, work orders, and invoices for your shop. These programs have templates like the email templates and greatly improve clarity of communication while presenting a professional appearance and saving time.
Meet the press
Even in this internet age, ink on paper still matters. From repair orders to brochures to the sign on the door, the shop's image should be clearly communicated. While professional level graphic design is expensive, it pays dividends in conveying the value of your shop. If you're just starting out, you may be able to obtain some design help via a student in your local community college graphic design department. Contact the design department, and see if they can refer a student to you.
A shop logo can add some dash to your building, business cards, and your repair orders. Many shop management programs will allow you to incorporate logos into all your customer-facing documents.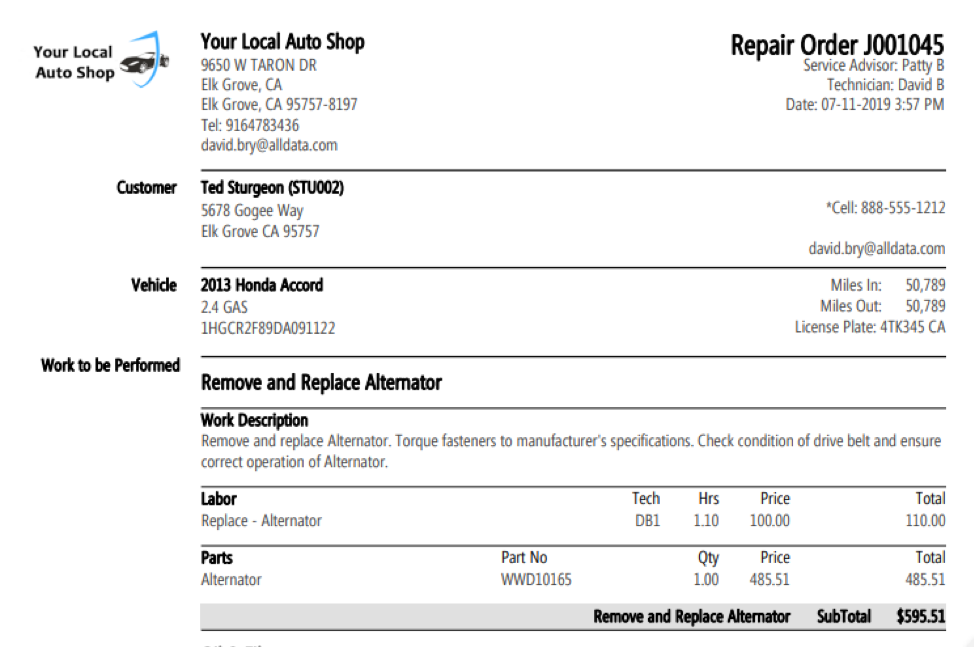 If your goal is to attract new customers, then your image in the community depends on your image on paper.
Getting the word out
For a smaller shop, or one on a limited budget, accomplishing the tasks above will help secure the most effective form of advertising: word-of-mouth.
As your business grows you can investigate developing a website. There are companies that can put together a simple website for a reasonable fee.
License plate frames have publicized car dealers for years; your shop can use them to expose more potential customers to your business. Just make sure that your current customers don't mind you installing your plate frames on their vehicles.
Lastly, don't forget to build bridges to the local community by involving yourself in life outside the shop. Sponsor a children's sports team. Perhaps you can donate products or services to a charity fundraising auction? Not only does this enable you to give back to the people who patronize your shop, it builds goodwill among those who may be future customers or even future employees.
An essential part of delivering the best customer service is connecting with the customer. The sale is often made or lost before they even enter your doorway. 
Managing your relationships
As your business grows, you may want to investigate Customer Relationship Management (CRM) software. Much of what has been discussed in this article can be automated. Text or email marketing and service reminders can be set up to send automatically; even sending cards to your customers on their birthday can be a point-and-click operation. Tracking reviews on the internet can also be part of a CRM solution.
You may want to enlist the help of friends or family to "test-shop" your methods of communication. And there are companies that will send "secret shoppers" your way.
It is important to continually review all your communications and hone them to perfection.
Relationships Make the Sale
An essential part of delivering the best customer service is connecting with the customer. The sale is often made or lost before they even enter your doorway. Make sure that all your communication creates an atmosphere that makes it comfortable for customers to do business with you every step of the way.
Want to see how ALLDATA can improve shop efficiency? Check out our suite of products, each designed to contribute to both shop efficiency and productivity.
If you would like to read more articles like this one please subscribe to ALLDATA News.