Chrysler 300 A/C Inoperative – Compressor Will Not Engage
Sep. 06 2022
Sep. 06 2022
Vehicle: 2006 Chrysler 300, V8-5.7L, VIN H, Automatic Transmission/Transaxle
Mileage: 86,708
Problem: The A/C system will not blow cold air. The customer mentioned that he had noticed the compressor was not engaging.
Case Details: The technician tested for battery power to the A/C fuses. He found that there was battery voltage across both legs of fuses, 4 (20 Amp) and 22 (40 Amp) in the totally integrated power module (TIPM). Next, he tried jumping the A/C pressure switch, but the compressor still would not engage.
An ALLDATA Tech-Assist consultant suggested using a wiring diagram from ALLDATA Repair (see diagram) to help trace the wiring and connectors between the A/C clutch relay and the compressor.
The technician found pin 6 in connector C1 was corroded and broken in the connector.
Confirmed Repair: He repaired the damaged wiring connector. After the repair, the A/C system operated as designed. Easy fix!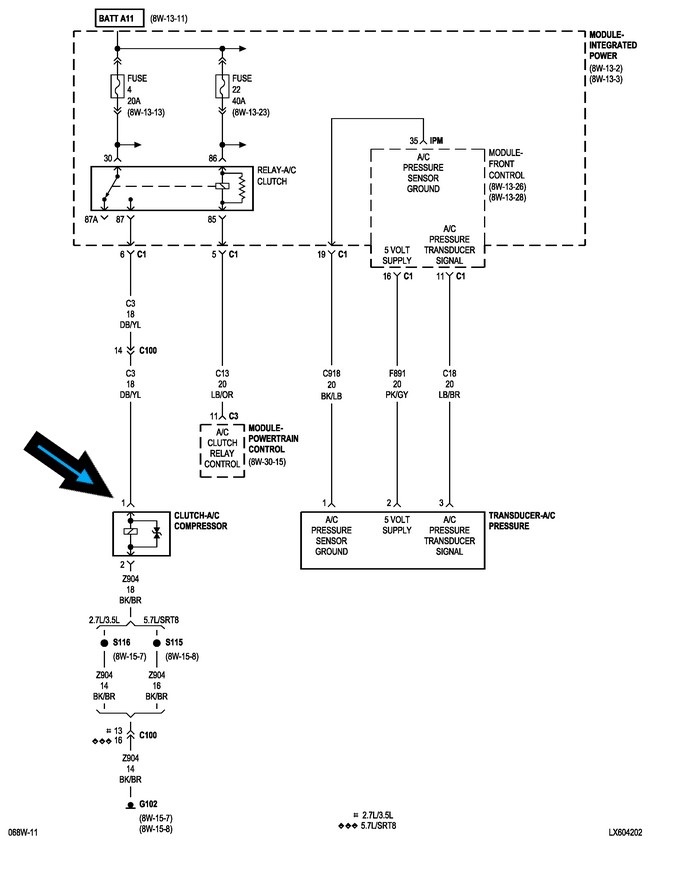 The ALLDATA Tech-Assist team fields cases like this every day. See how Tech-Assist can help your shop save time and money with on-call diagnostic support from ASE-certified Master Technicians. More Tech Tips 
Not an ALLDATA customer? For access to this valuable experience-based repair data and reliable OEM information, start a free trial today.
If you would like to read more articles like this one please subscribe to ALLDATA News.