How Do I Find Out What Version of ALLDATA Manage I Have?
IMPORTANT - The most current version of ALLDATA® ManageSM available is 4.9.3470.
Why do I need to know what version of ALLDATA Manage I have?
Certain program updates, fixes and/or ALLDATA Support articles only apply to specific versions.

ALLDATA offers occasional program updates that users are responsible for installing.

Knowing what version you currently have helps you know if you have downloaded the most current program available to you.
To look up Elite vs. Basic
Look on the ALLDATA Manage Home page.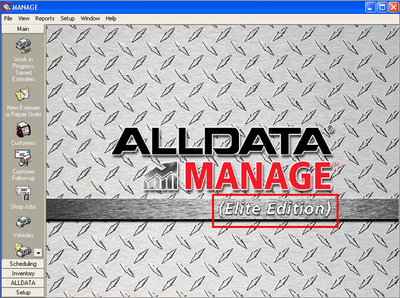 To look up the version number
Open ALLDATA Manage.

The version number can be found two places:

On the opening window.  (This only appears for a short time.)


Inside the product.

Click Help >> About ALLDATA Manage.


The About Manage window lists the version number as well as who the product is licensed to.


Click OK to close the window.
To upgrade to the current version:
Contact an ALLDATA Account Manager by calling 800-859-3282, option 4.