Can't View Parts and Labor or Can't Create a New Estimate
---
Symptom:
---
Unable to get Parts and Labor information or unable to create/open ALLDATA® RepairSM (DVD) estimates.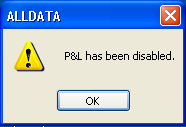 ---
Possible Cause(s):
---
ALLDATA Repair (DVD) set options for Parts and Labor and/or Estimates have been disabled.
---
Suggested Solution(s):
---
Close out of ALLDATA Repair (DVD).

Click Start >> (My) Computer.

Double-click C:\ drive.

Double-click ALLDATAW.

Double-click Setopt.exe

Uncheck Disable Estimating and Disable Maintenance, Parts and Labor options.

Click OK

Open ALLDATA Repair (DVD) and verify Estimating, Maintenance, Parts, and Labor options are available.