Scan Settings
Tap Settings from the Diagnostics home screen to update scan settings.​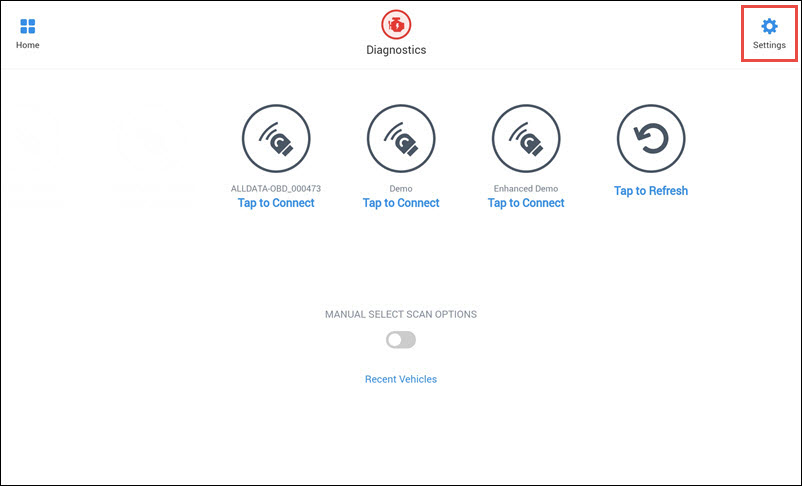 Make any necessary changes to the following:
Vehicle Connection Interface (VCI)

View the currently installed version of the VCI software

Check for available updates

OBDII Device Management

Choose a Default Device and turn on Always Use Default Device To Connect to automatically attempt to connect to a device when opening Diagnostics.

Choose to display demo device options on the Available Devices list when connecting.

Scanning and Report Options - Enter an Email Address and turn on Automatically Email Scan Report After Export to autofill the email address field when emailing scan reports.


Appearance - Display Live Data (PIDs - Parameter IDs) in Standard(SAE) or Metric units.

Quick Scan Options

​

Turn on Default System to bypass the system selection screen during vehicle connection and always connect to the Enhanced Powertrain system.

Turn on Prompt me for Enhanced DTC options during each scan to view the DTC Type options that allows you to turn on the following vehicle specific options if available:

Enhanced Freeze Frame

History

Previously Cleared

FCA Secure Gateway Access - Enter your AUTOAUTH Username and Password to connect to vehicles with secure gateways. Learn how to create an AUTOAUTH account and link your VCI.