ALLDATA Mobile, The Only TRUE Mobile App for OEM Repair Information
Jan. 28 2014
Jan. 28 2014
"ALLDATA Mobile is not a tablet enabled website," commented Paul Marshall, Mobile Product Developer. "In other words, we've developed a true Mobile App. The only Mobile App for OE Repair Information in the industry."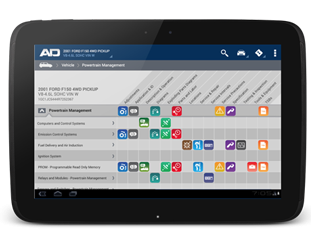 What does this mean to a repair shop? Ultimately, apps beat mobile sites in terms of speed, data management, advanced features and functionality. The robust ALLDATA repair information system immediately delivers feedback to a technician or shop owner when a vehicle identification number (VIN) is entered. It provides them with repair information, historical data on the car, and it allows shops to identify trends with that specific vehicle or with vehicles of the same make and model. The ALLDATA Mobile App provides a more engaged experience on any vehicle repair.
Meet Paul Marshall, Mobile Product Developer and 13-year ALLDATA veteran, as he speaks about this ground-breaking product, how it was created and what it can do for your shop.
---
ALLDATA: How did you get involved with the development of the ALLDATA Mobile App?
Marshall: As the Program Manager for ALLDATA DIY (Do it Yourself), I was charged with creating a mobile app to complement the DIY product. That prompted an initiative to develop a mobile application for the professional product.
ALLDATA: How long did the ALLDATA Mobile App development take?
Marshall: I started working on the iPad app in 2011 and it really accelerated in the last year.
ALLDATA: Were there stumbling blocks along the way?
Marshall: We had never developed an app before. There was a steep learning curve, especially in determining how to display the repair data within the app. An extensive amount of time was dedicated to creating the most useful product possible, regarding vehicle connectivity and diagnostics.
ALLDATA: During the development phase, did you beta test ALLDATA Mobile with potential customers?
Marshall: Yes, potential customers were consulted every step of the way. Initially, we conducted a user testing /focus group at the 2012 AAPEX Conference where 68 shop managers and technicians were interested enough to voluntarily provide us with verbal and written feedback. Since then, we conducted an external beta test with 25 participants in the Spring of 2013. We are confident that the app functionality is precisely how the vehicle repair experts want it to perform.
ALLDATA: What problems will the Mobile app help potential customers solve?
Marshall: Shops can now leverage the low cost and convenience of today's tablets over traditional PCs and laptops. The ALLDATA Mobile app basically takes the repair information where it's needed most, in the repair bay.
ALLDATA: How does it compare to the desktop version? (i.e. functionality, additional features)
Marshall: The core repair information is the same as our ALLDATA Repair product. The major differences are navigation, portability and in linking the repair information to the car.
ALLDATA: What do you feel are the most useful features of Mobile?
Marshall: Mobility and ease of use are very important features. The ability to connect to the car, read and translate VINs and serve up the specific repair information for that VIN is powerful. It removes all guesswork.
ALLDATA: Are there additional features we will be adding to the product in the future?
Marshall: The Android version was just launched. Right now we offer basic diagnostics. The next release will have expanded diagnostic capabilities and 'knowledge capture' integration. This is our initial step in connecting OE repair information to data coming from the car. The future of ALLDATA Mobile? It's truly in the imaginations of our customers.
To see the app in action, request a demo here.
Want to see how ALLDATA can improve shop efficiency? Check out our suite of products, each designed to contribute to both shop efficiency and productivity.
If you would like to read more articles like this one please subscribe to ALLDATA News.