Added Grounds Can Set Codes on Kia Vehicles
Aug. 11 2014
Aug. 11 2014
The way technology is evolving, it's a good idea to stay informed of what the manufacturers are bringing to market each year. And for those hard-to-diagnose problems, give ALLDATA® CommunitySM a try. Select the Community link located on your ALLDATA® Collision S3500SM or ALLDATA Repair home page. A team of highly-skilled, in-house ASE Master Technicians and thousands of ALLDATA shops are there to help you make confident repairs and get vehicles back to their owners quickly. Here is just one of many helpful verified repairs…
Additional grounds can typically benefit a vehicle's electrical system. That is, unless the vehicle is a 2008-to-present Kia® equipped with a battery sensor. If an extra ground cable is installed on the negative battery terminal, it can cause the battery sensor to send incorrect information to the ECM (Engine Control Module), which can generate all sorts of problems.
You can determine if the vehicle has a battery sensor by looking for a connector attached to the negative battery terminal as shown in the image below.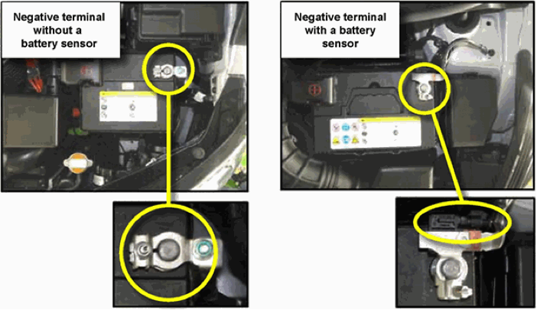 Battery Sensor Function
The battery sensor transmits information about battery voltage and temperature to the ECM. Armed with that information, the ECM controls alternator voltage output and the vehicle's various electrical control systems. On vehicles equipped with the ISG (Idle Stop and Go) feature, for example, the Idle-stop and auto-start function is dependent on the battery SOC (State Of Charge) and SOH (State Of Health) information received from the battery sensor.
False Diagnostic Trouble Codes
When an extra ground cable is installed on the negative battery terminal, the battery sensor can incorrectly report that the battery is in a discharged state, despite a normal battery condition. The resulting improper operation of various systems and components can set the DTCs (Diagnostic Trouble Codes) shown in the table.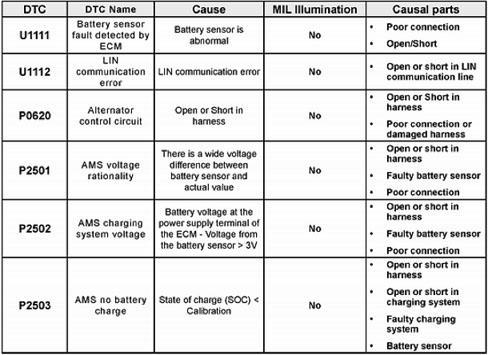 The malfunction indicator lamp may not be illuminated, but numerous trouble codes can be stored. If any of the DTCs mentioned in the table are set, be sure to remove any additional cables attached to the negative battery terminal. Clear the codes and road test the vehicle to confirm the problem has been resolved. Advise the customer not to install additional ground cables at the negative battery terminal.
Written by the ALLDATA
®
Community
SM
Automotive Diagnostic Team, a select group of automotive experts dedicated to helping technicians fix hard-to-repair vehicles more efficiently. Meet the team by visiting
http://support.alldata.com/alldata-community
.
Want to see how ALLDATA can improve shop efficiency? Check out our suite of products, each designed to contribute to both shop efficiency and productivity.
If you would like to read more articles like this one please subscribe to ALLDATA News.