Are your customers driving ticking time bombs?
Apr. 01 2019
Apr. 01 2019
The safety of your customers' vehicles is of utmost importance.  If you haven't already made it part of your service check-in, there's a simple ALLDATA look-up that gives you access to key vehicle safety information via Technical Service Bulletins (TSBs). But before we get to that, let's take a look at automotive recalls.
Since the National Traffic and Motor Vehicle Safety Act was passed in 1966, a large number of recalls have targeted both defective cars and specific parts. More than 390 million vehicles of all sizes have been recalled to correct safety defects. In addition, more than 46 million tires have been recalled that might otherwise have caused serious blowout injuries or deaths.
The ticking time bomb? It's estimated that 30% of all recalled vehicles remain unrepaired on America's roads, according to federal statistics.
Ignoring a vehicle safety recall can be deadly, as has been the case with the far-reaching Takata recall; faulty airbag inflators are blamed for killing more than a dozen people.
In fact, more than three years after the government took over management of the Takata recalls, one third of the recalled inflators still have not been replaced, according to the Detroit Free Press.
2016 was a record for U.S. vehicle recalls – with more than 53 million in 927 separate recalls. For 2017, the number of automotive recalls fell to 30.7 million units, which is the fewest number of models taken back by their makers for needed inspections and repairs since 2013, according to the National Highway Traffic Safety Association (NHTSA). By comparison, 17.6 million new vehicles were sold during 2017, which means the industry still recalled around 74% more cars and trucks than it delivered to consumers.
Number of vehicles recalled in the U.S.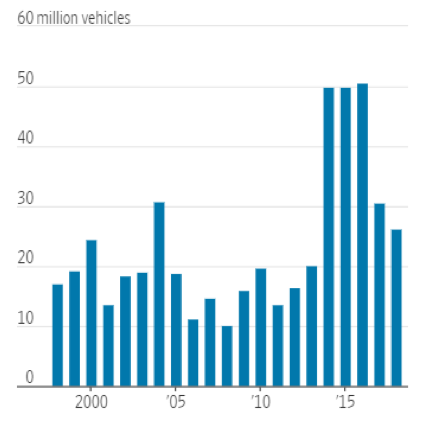 Source: National Highway Traffic Safety Administration
The ticking time bomb? It's estimated that 30% of all recalled vehicles remain unrepaired on America's roads, according to federal statistics.
Accessing Recall information in ALLDATA 
While in most situations shops can't perform recall repairs themselves, it is your responsibility to make sure your customers' vehicles are in top operating condition to ensure their health and safety.
For shops that own used car lots, it is illegal in the United States to sell a new or used car that has applicable recalls that have yet to be performed. If this applies to you, it makes sense to access recalls readily available via ALLDATA or the NHTSA website.
It only takes a few seconds to look up the Technical Service Bulletins for your customer's vehicle in ALLDATA Repair® or ALLDATA Collision®.
To search for recalls in ALLDATA Repair or ALLDATA Collision:
Step 1:
Select a Vehicle

Step 2:
Select TSBs under Popular Information

Step 3:
From TSBs, select Recalls and Campaigns

Step 4:
Select Safety, to view all recalls

Tip: It is good practice to search for recalls at the vehicle level. If you search only at a system or component level, you only see recalls for those systems or components.
Awareness doesn't always translate to action
Even when automakers successfully get in touch with the owners of the vehicles, recalls still often go unfixed.
When consumers receive a recall notification, they should follow any interim safety guidance provided by the manufacturer and contact their local dealership to fix the recalled part for free.
The hazards of ignoring a recall, of course, depend on the reason for the recall, and it is important that consumers realize that an automaker wouldn't issue a recall unless it posed an actual safety threat.
However, according to NHTSA, many people put off repairs even though they're free.
Why is that?
Many people procrastinate to avoid the hassle of taking their vehicle in or try to convince themselves that the defect won't crop up in their vehicle.
Some of the reasons that people neglect or decline to participate in recalls:
Having to call and make an appointment
Lack of time to take car in
Not having a car while the car is being repaired
Concern that the dealer might pressure the owner to pay for other repairs
Not knowing how long the repair will take to complete
You're doing your customers a huge service by advising them about recalls on their vehicles and encouraging them to get the necessary repairs done – for free – and you may even save someone's life.
Top Recalls Model Years 2013-2017
iSeeCars release a report detailing cars and trucks with the highest recall rates, and you may be surprised at what made the list. To compile their report, iSeeCars collected data from distinct recall campaigns conducted through May 1, 2018, affecting cars and trucks from model years 2013-2017. They calculated the number of recall campaigns per 100,000 cars sold to come up with the recall rate.
Make/Model
Recall Rate (Campaigns/year per 100K vehicles sold)
Compared to Average Rate
Mercedes-Benz
C-Class
5.77
7.3x
GMC Sierra
3.25
4.1x
BMW 3/4 Series
2.95
3.7x
Dodge Durango
2.71
3.4x
Nissan Pathfinder
2.00
2.5x
Ram Pickup
1.99
2.5x
Toyota 4Runner
1.98
2.5x
Dodge Charger
1.74
2.2x
Chrysler 300
1.71
2.2x
Chevrolet Tahoe
1.52
1.9x
Overall average (all cars)
0.79
Be on the lookout when these popular models come into your shop!
Want to see how ALLDATA can improve shop efficiency? Check out our suite of products, each designed to contribute to both shop efficiency and productivity.
If you would like to read more articles like this one please subscribe to ALLDATA News.