DODGE RAM' BROKEN LIFTER IDENTIFIED WITH PRESSURE TRANSDUCER
Apr. 01 2017
Apr. 01 2017
Vehicle: 2007 Dodge RAM 1500, 4WD, V8-5.7L, VIN D, Automatic Transmission
Mileage: 146,000
Problem: DTC P0301 (#1-cylinder misfire)
Details: The truck drove in with the malfunction indicator light on. The first thing the tech did was to check for spark and injection timing. Both were correct. On recommendation of the Tech-Asist Consultant, the tech connected a scope and pressure transducer to number one cylinder to check compression.
In scope pattern, he noticed that the exhaust stroke pressure was rising significantly as if the exhaust valve was barely opening. After removing the bank one valve cover and cranking the engine over with the ignition disabled, the tech noticed that the number one cylinder exhaust rocker was hardly moving. Upon further inspection, he found that the lifter was completely broken (See good and bad pattern images).
Good – Flat exhaust pattern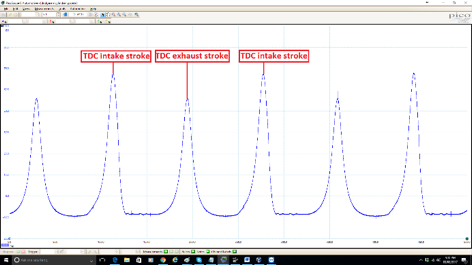 Bad – High exhaust spikes
Confirmed Repair: The tech replaced the lifter and the engine ran perfectly after the repair.