F-350 Trailer Parking Lamps Inoperative
Mar. 02 2021
Mar. 02 2021
Vehicle:  2005 Ford F-350, 4WD, Super Duty, V8-6.0L DSL Turbo, VIN P, Automatic Transmission
Mileage: 235,867
Problem: While checking the lights on his trailer before a trip, the owner found that the parking lamps didn't work. He brought the truck and trailer in to have it checked out.
Case Details: The technician verified that the trailer parking lamps were Inoperative. All the other truck and trailer lamps worked normally. He also noted that this was factory trailer brake module equipped truck. All the bulbs were good, fuse #38 in the central junction box (CJB) was good and it had battery power to the fuse.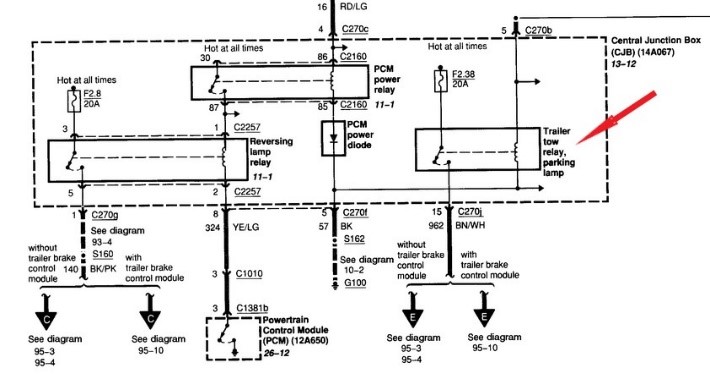 An ALLDATA Tech-Assist consultant advised that the technician check pin 3 (BRN/WHT wire) (which is at the 11 o'clock position with the index notch at 12 o'clock) on the trailer connector for power with the park lights on. He also advised checking the trailer tow relay for clicking when switching on the park lights.
The technician found that there was no power at pin 3 of the trailer connector with the parking lamps on. The trailer tow relay in the CJB did not click either. He applied power to the BRN/WHT wire (pin #15 in connector C270i) at the CJB and the trailer parking lights came on.
Confirmed Repair: The technician replaced the trailer tow relay and the trailer lamps worked normally. Fixed!