Introducing ALLDATA Collision Advantage
Oct. 10 2017
Oct. 10 2017
We're excited to bring you another exclusive automotive repair software solution that will ensure your estimates are as complete as possible and OEM-accurate – the first time. ALLDATA Collision Advantage combines our best collision repair solutions – ALLDATA Collision® and ALLDATA Estimate Integration. And it works with all three major estimating systems.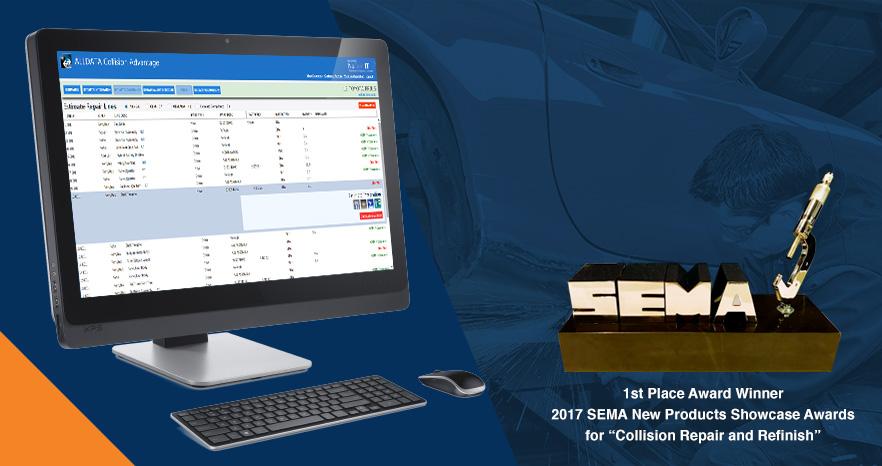 How it works
ALLDATA Collision builds on the power of ALLDATA Repair®, which features extensive, integrated updates, delivering:
MORE data – Covering more than 38,000 engine-specific vehicles – 95% of all vehicles on the road today.
BETTER search – A single search look-up now provides both tech-verified repairs and factory-direct data on one screen, helping technicians find relevant repair info faster.
FASTER navigation – A redesigned, more intuitive interface gives users the information they need with fewer clicks.
We've just added new interactive color wiring diagrams, so technicians can find issues faster and fix them quicker. These 300,000+ non-OE electrical color wiring diagrams are standardized across 1985-2016 model years. Now technicians can …
View diagrams side by side – ALLDATA exclusive
Highlight/hide wires and components – Easily track across all pages.
Toggle between non-OE and OE diagrams for comparison: ALLDATA exclusive.
Print multiple diagrams all at once – ALLDATA exclusive.
Pan or zoom within a diagram – High-quality images stay crystal clear.
Add Estimate Integration and get estimates right the first time with one click and one screen.
Estimate Integration analyzes your estimate in seconds, and displays, all on a single screen:
OEM Procedures – Graphic icons indicate available OEM information, including TSBs, DTCs, service precautions, specifications, diagrams, paint codes, locations, and more. 
OEM Alerts – Line-by-line red OEM Alerts plus pop-up notifications ensure you're repairing vehicles back to factory specifications, helping to limit your shop's liability.
Vital Repairs – On each estimate, "Vital Repairs" describe the OEM-specified inspections and repairs required after a collision, including high voltage system disable/enable. 
Manufacturer Positioning Statements – One-touch access to the latest vehicle-specific OEM manufacturer positioning statements.
In a recent Autobody News article, Barry Burkholder, owner and CEO of Barry's Paint Shop in Ephrata, PA, noted that his shop uses ALLDATA for quick access to OEM-accurate diagnostic and repair information.
"Everything is a lot more technical nowadays, and there's no way anyone could remember how to handle all these vehicles [off the top of their head]," said Burkholder. "We have to know OE manufacturer specifications, repair procedures, and where parts need to be sectioned. Even when doing a damage analysis, you need to know what the manufacturer wants and how it needs to be repaired before you can write an estimate on it."
Burkholder said his team is constantly using ALLDATA to look up and back up information. By using ALLDATA Collision Advantage for the estimate, they see line-by-line the OEM procedures, alerts, and vital repairs necessary for the repair they're working on, so they get it right the first time. They can also access manufacturer positioning statements with just one click.
More about ALLDATA Collision: automotive intelligence that decreases cycle time and improves productivity
ALLDATA Collision delivers instant access to our database of more than 38,000 engine-specific vehicles – over 95% of vehicles on the road today. It builds on the unedited OEM mechanical repair information found in ALLDATA Repair to deliver factory-direct collision repair information, including:
Body and Frame: sectioning procedures, structural adhesives, interior trim, sensors and switches, and more.
New Construction Materials: high-strength steels, aluminum, new plastics, etc.
Evolving Technologies: hybrids, electronic systems, SRS, panel removal and replacement, and more.
Electronic Systems: complete reset and reprogramming procedures.
Full Mechanical Procedures: TSBs, full diagnostic procedures by DTC code, parts and labor, drivetrains, suspension, steering systems, and more.
In addition, ALLDATA Collision provides shops with tools to help them:
Reduce liability risks due to improper repairs by following OEM-recommended procedures and parts handling.
Create upsell opportunities by recommending services based on OEM technical service bulletins, manufacturer positioning statements, and maintenance schedules.
Identify OEM repair procedures that can be performed in-house.to reduce sublets/outsourcing.
Build credibility and confidence with insurers and customers by having documentation of OEM-required repairs.
Promote employee safety by referencing vehicle service precautions and utilizing OEM repair procedures.
Want to see how ALLDATA can improve shop efficiency? Check out our suite of products, each designed to contribute to both shop efficiency and productivity.
If you would like to read more articles like this one please subscribe to ALLDATA News.