Universal technical institute
Nov. 05 2019
Nov. 05 2019
Universal Technical Institute  (UTI) is the nation's leading provider of technical training for people seeking careers in the automotive, diesel, and welding industries. They also offer motorcycle, collision repair, marine mechanics, NASCAR, and manufacturer-specific training. Founded in 1965, the first UTI school was located in Phoenix, AZ and only had five students. It started with a single subject: automatic transmissions, with a diesel program added to the curriculum in 1968. It wasn't until 1983 that UTI added a second campus in Houston, TX.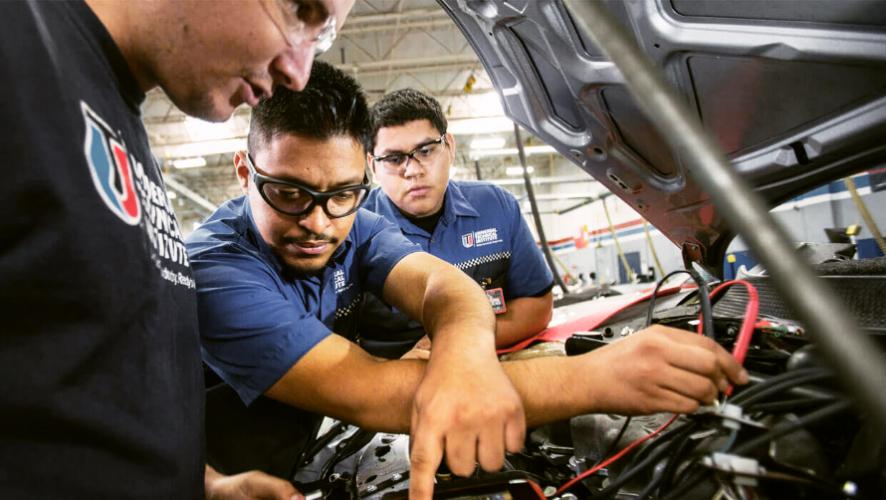 Today, UTI is one of the most well-known technical schools in the country. It boasts twelve campuses across the country and prides themselves in building partnerships with industry leaders to deliver training aligned with employer needs. Aside from the specialized certifications from different manufacturers, attending UTI will give you the opportunity to earn an associate degree as well as assist you in getting your ASE certifications
Today, UTI is one of the most well-known technical schools in the country. It boasts twelve campuses across the country and has "the nation's leading provider of technical training for automotive, diesel, collision repair, motorcycle and marine technicians.
ALLDATA and AutoZone have a partnership with UTI to help provide the best learning opportunities available, including access to ALLDATA's industry-leading OEM repair information. Recently, we visited UTI's campus in Sacramento to see what a post-secondary technician education looks like. 
Visiting the campus
UTI's Sacramento campus was impressive. Located right off Interstate 5 in north Sacramento, the 254,000 sq. ft. campus has 54 classrooms, fifteen labs, and an AutoZone store. They also feature a Rototest dynamometer, state-of-the-industry collision lab, and variety of diesel equipment. The core programs of this campus include automotive, collision repair, and diesel. We later learned that UTI also offers a Marine Technician Specialist Training Program in Orlando, Fla., plus a Motorcycle Technician Training Program at their Orlando, Fla. and Phoenix, Ariz. locations.
The UTI campuses offer different specialties, with Sacramento's campus featuring the Ford Accelerated Credential Training (FACT) Program, the International Technician Education Program (ITEP), and the Toyota Professional Automotive Technician (TPAT) Program for Toyota and Lexus dealerships. If those particular manufacturers aren't your style, other UTI campuses offer programs with NASCAR, BMW, Porsche, GMC, Alfa Romeo, and more. All of these courses are selective and provide rigorous training to ensure you earn your specialized certification.
During our tour, we were able to explore the different labs and classrooms of these various programs. The collision repair and the automotive and diesel were two buildings separated by a parking lot of practice vehicles, with diesel work interspersed between the two. Everything was splendidly clean and organized, even when classes were in session. The automotive and diesel building was the main building, with the administrative offices and parts stores sprinkled in between classrooms and labs. The labs themselves were impeccable, with toolboxes neatly containing exactly what the students needed for that specific lab. We tried not to disturb classes in session, but observation from a distance showed how knowledgeable and hands-on they make the curriculum.
Courses & scheduling
Your choice in programs will determine your length of education. For example, if you're interested in training to become an automotive technician, the program will take about 51 weeks. The diesel tech program, however, only takes about 45 weeks. If you wanted to complete one of UTI's Manufacturer-Specific Training programs or an additional advanced training program (such as smog or welding), these would then be supplemental to the core curriculum.
While UTI cannot guarantee you a job after college, they still show impressive post-grad statistics. For UTI Sacramento, they boast an 84% employment rate for 2018.
Each course is three weeks long and when creating your schedule, you have the option to take your classes in morning or afternoon blocks. This allows for more flexibility for students who want to work outside of the classes.
Job opportunities
Having a degree from UTI is impressive. UTI is accredited by the National Automotive Technicians Education Foundation (NATEF), a division of the National Institute for Automotive Service Excellence (ASE). It's also accredited by the Accrediting Commission of Career Schools and Colleges (ACCSC), which is an agency recognized by the U.S. Department of Education that accredits over 650 post-secondary, trade and technical schools.
Chris Couvrette, UTI Sacramento's Education Manager and our tour guide for our trip, took pride in telling us about post-graduation opportunities available to their students. While UTI cannot guarantee you a job after college, they still show impressive post-grad statistics. According to their website, four out of five UTI graduates get jobs they trained for. For UTI Sacramento specifically, they boasted an 84% employment rate for 2018.
Starting young
A new feature that the UTI campuses are offering is the Ignite Program. A summer program designed for upcoming high school seniors, the Ignite Program offers a free three-week course of their introductory automotive class. They also just added an introductory course to collision repair starting this summer. According to Adrain Edwards, supervisor of admissions support and organizer of the Summer Ignite Program at UTI Sacramento, that while the program is typically intended for students who live within a normal commute to campus, high school students come from all over the region to participate.
UTI has come a long way from its first graduation class of a whopping five students, and we look forward to seeing what the future holds for this impressive technical training institution.
Want to see how ALLDATA can improve shop efficiency? Check out our suite of products, each designed to contribute to both shop efficiency and productivity.
If you would like to read more articles like this one please subscribe to ALLDATA News.