VW: Lane-change assist can mean obligations, restrictions tied to bumper cover
Mar. 28 2019
Mar. 28 2019
Arecent Volkswagen Canada presentation demonstrated the importance of referring to OEM repair procedures by highlighting two critical considerations related to some bumper fascias.
Volkswagen Canada collision program manager Scott Wideman showed a VeriFacts Guild 21 audience March 14 the OEM's requirements for an R&I of a 2017 Passat rear bumper cover. The procedures gave "ample warnings that you need to start thinking about what technology is on the car," he said.
"The rear radar must be calibrated after removal and installation on vehicles with lane change assist," Volkswagen wrote in its OEM repair procedures.
"Hang on folks," Wideman said before highlighting the calibration-every-time rule.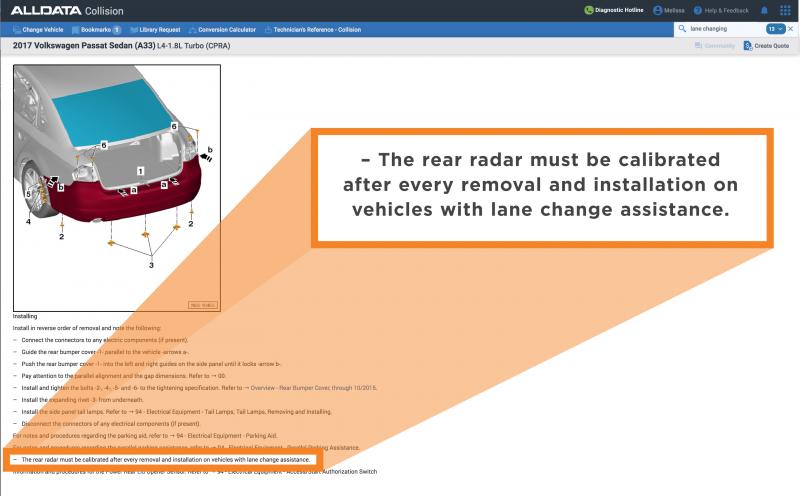 Body shops needed to review the repair procedures "each and every time," Wideman said.
"We make running changes to our repair literature," he said, and "the updates are fluid."
This isn't a technology to get take lightly. According to a Volkswagen news release for the 2017 Passat:
If the vehicle does not detect steering wheel input for a defined period of time, the available Lane Departure Warning system (Lane Assist) actively counter steers to keep the vehicle in the lane when above 40 mph and lane markings are visible. The system's camera recognizes visible lane markings and, using a special algorithm, determines the vehicle position in the lane. If the vehicle crosses a lane marking without the driver using a turn signal, the system provides a visual signal in the instrument cluster, asking the driver to take over. Lane Assist is standard on SEL Premium models, which are also equipped with the Active Blind Spot Monitor system with corrective steering. If the driver uses the turn signal to indicate a lane change or if the front facing camera senses a lane change, the driver will not only be warned through the flashing LED symbol, but the car will also help actively keep the car in its lane within the limits of Lane Assist. (Emphasis Volkswagen's.)
These repair procedures seem to apply to at least the current-gen 2016-19 Passats. Volkswagen recently unveiled the next-generation 2020 Passat, which will come out this summer.
The lane change technology in 2016 and 2017 came standard on the 2016 Passat SEL Premium trim and above. The 2017 SEL Premium cost $30,995, down from the 2016's $34,270 MSRP. On the 2019 edition, lane assist came standard on the SE R-Line, which cost $29,995. So it doesn't sound like it'd be unusual for Passat buyers to splurge for it given the vehicle's prices.
Volkswagen sold 41,401 Passats in 2018.
Wideman also showed another critical bumper fascia issue for an unspecified model. Based on Volkswagen repair literature, the instructions could apply to numerous VW models dating back years.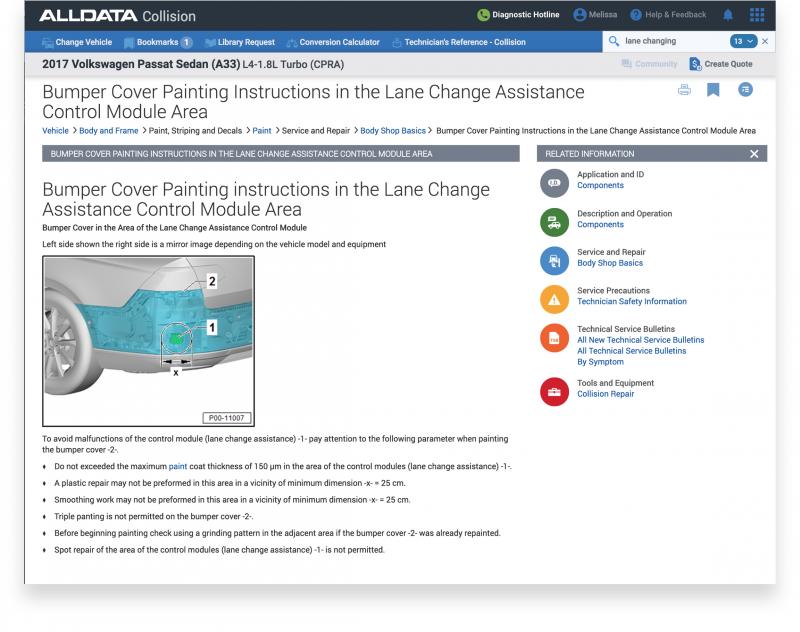 According to Volkswagen's official erWin repair procedures, your bumper fascia paint thickness can't exceed 150 micrometers (nearly 5.91 mils) around lane change assistance control modules. You can't perform any plastic repair or smoothing work within at least a 25-centimeter diameter with the module in the center, and spot repair of the fascia directly above the module is forbidden.
"Triple painting" is forbidden, and repairers are instructed to check the customer's bumper cover to see if it was already repaired once.
"This is something that is often overlooked in the repair process," Wideman said. (It was unclear if he meant all these procedures or the plastic repair detail he specifically mentioned.) "… It's going to lead to an increasing number of incidents. Potentially some significant ones.
Volkswagen's brand would suffer in a consumer's eyes if this weren't fixed properly, he said. This was why OEMs were investing in collision repairer certification, he said: customer satisfaction and retention
Wideman's jurisdiction isn't technically the U.S. However, his presentation's information was meant to be applicable to America, Guild 21 call organizer and former longtime State Farm employee George Avery (Avery Knows) said at the beginning of the call
Both the U.S. and Canada share the same Volkswagen repair literature, Wideman said. Only minor vehicle differences existed, he said, providing as an example the Canadian requirement that all cars have daytime running lights.
Want to see how ALLDATA can improve shop efficiency? Check out our suite of products, each designed to contribute to both shop efficiency and productivity.
If you would like to read more articles like this one please subscribe to ALLDATA News.