ALLDATA puts collision students on the fast track to a career in auto body repair
Mar. 02 2021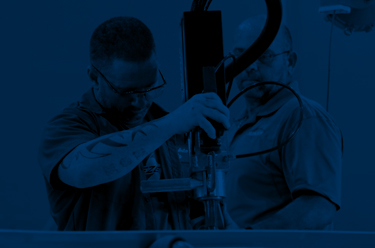 Mar. 02 2021
Two of the major challenges facing today's collision repair shops are the exponential increase in vehicle complexity due to advanced technologies like ADAS (Advanced Driver-Assistance Systems) as well as the threat of liability that may result from not repairing vehicles properly according to OEM procedures.
That's why it's especially critical for collision repair students to have access to the most up-to-date tools – and that includes software. ALLDATA is the industry's oldest and most popular software solution for OEM-accurate repair information, trusted by more shops than any other and used by 400,000+ professional technicians worldwide.
The technician shortage is a real issue in the automotive repair industry, and we're committed to putting resources towards addressing that
Students with access to ALLDATA in their education have the advantage of learning and training on exactly the same system that the majority of the pros use, giving them a competitive edge once they're out in the marketplace.
ALLDATA offers everything students need for OEM-accurate vehicle repairs right at their fingertips, including:
Instant access to the industry's most complete and up-to-date OEM collision repair information, with coverage for 38,000 vehicles, 95% of all vehicles on the road today
Collision OEM procedures for sectioning and structural repairs, handling of new materials, panel replacement, sensors, and more
Full mechanical procedures: TSBs, full diagnostic procedures by DTC code, parts & labor, drivetrains, suspension, and more
300,000+ interactive color wiring diagrams (in addition to OEM diagrams)
 
ALLDATA also offers a certification program, the CAIS (Certified Automotive Information Specialist) Program. It's essentially a comprehensive test that demonstrates how well students can use ALLDATA. It gauges their ability to navigate the program with an "open book" approach, during which students can access ALLDATA to find specific repair-related information.
The CAIS Program is available to current ALLDATA customers as well as schools. More than 2,000 schools incorporate ALLDATA in their curriculum, including high schools, community/junior colleges, and technical schools.
Not only does the CAIS program provide certification and knowledge for its students, it also provides helpful supplemental curriculum for the instructors. Schools can use features like ALLDATA's Description and Operation information and wiring diagrams to educate their students on more than just ALLDATA's product.
"We're excited to partner with the Beaver County Career & Technology Center so their students could pilot-test our new CAIS exam for ALLDATA Collision," said ALLDATA President Satwinder Mangat. "The technician shortage is a real issue in the automotive repair industry, and we're committed to putting resources towards addressing that. We're expanding our support for education programs to help ensure that students have the knowledge and training they need to hit the ground running in the marketplace, including a solid grasp of the importance of following the manufacturer's recommendations to ensure the safe and accurate repair of vehicles."
Are you a career and technical education instructor? Our new Instructor Toolkit makes it easy to create curriculum that integrates ALLDATA's industry-leading OEM repair information and meets ASE accreditation standards.
Want to see how ALLDATA can improve shop efficiency? Check out our suite of products, each designed to contribute to both shop efficiency and productivity.
If you would like to read more articles like this one please subscribe to ALLDATA News.