Dodge Ram Won't Crank – Battery Fully Charged
Feb. 01 2022
Feb. 01 2022
Vehicle: 2019 Dodge Ram 1500, 4WD, V8-5.7L, Automatic Transmission/Transaxle
Mileage: 82,663
Problem: The owner had his truck towed to the shop because the engine would not crank despite having a fully charged battery.
Case Details: The technician connected a scan tool and found no diagnostic trouble codes. The parameter identification data (PID) indicated that the powertrain control module (PCM) was not receiving a "crank" request.
NOTE: The starting system on this vehicle utilizes two starter relays to engage the starter motor. One is controlled by the PCM and the other by the body control module (BCM). The crank request is seen when a PCM PID comes from starter relay 2 after starter relay 1 closes and sends voltage to relay 2.
The Tech-Assist consultant advised using the diagram he sent to the technician to confirm both relays were operating (see diagram).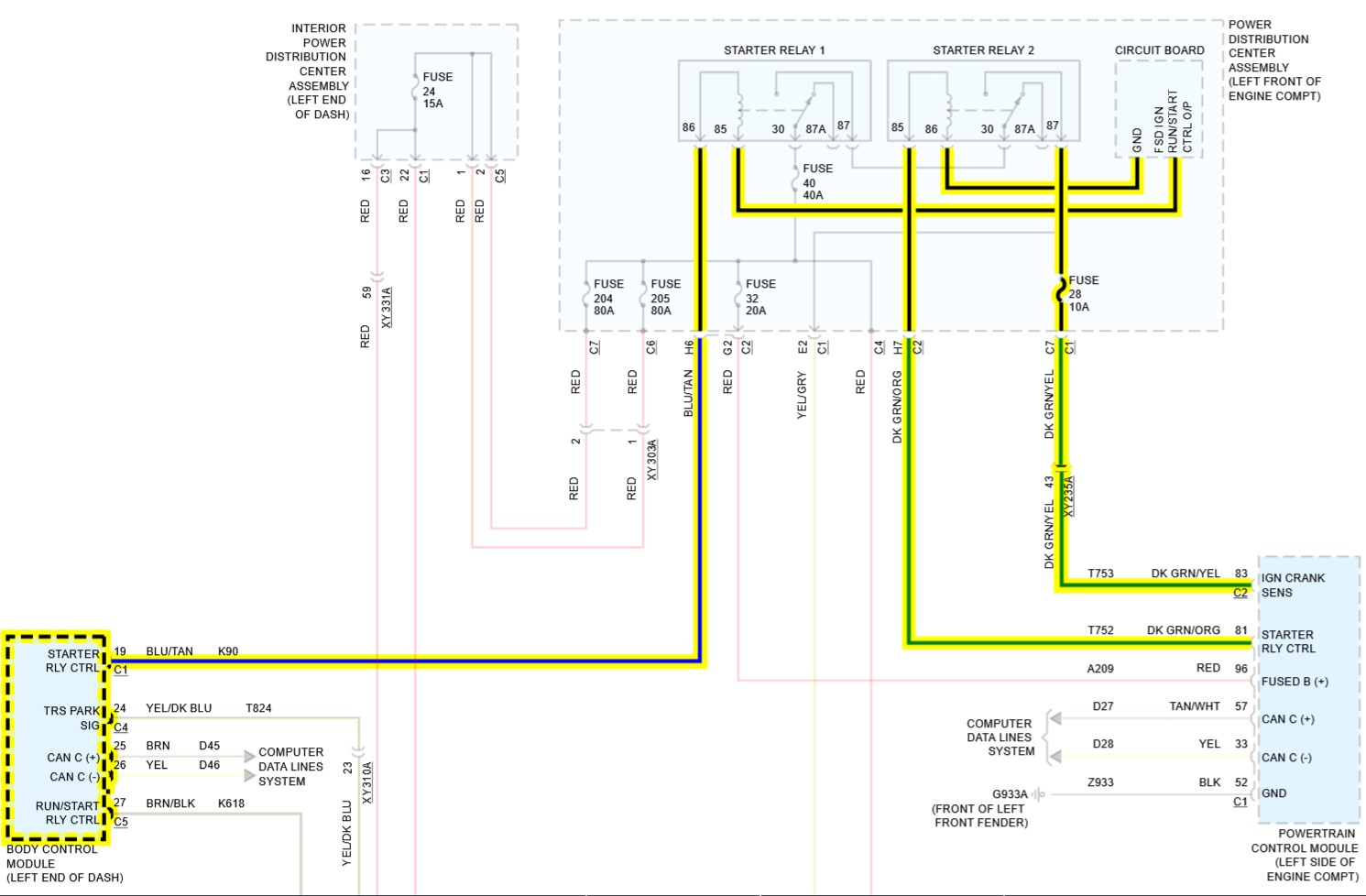 If that didn't find the problem, he also advised verifying which signal was missing, then diagnosing why that signal was missing.
The technician found that the BCM was not sending the start signal to the starter relay 1. He checked the voltage and ground supplied to the BCM and found several pins in connector C1 had poor terminal tension.
Confirmed Repair: The technician cleaned and tightened the terminal pins and made sure the connector snapped together correctly. After the repairs, the engine cranked and started right up. Easy fix!
The ALLDATA Tech-Assist team fields cases like this every day. See how Tech-Assist can help your shop save time and money with on-call diagnostic support from ASE-certified Master Technicians. More Tech Tips 
Not an ALLDATA customer? For access to this valuable experience-based repair data and reliable OEM information, start a free trial today.
If you would like to read more articles like this one please subscribe to ALLDATA News.