HYUNDAI TUCSON WITH ABS DTC C2402
Jul. 07 2020
Jul. 07 2020
Vehicle: 2007 Hyundai Tucson, FWD, L4-2.0L
Mileage: 211,021
Problem: The vehicle owner's concern was that the anti-lock brake system (ABS) warning light was on.
Details: The first thing the technician did was connect a scan tool to pull any diagnostic trouble codes (DTCs). There was only one, C2402 – Motor Electrical. The tech found that this code could occur if there was no voltage signal on the ABS pump motor monitoring wire or there was lack of battery power (B+) to the pump motor. He called ALLDATA Tech-Assist for advice.
The Tech-Assist consultant suggested checking all related fuses and to be sure there was B+ voltage to the ABS pump motor at ABS module connector E37, pin 9 (Red wire), and that there were good grounds at pins 24 and 8 (Black wires). If there was no voltage, he suggested testing the 40A ABS Fusible Link 1 located in the engine room fuse and relay box.
The technician's circuit testing revealed there was no voltage at the ABS Module connector E37, pin 9 (Red wire). The fusible link 1 had B+ voltage (see wiring diagram).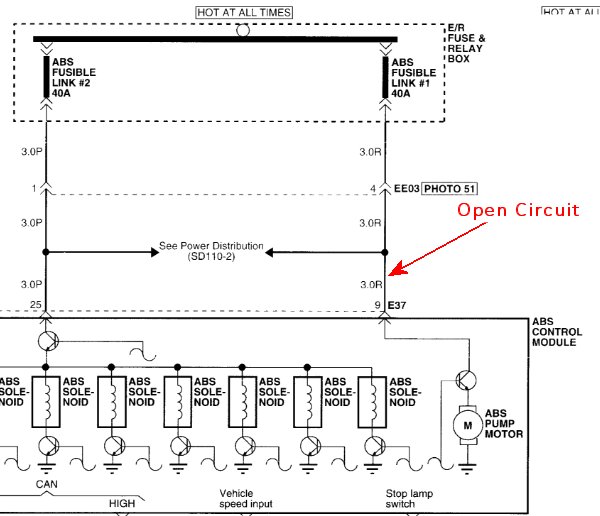 Confirmed Repair: He inspected the wiring and found a corroded and broken wire about six inches from the ABS module. He repaired the wire and cleared to DTC. The ABS light remained off after a good test drive. Fixed!
Want to see how ALLDATA can improve shop efficiency? Check out our suite of products, each designed to contribute to both shop efficiency and productivity.
Not an ALLDATA customer? For access to this valuable experience-based repair data and reliable OEM information, simply click here and start a free trial.
See all Tech Tips.
If you would like to read more articles like this one please subscribe to ALLDATA News.