VW Golf's MIL ON, Engine Speed Limited to 4500 RPM
Oct. 04 2022
Oct. 04 2022
Vehicle: 2017 Volkswagen Golf R 4Motion (5G1), L4-2.0L Turbo (CYFB), Automatic Transmission/Transaxle
Mileage: 92,558
Problem: The owner dropped her VW Golf off at the shop because the malfunction indicator light (MIL) was ON, and the engine would not accelerate past 4500 RPM.
Case Details: The tech hooked up a scan tool and retrieved the following six diagnostic trouble codes (DTCs):
P2185 - Engine Coolant Temperature Sensor 2 Circuit
P2181 - Cooling System Performance
P00B7 - Engine Coolant Low Flow Performance
P2681 - Engine Coolant Bypass Valve Circuit Open
U1123 - Data Bus Value Error Received
P16C7 - Heater Support Pump Blocked
An ALLDATA Tech-Assist consultant advised inspecting the engine temperature control actuator -N493- resistance between connector pins 4 and 5. The factory specifications were 2.4 to 4.6 Ohms. If the test results were out of specifications, he advised replacing the actuator and retesting.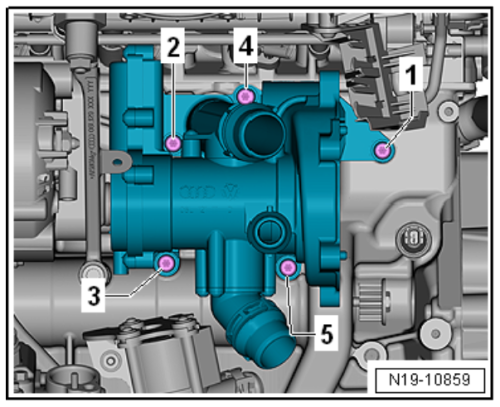 Editor's NOTE:  For those unfamiliar with VW's engine temperature control actuator -N493-, here's how it works. Coolant flow is regulated by means of two mechanically coupled rotary slide valves. The angular position of the rotary slide valves is regulated according to various engine maps stored in the engine control unit. Various switching positions can be implemented by configuring the rotary slide valves accordingly. This allows rapid heating of the engine, in turn, results in lower friction and higher fuel economy.
The technician performed the tests outlined by the T-A consultant and found the internal resistance to be Zero Ohms.
Confirmed Repair: He replaced the engine temperature control actuator -N493- with a new thermostat housing. After clearing the DTCs and adaptives, he gave it an extensive road test. No further issues. Problem solved!
The ALLDATA Tech-Assist team fields cases like this every day. See how Tech-Assist can help your shop save time and money with on-call diagnostic support from ASE-certified Master Technicians. More Tech Tips 
Not an ALLDATA customer? For access to this valuable experience-based repair data and reliable OEM information, start a free trial today.
If you would like to read more articles like this one please subscribe to ALLDATA News.