Wrenching in red heels, and loving it
Jun. 07 2017
Jun. 07 2017
She's been on every major network news show. She's featured in countless YouTube videos. She even has her own Tedx Talk.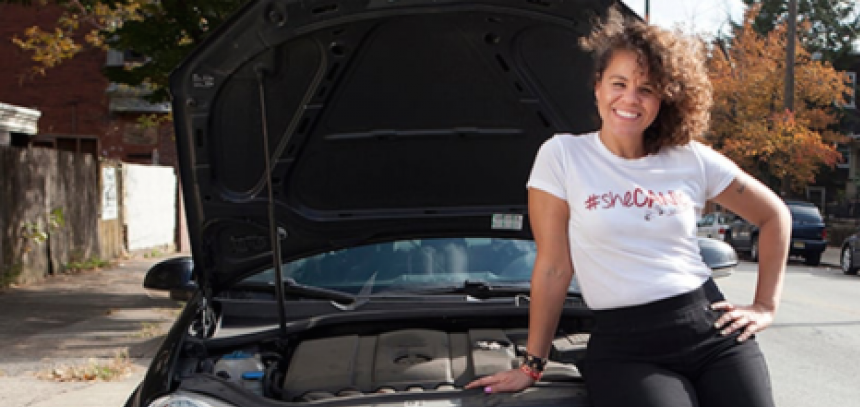 The "she" is Patrice Banks, a self-proclaimed "sheCANic," and owner and founder of Girls Auto Clinic, an automotive repair shop by women, for women. And she's usually seen in her trademark bright red heels.
Her journey to auto repair mechanic and shop owner began back when she was a materials engineer at Dupont. In those days, Banks referred to herself as an "auto airhead," because she always felt at a disadvantage when it came to taking her car into an auto repair shop, not knowing how to talk to a mechanic or evaluate whether repair estimates were on the up-and-up or unnecessary.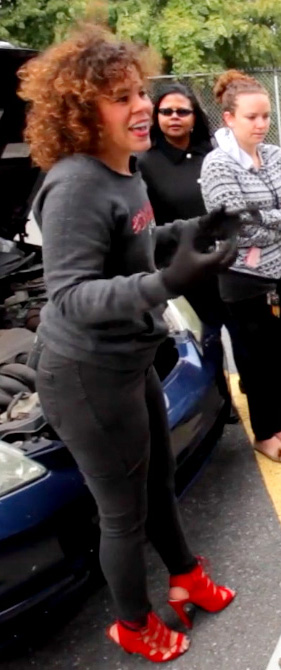 She tried to find a female auto-mechanic in her area, but came up with nil. She searched the internet, and found they were few and far between.
So she was inspired to take night classes in automotive technology and created the company Girls Auto Clinic to educate and empower women through their cars. It wasn't long before she was holding monthly free auto-care clinics for women, writing a blog about automotive repair for women, using social media to outreach to women, and taking advantage of every opportunity to spread the word about sheCANics and the Girls Auto Clinic. The word being that women can learn how to properly maintain their vehicles, do important checks like examining the oil dipstick and knowing when a dirty air filter needs changing – and how to do it.
"I knew it (the shop) was going to be successful. Because for three years I was building my customer base," said Banks. "I was doing my workshop, I was collecting emails. I was growing my social media. So when we did open, we already had 17,000 Facebook likes."
The Girls Auto Clinic shop in Upper Darby, Penn. rolled up the bay doors in January 2017 for the official grand opening. "It's going really well," said Banks. "The phones are already ringing off the hook. We're really busy, in fact there are some days we've had to turn customers away for appointments."
In the bays: "Beauty, Brains, & Brawn"
The staff at the three-bay Girls Auto Clinic shop is all female. Susan Sweeney is shop forewoman, and there is also a tech/service advisor, and a couple of other sheCANics, including one intern.
"The girls in the shop are just as passionate about the vision as I am," said Banks. "They want to feel like they're helping, which is why they are such a good fit with Girls Auto Clinic, because they're all about empowering women as well."
Sweeney is a veteran ASE-certified mechanic, with 21+ years in the automotive field. Coincidentally, she's also a licensed cosmetologist, but these days she prefers the nuts and bolts of wrenching to wielding a pair of scissors.
Prior to joining Girls Auto Clinic, she worked at a remanufacturing company, doing tech calls. That was where she first encountered ALLDATA, which she says she's used for "umpteen years."
It's not uncommon to see our techs walk into the Clutch Beauty Bar while customers are getting pedicures, and talk to them about their cars.
"There were things I needed in picture form, like an exploded view of the headlight motor on a 1982 Firebird or Camaro. And you couldn't readily find it because it's old information," said Sweeney. "So I'd call the 800 number at ALLDATA and say, 'Hey, this is what I need.' And they'd fax it to me."
The Girls Auto Clinic is fully teched out with the newest version of ALLDATA Repair®, ALLDATA Manage Online®, ALLDATA Mobile®, and ALLDATA Tech-Assist®.
"We use the (ALLDATA Repair) scheduled maintenance a lot, which is required for fluids and capacity," said Sweeney. "And we print those schedules out for the customers so they know that it's information direct from the OEM; that we're not just trying to upsell them. We educate them that way." 
Need an oil change? How 'bout a manicure while you wait?  
A huge part of the shop's appeal to women is that it caters explicitly to women, with lots of well thought-out amenities. There's a lounge with a comfortable window seat, a workbench-styled table where you can set up your laptop, free WIFI, books on the shelves, a separate TV room and kids play area, and the Clutch Café, where you can get snacks and coffee or tea. "We also serve wine and mimosas in the salon," Banks said, laughing.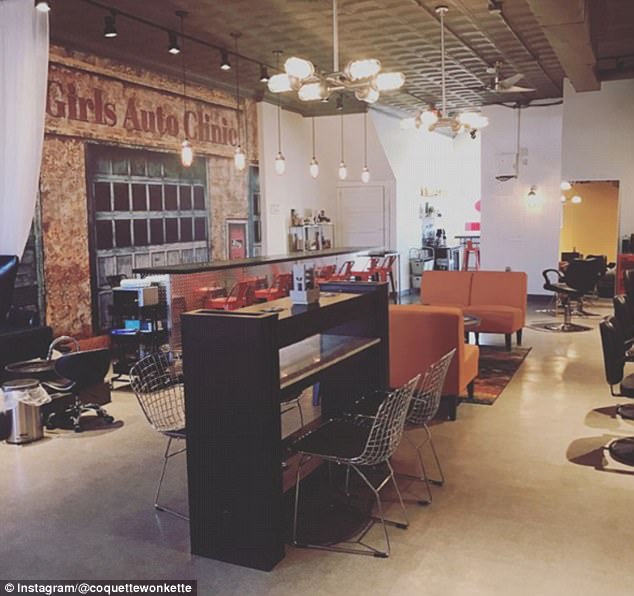 Aaahhhh yes. The salon. Not only can you get your oil changed at Girls Auto Clinic, but you can get a manicure and pedicure while you're waiting. Or treat yourself to a blowout. The décor at the full-service Clutch Beauty Bar has a vintage look, but is also decidedly feminine, with bursts of color.
"A lot of things were custom designed – like the tool boxes for hair stations, a tire sink, and the bar made of sheet metal," said Banks. "It's not uncommon to see our techs walk into the Clutch Beauty Bar while customers are getting pedicures, and talk to them about their cars. And we take them back over to the shop and show them what's going on. We want them to be educated. We want them to learn about their cars. We want them to feel empowered."
Breaking molds and making news
These days, Banks is in high demand as a motivational speaker and for media interviews like this segment on the NBC Nightly News with Lester Holt. She's won numerous business competitions and accolades, and even scored a $50,000 prize from the Keiretsu Forum angel investment network.
In between running a shop, salon, and her own busy media schedule, she also managed to write a book, the Girls Auto Clinic Glove Box Guide, which is available for pre-order on Amazon, Barnes & Noble, Target, and more. Additionally, she  offers sheCANic clothing and is planning a line of SheCANic accessories for cars.
Banks says she routinely receives calls from shops that want to know how to get more women customers. She tells them, "You hire a woman. It's going to help your company if you bring a woman in as a tech and mentor her and support her. Because women understand women and are able to talk to them."
Want to see how ALLDATA can improve shop efficiency? Check out our suite of products, each designed to contribute to both shop efficiency and productivity.
If you would like to read more articles like this one please subscribe to ALLDATA News.