ALLDATA at SEMA 2016: More. Better. Faster.
Oct. 14 2016
Oct. 14 2016
2016 marks ALLDATA's 10th year at SEMA and it promises to be the best yet. While you're in Las Vegas, be sure to stop by ALLDATA Booth 10623, where we'll be launching landmark new technologies—like our updated ALLDATA Repair, and showcasing our entire product suite of automotive repair and shop management solutions.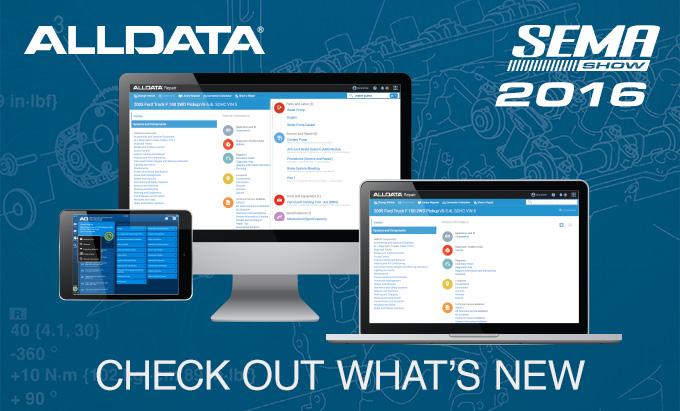 The ALLDATA team looks forward to seeing you and sharing market-leading solutions that help shops save time, enhance profitability, and improve efficiency, including:
ALLDATA Repair, the most comprehensive and up-to-date source of OEM automotive repair information in the industry. Now re-engineered for improved search functionality, faster navigation, and a more intuitive user interface.
ALLDATA Collision, instant access to factory-direct repair information. In addition to the mechanical repair information offered in ALLDATA Repair, Collision includes OEM procedures such as sectioning and structural repairs, handling of new materials, and panel removal and replacement. Add ALLDATA Estimate Integration to Collision, and you'll ensure that your estimates are OEM-accurate, with predictive OEM collision information – and our Collision Estimate Integration works with all three major estimating systems.
ALLDATA Mobile, for the best OEM repair database and OBDII diagnostics in the business combined with the portable convenience of a tablet.
ALLDATA Manage Online gives you everything you need to run your business. Quickly create estimates, repair orders and invoices, order parts online from industry-leading vendors, run essential business management reports, and keep in touch with your customers with a built-in Customer Relationship Manager.
ALLDATA Tech-Assist, our on-call hotline that provides one-on-one support to help navigate tough repairs. And now, ALLDATA's in-house team of ASE Certified Master Technicians can provide diagnostic assistance from any smartphone or tablet, interacting with the customer via two-way video streaming utilizing the free Rescue Lens app.
And what about show specials? Of course! Check out the sales promotions we'll be offering at SEMA here or contact your ALLDATA Business Solutions Manager.
Stay connected and in-the-know by following us on social media, including Facebook posts, live video streaming, Tweets, Instagram pictures, and more. We'll be live-posting all the excitement at the ALLDATA Booth and the rest of the SEMA show, too.
Want to see how ALLDATA can improve shop efficiency? Check out our suite of products, each designed to contribute to both shop efficiency and productivity.
If you would like to read more articles like this one please subscribe to ALLDATA News.