FINDING ELUSIVE MISFIRE ON DODGE GRAND CARAVAN
Oct. 13 2016
Oct. 13 2016
Vehicle: 2011 Dodge Grand Caravan V6-3.6L
Mileage: 68,882
Problem: Vehicle was brought in because the MIL (Malfunction Indicator Light) was on and the engine had a slight misfire.
Details: The technician connected a scan tool and found DTC P0303 – Cylinder three misfire. No other DTCs were found. First, he checked the coil and spark plug. Both components tested fine. Next, he checked the injector trigger signal with a scope. It looked normal. After he was satisfied the problem was not fuel or ignition related, he checked the compression pressure pattern in cylinder #3 with the scope.
Confirmed Repair: From the scope pattern (see images), he found that the intake and exhaust valve pressures were not the same. He removed the valve cover and inspected the valve springs and the camshaft. The camshaft lobes were worn out. The camshaft was replaced and the problem was resolved.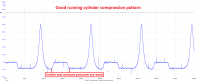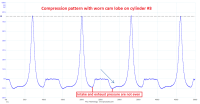 The ALLDATA Tech-Assist team fields cases like this every day. See how Tech-Assist can help your shop save time and money with on-call diagnostic support from ASE-certified Master Technicians. More Tech Tips 
Not an ALLDATA customer? For access to this valuable experience-based repair data and reliable OEM information, start a free trial today.
If you would like to read more articles like this one please subscribe to ALLDATA News.