PT Cruiser Timing Belt Always One Tooth Off
Oct. 04 2021
Oct. 04 2021
Vehicle: 2007 Chrysler PT Cruiser, L4-2.4L, VIN B, Automatic Transmission/Transaxle
Mileage: 82,003
Problem: After a routine timing belt replacement, the technician noticed that the camshaft timing marks were off one tooth when tension was put on the belt.
Case Details: The technician tried several times, following the instructions that came with the timing belt kit. Before starting the engine, he called ALLDATA Tech-Assist for some help.
The Tech-Assist consultant told him that, according to Chrysler, the timing marks had to be set with the exhaust cam mark half a notch below the intake cam mark before tension is put on the belt (see image).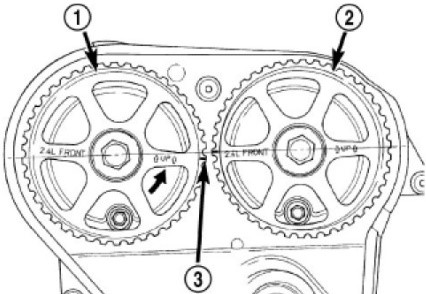 Confirmed Repair: The technician set the exhaust mark a little under the intake cam mark as instructed. With the belt under tension, the marks lined up as designed. The engine started and ran as expected and without any problems. Easy fix!
The ALLDATA Tech-Assist team fields cases like this every day. See how Tech-Assist can help your shop save time and money with on-call diagnostic support from ASE-certified Master Technicians. More Tech Tips 
Not an ALLDATA customer? For access to this valuable experience-based repair data and reliable OEM information, start a free trial today.
If you would like to read more articles like this one please subscribe to ALLDATA News.