Feb. 09 2017
If only we had the power to read minds like Mel Gibson in the year 2000 hit movie, "What Women Want." And even though it's February, we're not talking about what women want for Valentine's Day.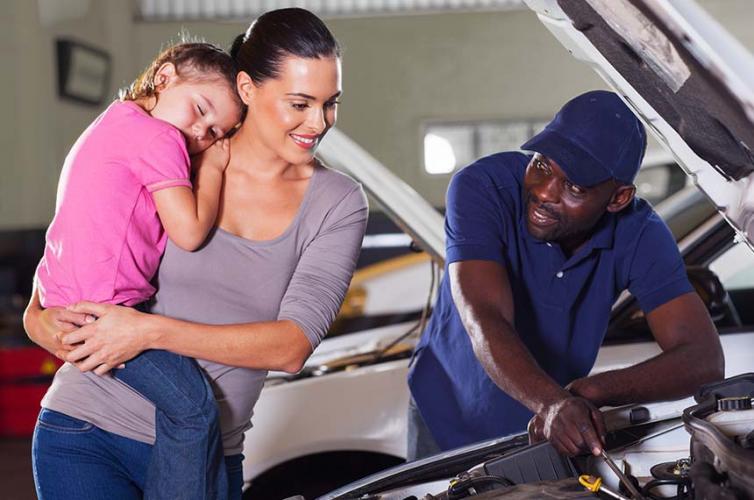 No, we're talking about what women want when it comes to servicing their automobiles. And when you consider industry trends, it's clearly a subject worth exploring.
Today there are 105.7 million female drivers compared to 104.3 million men.
Women account for more than half of all automobile purchases.
Women are the key decision-maker in 80% of all automobile purchases.
Women buy a car about every 6-7 years, but they visit the service department several times a year.
Women spend over $200 billion on new cars and mechanical servicing of vehicles in the U.S.
These statistics add up to a major economic force and profit driver in the automotive buying and service industries. Despite that, many women still report apprehension and a lack of confidence when they go into a dealership or repair shop.
Cathy Droz, of the website Two for the Road, Automotive News and Reviews, calls out that, "… when it comes to fixing our cars, replacing tires or an oil and lube, [women] want to be able to trust the facility where we bring our business and establish a relationship."
She advises women to consider the following when looking for a repair shop:
When you walk in, are you greeted with a hello or I'll be right with you? Do you feel comfortable in your immediate surroundings?
Is the waiting room clean and equipped with comfortable seating?  Are there magazines to read and do they have signs indicating WiFi is available?
Are there photos of the owners and the technicians with their certifications; such as ASE? Is the repair facility approved by a reputable company such as AAA, NARPRO, Garagefly, the Better Business Bureau or Repairpal?
Are the folks behind the counter courteous and does he or she answer your questions with respect and clarity? Women don't want to be spoken down to, but more often than not, want to be provided with more detail.
Do they have a free shuttle service to your home or office?
Is there a play area for the children? Is there a television?
Does the waiting room serve beverages? Some repair shops go all out with latte machines and fancy creamers, but a nice cup of coffee or tea served in a mug, not a Styrofoam cup is a welcome perk.
Repair facilities should treat women the way they would want their wife, mother, sister or daughter to be treated. Women want to enjoy the experience.
According to Women-Drivers.com, the most requested "concierge" services are:
Courtesy vehicle, especially if it's an overnight repair
WiFi/TV
Café
Child's play area
Keep them coming back
61% of women report that their service work is done at the dealership where they purchased the vehicle or the dealership/repair shop closest to their home.
if they didn't go back to the original dealer, the top seven reasons were:
Not satisfied with last visit
Didn't like how they were treated
Unable to get issue resolved to satisfaction
Cost of service
Location not convenient
Hours not convenient
Lack of "concierge" services
What can you do to turn the gender tide in your favor? Quite a bit, actually.
Anne Fleming, Car Buying Advocate , focuses on trust- and loyalty-building issues. She explains that two-thirds of women who visit their automotive repair shop don't ever receive any follow-up communication. She advocates staying connected via electronic communications (text and email), and optimizing your website to provide educational tips, post visit. Promote your service specials on Facebook and other social channels so women clients can share them with their friends.
"Stay in touch by being her trusted advisor 365/24/7 – not just the three days a year she is in your shop," she cautions. Most important to Ms. Fleming is paying attention to the little – and not so little – things:
Provide ultimate respect – Treat women graciously every single visit to build rapport, trust, and loyalty.
Concierge services – Courtesy car, door-to-door transport, WiFi, television, a café ambiance, and play area for children.
Your best ear forward – Your top listeners are the service advisors; or should be. Really listen to what she's saying and not saying. You want to make your female customers feel confident and comfortable about asking questions concerning repairs.
Be a top lounge act – Turn your service waiting area into a welcoming oasis with comfortable chairs, women-friendly magazines, beverages, snacks, and soothing visuals like flowers, artwork … maybe even a giant aquarium.
For Ms. Droz, the bottom line (pun intended!) for women is a clean restroom. "No woman likes to go in to a public restroom that has not been maintained, hasn't had supplies replaced or has an unpleasant odor." You can take this a step further by having herbal-scented foaming hand cleanser, an aromatherapy oil diffuser, a selection of hand lotions, flowers, and free feminine hygiene products.
So no, you don't have to be a mind-reader to figure out what women want. Use common sense, courtesy, and a few creature comforts to make a lasting difference in the hearts and minds of your female customers. And never underestimate the value of doing great work at a reasonable rate to earn her trust and loyalty.
Want to see how ALLDATA can improve shop efficiency? Check out our suite of products, each designed to contribute to both shop efficiency and productivity.
If you would like to read more articles like this one please subscribe to ALLDATA News.