Dodge Ram with Poor Power Brake Assist
Oct. 04 2022
Oct. 04 2022
Vehicle: 2019 Dodge Ram 1500, 4WD, V8-5.7L, Automatic Transmission/Transaxle
Mileage: 38, 594
Problem: The owner brought his Dodge Ram to the shop because the brake pedal was occasionally hard to press. At idle the power brake operation was excellent.
Case Details: The first thing the technician did was to connect a scan tool and check for diagnostic trouble codes (DTCs). He found only one DTC: C1252-92 – Vacuum Pump Control Circuit – Performance or Incorrect Operation.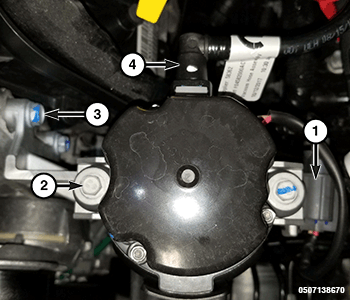 A Tech-Assist consultant noted that this truck uses a vacuum pump to supplement engine vacuum so less vacuum from the engine is used to operate the brake power assist. He advised testing the vacuum pump and fuse #33.
The technician found the fuse #33 was blown. He replaced it, but it blew again immediately. He unplugged the vacuum pump and the short was gone. The wiring harness looked fine.
Confirmed Repair: The technician installed a new factory vacuum pump. Fuse #33 didn't pop, and the brakes worked as designed. Problem solved!
The ALLDATA Tech-Assist team fields cases like this every day. See how Tech-Assist can help your shop save time and money with on-call diagnostic support from ASE-certified Master Technicians. More Tech Tips 
Not an ALLDATA customer? For access to this valuable experience-based repair data and reliable OEM information, start a free trial today.
If you would like to read more articles like this one please subscribe to ALLDATA News.