ALLDATA Debuts Next-Generation Technology that turns a tablet into a powerful scan tool
Oct. 10 2017
Oct. 10 2017
ALLDATA is marking its 11th year at the annual SEMA (Specialty Equipment Market Association) exhibition with the launch of ALLDATA Diagnostics. This next-generation technology turns a tablet (Android, Windows 10, or iOS) into a powerful, professional scan tool – an industry first. It's also the only scan tool solution with ALLDATA Repair® or ALLDATA Collision® built in, which means that codes link directly to relevant OEM articles, as well as ALLDATA's new interactive color wiring diagrams.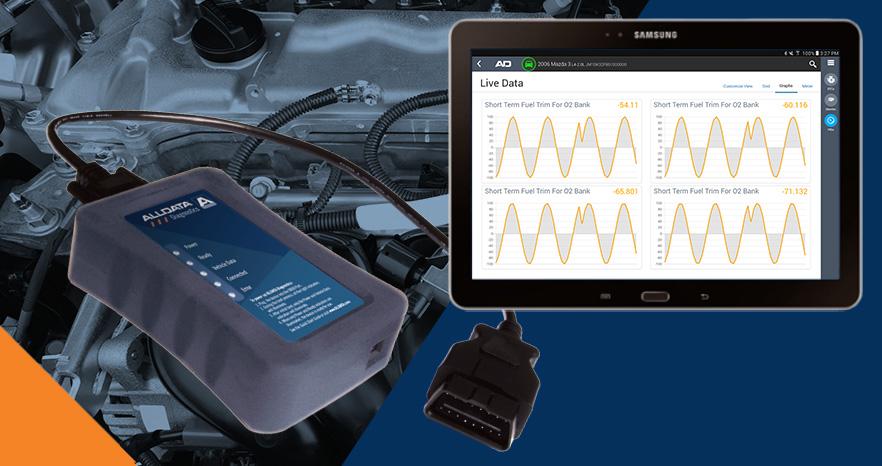 How ALLDATA Diagnostics works
Instead of housing the scan tool software in a bulky, hand-held unit, ALLDATA Diagnostics has a VCI (Vehicle Connection Interface) device that attaches to the vehicle's OBDII connector. It links wirelessly via Bluetooth to an Android, Windows 10, or iOS tablet, giving techs the flexibility to perform scan tool functions directly on the tablet. This functionality is a first in the scan tool market – and only ALLDATA has it.
Eliminates costly upfront investment
The VCI device is included in the ALLDATA Diagnostics subscription price, eliminating hefty up-front costs for shops. There's no charge for updates, either – software or data; they're included in the subscription price. The system works with Android, Windows 10, or iOS tablets and requires a subscription to ALLDATA Repair or ALLDATA Collision. ALLDATA Diagnostics will be available for pre-sale at SEMA. Can't make it to SEMA? Call (888) 994-4456 or click here for more info.
ALLDATA Diagnostics delivers all the functionality technicians expect in a professional-level scan tool, with coverage for domestic, Asian, and European vehicles. They can retrieve and clear manufacturer P, B, C, and U codes – the brunt of day-in, day-out diagnostics. The scan tool also reads and displays PIDs, providing live sensor data from all modules/vehicle systems, and offers bi-directional component control.
In addition, ALLDATA Diagnostics offers full-system pre- and post-DTC scan reporting. Shops can drill down to detailed estimates and repair cars back to OEM standards. Collision shops can perform pre- and post-scans to insure vehicles are repaired back to pre-accident OEM condition, a requirement mandated with increasing frequency by insurers and OEMs.
ALLDATA representatives will be doing live demonstrations every day of the company's flagship products, ALLDATA Repair and ALLDATA Collision, featuring the addition of 300,000 new non-OE interactive color wiring diagrams, as well as ALLDATA Diagnostics and the new ALLDATA Collision Advantage bundle.
Want to see how ALLDATA can improve shop efficiency? Check out our suite of products, each designed to contribute to both shop efficiency and productivity.
If you would like to read more articles like this one please subscribe to ALLDATA News.