Installing SUBSCRIPTION Updates: Shops With NO Internet Access
IMPORTANT - Your ALLDATA® RepairSM (DVD) program requires updates TWO times per year or ALLDATA Manage (DVD) will stop working:
If you are unable to access ALLDATA Repair (DVD) or ALLDATA Manage, please contact us at 1-800-859-3282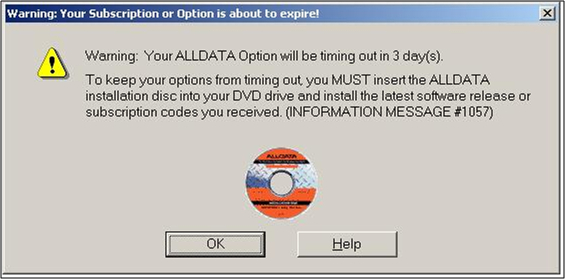 Every 6 months, each computer in your shop with ALLDATA® Repair (DVD) will display a reminder notice that lets you know that it is time for a SUBSCRIPTION update.
If the biannual update is not installed on time, your ALLDATA Manage (DVD) program will stop working until the update is installed.
To install your SUBSCRIPTION updates:
If ALLDATA Manage (or any other ALLDATA program) is running, close the program. 

Make sure your ALLDATA security key is installed in the computer's USB port.

Insert the Installation Disc (CD) into the drive.


The ALLDATA Repair - InstallShield Wizard box will open.  Click Next.


Read the Terms and Conditions >> Select I accept the terms of the license agreement >> Click Next.


In Product Registration, enter or update the shop's contact information, as needed. Click Next.


Once the box displays InstallShield Wizard Complete, click Finish.

If you left the View What's New - Release Highlights box checked, a screen will open with details about what has been updated.


Your ALLDATA subscription is now updated on THIS computer.
IMPORTANT - Repeat this process for EVERY shop computer that has ALLDATA Manage installed.