ACURA MDX NETWORK PROBLEMS ' NO DTCS
Aug. 16 2016
Aug. 16 2016
Vehicle: 2009 Acura MDX, V6 3.7L, Automatic Transmission
Mileage: 102,553
Problem: The customer noted that all of the exterior lights were inoperative, the windshield wipers would begin at any time without being activated by the switch and the instrument cluster would intermittently stop working.
Details: The technician tested communication with all of the modules and looked for diagnostic trouble codes (DTCs). He found communication with the body control module (BCM) to be intermittent and no DTCs were present. After looking at the CAN B circuit diagram,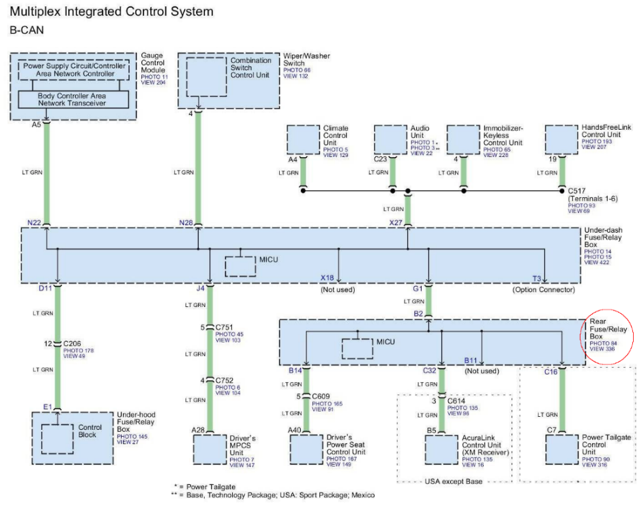 he went to the fuse block in the driver's kick panel and connected a scope to one of the green CAN B bus wires to check for a normal 0 to 5-volt square wave signal. He found that the pattern oscillated between 0 and 7 volts. Next, he began to unplug modules on the CAN B network until a normal communication signal returned (See scope patterns).
Confirmed Repair: In this case, the fuse box in the rear cargo area was defective. The technician replaced the fuse box and the 0 to 5-volt reference returned to the network. This one repair fixed all of the issues the customer was experiencing.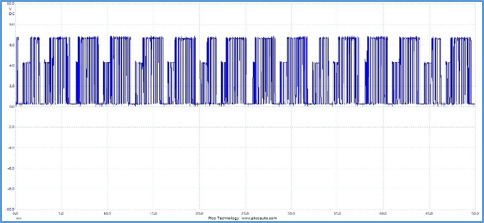 Bad pattern with 0 to 7-volt communication signal

Good pattern with 0 to 5-volt communication signal
The ALLDATA Tech-Assist team fields cases like this every day. See how Tech-Assist can help your shop save time and money with on-call diagnostic support from ASE-certified Master Technicians. More Tech Tips 
Not an ALLDATA customer? For access to this valuable experience-based repair data and reliable OEM information, start a free trial today.
If you would like to read more articles like this one please subscribe to ALLDATA News.