Jun. 04 2019
The aftermarket automotive repair industry has quite a few misconceptions surrounding it as a whole. Unfortunately, one of the biggest problems is the concept of trust – or, rather, the consumers' lack thereof. As we know, a very high percentage of consumers don't trust car repair shops. According to a study by the National Highway Traffic Safety Administration, 78% of consumers suspect they are being overcharged. Another study done by AudaExplore says that nearly half (48%) of consumers are dissatisfied with their interactions at repair shops.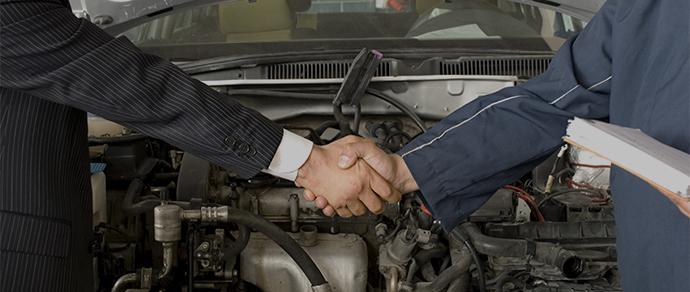 Yet this is not an accurate representation of what repair shops are actually like. Most shops are just looking out for what's best for the customer. So, the question remains: how do we shift this perception of distrust?
Many times, distrust stems from lack of knowledge, so why not remove that by keeping the customers informed? The AudaExplore survey revealed that 62% of consumers would feel more confident in the industry if they received real-time updates of their vehicles repair status, and a whopping 75% would be more willing to bring their cars in for work if they felt shops were more transparent with their work.
According to a study by the National Highway Traffic Safety Administration, 78% of consumers suspect they are being overcharged.
Try opening the lines of communication. We live in a culture now that is "always on", and one way you can use this to your advantage is by talking to them. Without open lines of communication, over half (52%) of car repair customers felt their vehicle wasn't repaired as expected. Yet, in instances where there were open lines of communication between the shop and customer, this percentage dropped to only 10%. Consistent communication is essential.
So, how do you open lines of communication? Could it be as simple as just breaking down the repair plan with the customer and showing them how much everything costs, or as extravagant as giving them continuous live updates? What's the middle ground?
Of course, there isn't a universal rule applicable to every circumstance. Perhaps you are one of the lucky ones and have customers who already trust you. Or perhaps no matter what you seem to try, you struggle to connect with them. Either way, establishing (or making sure you've established) a line of open communication can only help. Here are a few tips on how to do so:
Become transparent
One way you can achieve transparency is by breaking down the costs of a repair. One of our previous articles, National Brake Month: A Great Time To Catch Up On Maintenance, talks about this method with regards to convincing your clients to stay up-to-date on preventative maintenance, but this can also be applied to creating a channel of communication with your customers. Breaking down an estimate with your customer shows them exactly where their money is going and shows that you're not trying to hide anything. You can make any "scary" number seem more manageable, plus it gives you an opportunity to answer any questions they may have or explain any extra repairs (like maintenance) you may recommend.
… in instances where there were open lines of communication between the shop and customer, this percentage dropped to only 10%.
Embrace the "always on" culture
A second way you can achieve great communication is by embracing the "always on" culture. Your customers want constant updates? Install webcams in your bay so they can watch their car being worked on. Find a way to use CRM software (like ALLDATA Manage Online) to help send timely vehicle updates and maintenance reminders to your customers.  This will put their mind at ease and let them feel like a part of the process (without them actually getting in the way). In fact, according to the AudaExplore survey, 62% would think timely electronic updates would be extremely valuable.
Update your shop
While this stems more from indirect communication than direct communication, keeping the shop updated is very important. Not only can outdated technologies sometimes impede the repair process, but they can also convey a message about the quality of your shop. In fact, research shows that old or outdated technology can lead to repairs costing 30% more than the original estimate — something that might make your customer question the value of your repair process. Yet despite this uncomfortable statistic, only 48% of the repair shops in the US say they're using the most recent technologies available to them. Investing in repair information products (such as ALLDATA), as well as quality diagnostics equipment and shop management software will show customers you're ready to tackle any problems their car may have, as well as maintain your reputation of repairing vehicles efficiently and accurately. It would also be helpful to explain to your customers the importance of these updates, so they can have the peace-of-mind knowing that their vehicles are being repaired back to OEM standards.
Educate your customers
With the world of information available at your customers' fingertips, education may seem like a daunting task. There are the notorious "YouTube customers", who think they can repair their cars without the help of a professional. There are also those who will constantly second-guess the repair approach because they read a blog post online. But three out of four customers want to better understand what their repair shop is doing. Whether you're an extrovert or introvert, there are ways to work with your customers and show them your worth:
Host workshops to teach them about preventative maintenance.
Hand out infographics about oil changes, tire pressures, and other basics.
Encourage them to ask questions and interact with them on social media.
Don't be afraid to experiment and find what works for you. Your customers — and your business — will thank you in the long run.
Want to see how ALLDATA can improve shop efficiency? Check out our suite of products, each designed to contribute to both shop efficiency and productivity.
If you would like to read more articles like this one please subscribe to ALLDATA News.