Hot Rodding Your Repair Process
Apr. 17 2015
Apr. 17 2015
Remember when every go-fast part listed in a performance catalog was guaranteed to give you at least 10% – 15% more power? I used to think that if I could install just a few of those high-performance parts on my motor, I could boost my horsepower by 40% or more! So I did … but it didn't work. I later discovered the reason why — only a matched combination of the right carburetor, headers, intake manifold and cam, would give me the increase in horsepower and torque I was expecting.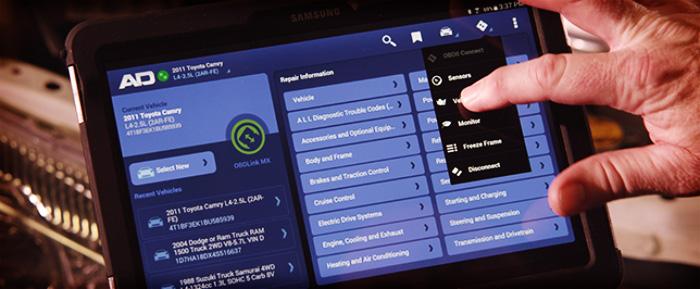 Just like "performance tuning" an engine, a shop's repair process can be tweaked a little for more performance. And since the repair process, from customer greeting to vehicle pick-up, is made up of many individual parts, getting the right combination of those parts will net the greatest overall performance. Let's talk about a few things that can literally "Hot Rod" all aspects of your repair process. One of the things that can immediately improve your results is a hand-held wireless device with Internet access – we'll call it a tablet. There are quite a few available, but be sure to pick one that will be compatible with the automotive applications you'll be using.
I'm not ready for new technology!" you say. If you had to bet on a drag race between a stock 1988 Corvette and a stock 2015 Corvette Z06, which one would you pick to win? If you had to bet your future profits on old technology or new technology, which one do you think would be the safe bet?
During the Service Write-up
There are many shops that are still hand-writing and/or typing repair orders at their desktop PC. While there's nothing wrong with that, you could really reduce your customer check-in time with some new technology. Using a light-weight, portable device like a tablet allows service advisors to save time in many aspects of their daily routines. Most tablet applications have built-in cameras. Service advisors can utilize the camera to take pictures or a video of the vehicle to help eliminate later claims that the tech must have damaged a fender. The camera can also be used to auto-populate the tablet's automotive application with the vehicle's VIN. All that is left to do is enter the mileage and the license plate.
With a couple of taps on a screen, the advisor can – via the Internet – immediately access an electronic automotive information provider to view TSBs and recalls. They can also check for current and stored DTCs (Diagnostic Trouble Codes) … All of the vital information about the vehicle is saved in one place, not scribbled down on some easy-to-lose note paper. Everything necessary to fill out a complete and informative repair order has been saved electronically and can be downloaded directly to a shop management system.
In the Shop
A majority of shops have one or maybe two computers and one of them is usually in the office. Instead of waiting to use the "other" shop computer, each tech could have a tablet and simultaneously access diagnostic and repair information websites right from their service bays. Instead of waiting for someone to fix the printer or buy more paper, tablets allow techs to view clear, scalable OEM diagnostic and repair information and diagrams electronically.
Once DTCs have been retrieved wirelessly using the tablet, a simple tap on a screen icon can give techs access to the DTC-related OEM diagnostic information. Other vital information such as Freeze Frame and live PID data is also just a screen-touch away. After the vehicle is repaired, the tech can clear the DTCs and test drive the vehicle while watching the status of the Emissions Readiness Monitors to help confirm the vehicle has been fixed.
At Vehicle Pick-Up
The job is complete and the repair order closed. Now it's time for the customer to pick up their vehicle. If they happen to ask what was done to their car, how can you it explain to them so it's easily understandable? You could show them the part. But wouldn't showing them the OEM information with a few images be more effective? Transparent explanations of what the tech did to fix the vehicle goes a long way to build customer trust and loyalty. Do you really want to impress your customers? Walk up to their car, auto-load the VIN and with one or two taps on the tablet screen, access the repair procedure or DTC diagnostic flow chart that was used to diagnose and repair their vehicle. That explanation just became easier and you've turned a potentially awkward experience into a chance to really impress and educate your customers.
Service advisors: "WOW" your customers right on the service drive. Techs: just saving 10-15 minutes repeatedly throughout the day will result in significant gains in your productivity. A tablet is the right "go-fast" part that can really help hot rod all aspects of your repair process … all with the touch of a screen!
Find out more about ALLDATA Mobile or request a demo.
Want to see how ALLDATA can improve shop efficiency? Check out our suite of products, each designed to contribute to both shop efficiency and productivity.
If you would like to read more articles like this one please subscribe to ALLDATA News.