Mike Anderson's Webinar Reveals Industry's Best Practices
Oct. 14 2016
Oct. 14 2016
Mike Anderson of Collision Advice is renowned for his collision industry experience and data-driven approach to shop operations, management, and collision diagnostics and repair. We encourage you to check out the   webinar hosted by Mike, You Don't Know What You Don't Know. While it may sound somewhat ominous, the title makes a good point—that what you don't know is just as important as what you do know. You may be an expert technician, but vehicles are constantly changing and we think you might be surprised what those changes can mean to your workflow. In this webinar, Mike offers plenty of examples and hands-on tips to illustrate how ALLDATA's industry-leading OEM information database and other advanced online tools can help you avoid the potentially serious repercussions of "what you don't know."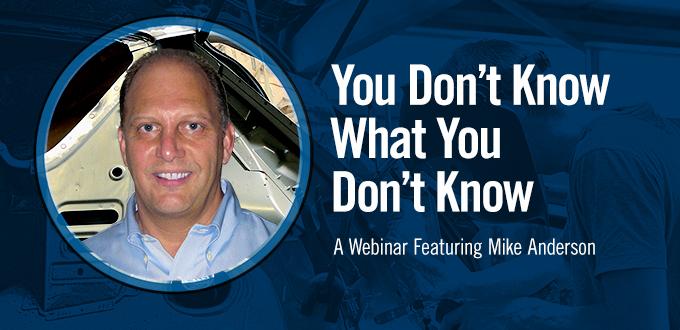 Along the way, Mike covers a wealth of valuable information. For example: did you know that you need to perform a zero-point calibration on Toyota vehicles after completing collision repairs? The same holds true for many other vehicle makes. Sometimes important details like this get lost in the OEM information-shuffle—that's where ALLDATA Collision has your back, with checklists and process-critical callouts so you know you're completing safe and accurate repairs for every vehicle, every time.
Do you research components and specs to make sure you are using the appropriate materials? Some OEMs require specific scan tools to complete accurate calibrations; some require specific adhesives that are not normally used. If you don't use the specific part or tool the OEM requires, your repair is not consistent with OEM standards and could result in problems for customers—and your shop—down the line.

We all want to work smarter, not harder. And Mike makes the point that one of the ways that shops can work smarter is to use OEM information, like that found in ALLDATA Collision. ALLDATA Collision includes lists of Repairs and Inspections to perform before and after work is completed, and integrates with all major estimating systems to help shops create accurate estimates and invoices. The Estimate Integration feature available with ALLDATA Collision analyzes your estimate and returns information about things you "might want to know," including repair procedures, material requirements and more. ALLDATA Collision also includes Manufacturer Position Statements that address some of those not-so-obvious things, such as whether a part can be repaired or must be replaced.
The bottom line is that Mike wants all shops to think safety first. As he says, "At the end of the day, when a customer brings their vehicle to you, signs the authorization form, and hands over their keys, they are saying 'I trust you to get my vehicle back to safe, pre-accident condition'—and it's your responsibility to fulfill that obligation to the customer."
ALLDATA Collision can help you fulfill your obligation to each and every customer with its database of OEM information for more than 38,000 engine-specific vehicles. Get more information or sign up for a free trial. And if you aren't already using it, check out Estimate Integration—it can make a big difference to your shop productivity and efficiency.
With real-world collision repair examples and power-user tips, Mike's webinar, "You Don't Know What You Don't Know" offers the kinds of insights and best practices that will drive your repair business to the next level. Take a look at—we're confident you'll find that it's time well spent.
Want to see how ALLDATA can improve shop efficiency? Check out our suite of products, each designed to contribute to both shop efficiency and productivity.
If you would like to read more articles like this one please subscribe to ALLDATA News.