SEMA: Looking back & moving forward
Nov. 14 2017
Nov. 14 2017
The racing checkerboard flooring at the ALLDATA booth turned out to be symbolic of the fast pace on the SEMA show floor. It's no wonder the action was non-stop – there was more to talk about than ever before, including our new branding, "Automotive Intelligence." What else was new?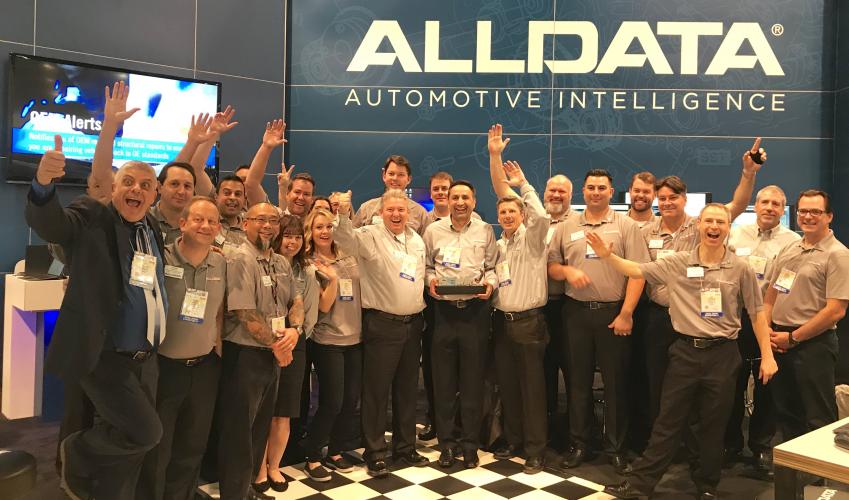 New non-OE interactive color wiring diagrams in ALLDATA Repair® and ALLDATA Collision®.
New ALLDATA Diagnostics – SEMA marked the debut of Diagnostics, the only scan tool solution that turns a tablet into a scan tool with ALLDATA built in. The product begins shipping mid-November. "We're thrilled to bring this game-changing scan tool solution to our customers," said Mitch Major, Vice President, Commercial Support, AutoZone and President, ALLDATA. "In addition to the convenience of fully-integrated access to ALLDATA Repair or Collision, shops can repurpose their own computer tablet and turn it into a scan tool."
ALLDATA Collision Advantage, our newest bundle offering the power of ALLDATA Collision with the protection of Estimate Integration.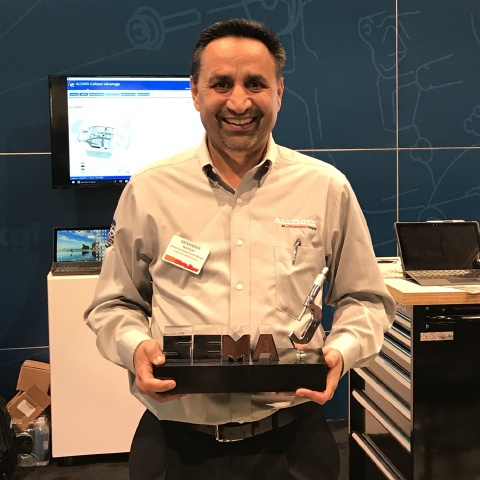 The ALLDATA team is especially proud that ALLDATA Collision Advantage won SEMA's Best New Product Award in the Collision Repair and Refinish Product category. According to SEMA, "The awards are given to the most innovative and cutting-edge automotive aftermarket products that will be consumable in 2018." Among the nearly 3,000 products entered, winners were selected based on factors that included superiority of innovation, technical achievement, quality and workmanship, consumer appeal, marketability, and more.
Also at the show, ALLDATA's General Manager Satwinder Mangat had interviews with staff from FenderBender, Ratchet & Wrench, ABRN (Auto Body Repair Network), Motor Age, SearchAutoParts.com, Fleet Maintenance, PTEN (Professional Tool & Equipment News), VehicleServicePros.com, and BodyShop Business, with many others stopping by the booth as well. In fact, coverage started well before the show when Vice President, Product Strategy, Robert McBride was interviewed by The Car Doctor, Ron Ananian. Also fundamental in increasing ALLDATA's exposure were SEMA previews in ALLDATA News and our official SEMA press release.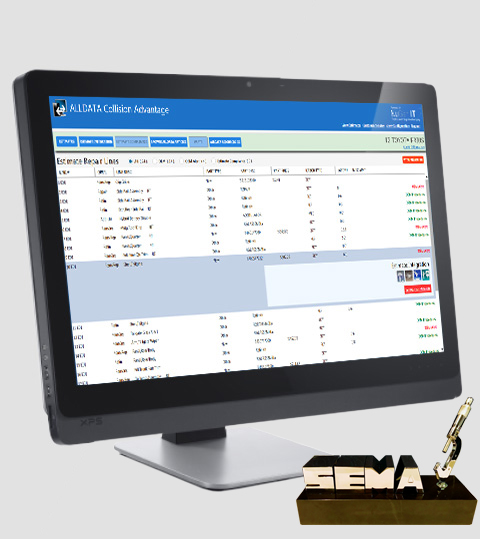 ALLDATA Collision builds on the industry-leading mechanical information found in ALLDATA Repair, adding OEM procedures such as sectioning and structural repairs, handling of new materials, and panel removal and replacement. ALLDATA Collision Advantage adds Estimate Integration, which analyzes an estimate in seconds and displays OEM procedures, OEM alerts, Vital Repairs, and manufacturer Positioning Statements – all on a single screen. Call (888) 853-7309 to request a demo or click here to get started.
Want to see how ALLDATA can improve shop efficiency? Check out our suite of products, each designed to contribute to both shop efficiency and productivity.
If you would like to read more articles like this one please subscribe to ALLDATA News.