See our award-winning Diagnostics scan tool at ALLDATA Booth #10631/North Hall
Oct. 08 2018
Oct. 08 2018
SEMA season is upon us, and ALLDATA is celebrating by showcasing its newest product release: the award-winning scan tool solution ALLDATA Diagnostics. Our SEMA booth will feature videos and knowledgeable ALLDATA personnel who will demo this device that turns a tablet into a professional-level scan tool – the only one with the power of ALLDATA built in.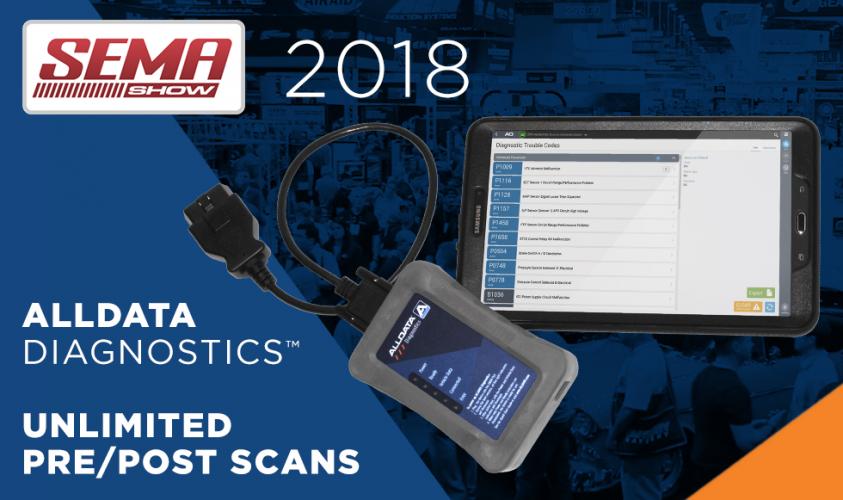 ALLDATA Diagnostics won first place for innovative software solutions with PTEN magazine and also a first place Innovation Zone award in the Repair and Maintenance category at NACE Automechanika, Atlanta.
In addition to detecting trouble codes that link directly to OE relevant articles, ALLDATA Diagnostics features numerous economical advantages. Not only is there no charge per scan, there's no charge for software or data updates. There's not even an upfront charge for the equipment – it's all included in one low subscription. Shops can limit liability and increase revenue by using ALLDATA Diagnostics to conduct full-system, exportable pre/post-repair scans. 
Schedule your SEMA VIP Demo in advance!
Text VIPDEMO to 313131
At SEMA, the last thing anyone wants is to spend a lot of time waiting around. That's why we've added a cool new timesaver to our SEMA offerings: now you can pre-schedule your VIP DEMO of the award-winning ALLDATA Diagnostics scan tool solution or any of our other industry-leading software products, right from your phone
Want to see how ALLDATA can improve shop efficiency? Check out our suite of products, each designed to contribute to both shop efficiency and productivity.
If you would like to read more articles like this one please subscribe to ALLDATA News.