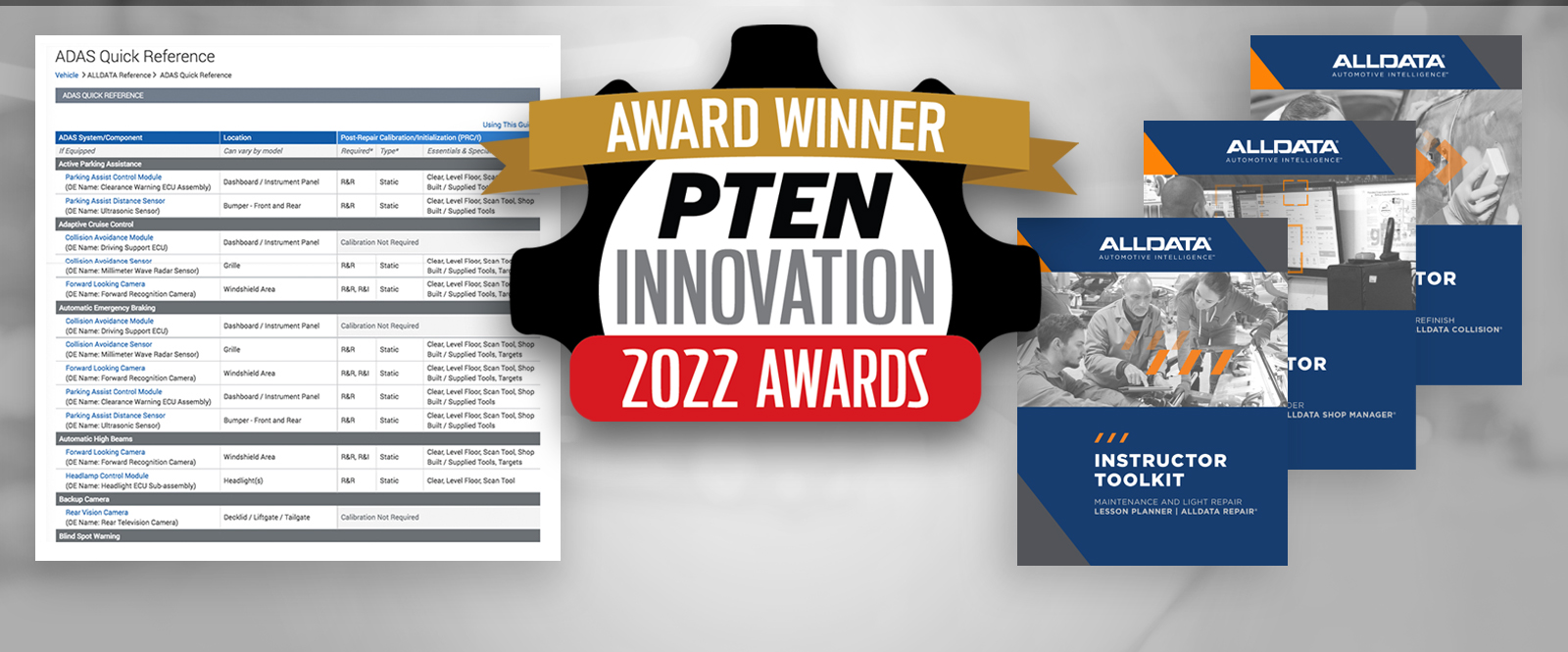 ALLDATA receives Two 2022 PTEN Innovation Awards
Aug. 01 2022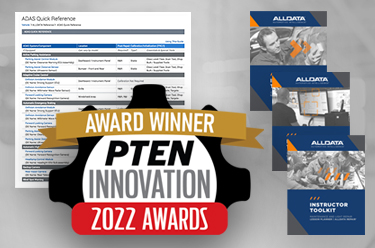 Aug. 01 2022
The 2022 PTEN Innovations Awards have been announced and ALLDATA was honored with wins in two categories: ADAS and Training. PTEN's coveted Innovation Awards program recognizes "… the most cutting-edge automotive tools and equipment that entered the market in 2021."
The award winners are based on the rankings of the PTEN panel of professional automotive judges, who score each nominated product based on five criteria: time savings, task simplification, uniqueness, level of improvement over current tool, and ease of use. 

2022 PTEN Innovations Award, ADAS Category:  ADAS Quick Reference
ALLDATA won in the ADAS category for the new ADAS Quick Reference tool in ALLDATA Repair® and ALLDATA Collision®. Now, with just one click, auto repairers can access vehicle-specific ADAS information – direct from the OEMs – on the industry's leading repair information platform.
The panel of industry judges offered these comments on ALLDATA's ADAS Quick Reference tool:
"Putting all the ADAS information in one place is a great idea."
"This is something that is really needed in the collision industry."
"You can access ADAS components by name and retrieve the information needed to replace it, as well as what needs to be removed to perform the task."
The ADAS Quick Reference tool links directly to the ADAS system or component by name, such as Backup Camera or Lane Departure System. It also provides the location of the component, identifies removal/replacement requirements that could result in extra labor for calibration or sublet costs, and displays basic calibration information, required tools, and prerequisites for servicing ADAS components.
"With a range of ADAS now standard on new vehicles, it's critical that service writers and technicians be prepared for any vehicle that comes into their shop," said Satwinder Mangat, president, ALLDATA. "We are honored to receive the PTEN Innovation Award for our new ADAS Quick Reference tool, as well as our second PTEN Innovation Award in training for the Instructor Toolkit."
Putting all the ADAS information in one place is a great idea.
2022 PTEN Innovations Award, Training Category:  Instructor Toolkit
ALLDATA earned a second PTEN Innovation Award for the Instructor Toolkit, a turnkey resource for automotive and collision career and technical education (CTE) programs. It enables educators to quickly create curriculum that integrates ALLDATA's industry-leading OEM repair information and meets ASE accreditation standards.
One of the industry judges commented, "It's great to see incumbent institutions investing in more and more different platforms for training. Aligning with ASE helps get more techs trained and keep the high standards ASE has created."
In an interview, Mike Coley, president, ASE Education Foundation, said "ALLDATA's new toolkit includes lesson planners that instructors can use when training students to help them locate relevant service information and all the information is aligned to the ASE Education Foundation standards. We are excited to welcome ALLDATA's support of the ASE Education Foundation."
"You've given instructors a solution in a box, and it is over-the-top awesome," said George Arrants, vice president, ASE Education Foundation, in the same interview.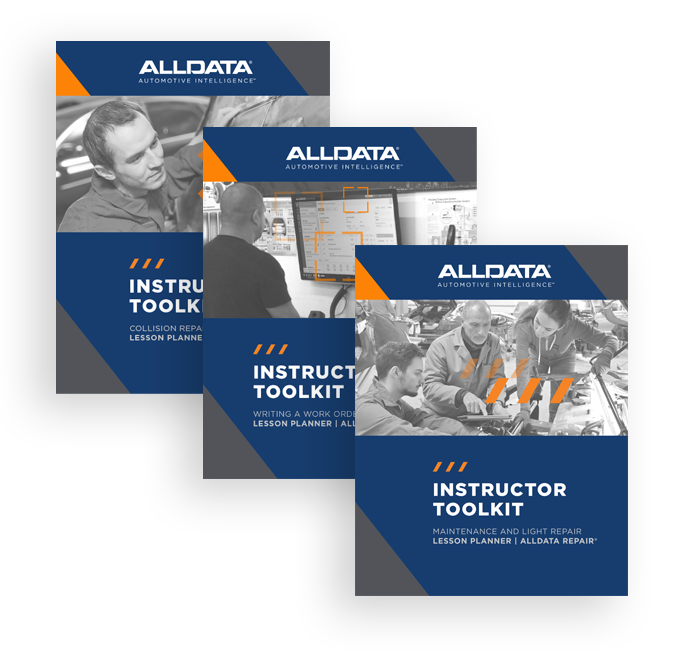 The first CTE resource of its kind, the Instructor Toolkit was developed in partnership with the ASE Education Foundation and follows the format of the ASE standards guide. Each Instructor Toolkit includes:
Clear, step-by-step instructions, goals, and objectives
Tasks for students that mirror the Task List at the end of the ASE Standards guide
Vehicle examples (specific to year/make/model/engine) and navigation path to the required information
There are three Instructor Toolkits, which are provided at no additional cost to educational subscribers: "Maintenance and Light Repair" (ALLDATA Repair®), "Collision Repair and Refinish" (ALLDATA Collision®), and "Writing a Work Order" (ALLDATA Shop Manager).

Want to see how ALLDATA can improve shop efficiency? Check out our suite of products, each designed to contribute to both shop efficiency and productivity.
If you would like to read more articles like this one please subscribe to ALLDATA News.